While all incoming Vanderbilt undergraduates are expected to read The Person You Mean to Be, which is the Commons Reading for 2020-21, the book will be particularly useful for anyone trying to understand the root causes of inequality.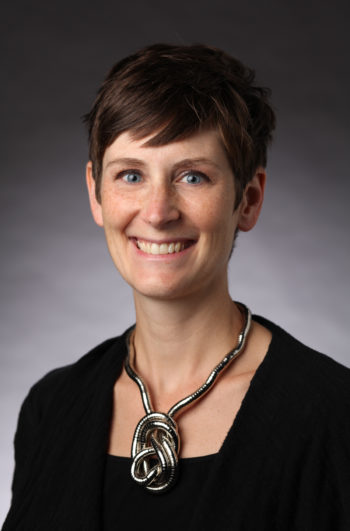 "The Person You Mean to Be offers many tools to help us think about ways to recognize our own implicit bias and the role that bias plays in our interactions with others," said Melissa Gresalfi, dean of The Martha Rivers Ingram Commons. She noted that the material is especially pertinent for people entering a residential college system.
"It's very hard to create a safe space where people from really diverse backgrounds come together and all feel like this is their place, as we have seen in the past several weeks and actually over the course of our country's history," Gresalfi said. "But if we can't do that, then our students' home, here on The Ingram Commons, is not a haven."
Dolly Chugh, a social psychologist and professor at New York University Stern School of Business, is the author of The Person You Mean to Be. Her book is divided into three sections, with the first one focused on "being a believer," during which time you start to think about and acknowledge the role that bias plays in your life. The other two sections are about "being a builder, the time when you take action to reduce bias."
All first-year undergraduate students will discuss the Commons Reading through Vanderbilt Visions. For the first time, incoming transfer students also will receive the book, with plans for engagement through informal dialogue facilitated by peer mentors.
"The book is chock-full of tips," Gresalfi said. "The one that I thought we would do in my Visions group right away is a test to recognize your own implicit biases. It's interesting that the author acknowledges that most individuals who describe themselves as good people hate this test and they hate getting the results.
"I understand that it can feel threatening to have your beliefs about being a 'good person' challenged," Gresalfi continued. "But once you accept it, you can start to think about ways that bias plays out in your life."
One example in the book describes a senior executive at Google who is shocked to learn he is gender-biased after going through his contacts and realizing very few women are included.
Chugh cites research showing the human mind is constantly bombarded with information but only capable of attending to about seven things at once.
"Your mind is forced to unconsciously classify what's going on around you," Gresalfi said. "Should I pay attention to something? Is it a threat? And this is all happening in your unconscious. The reason bias is so important is because your assessment of what you need to focus on is influenced by your beliefs and ideas. So bias is part of your filter on the world."
Gresalfi said that all new Vanderbilt undergraduates, as well as orientation leaders, will receive a special reprinting of the book, which includes a message from Vice Provost for Academic Affairs Vanessa Beasley and Gresalfi. Most of the identity centers on campus also have requested copies, since the book's themes dovetail with other initiatives related to building an inclusive community on campus.
"The Commons Reading is always an opportunity for new students to form a common language that we can use to start to make sense of ourselves and to meet and connect with one another," Gresalfi said. "This year the Commons Reading will be used more extensively—ideally becoming a common language for the entire university."