Media Inquiries
Latest Stories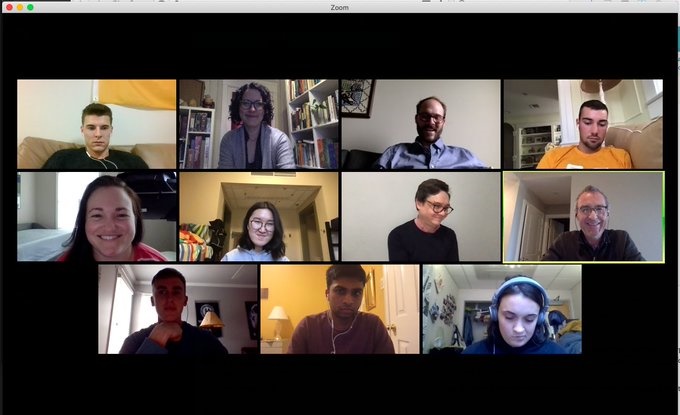 Vanderbilt's spring 2020 class of Buchanan Library Fellows, who signed on for immersive research experiences, embraced skills they had not expected to use during the COVID-19 pandemic.
With professional librarians and faculty as mentors, Buchanan Fellows work on experiential library projects each semester that will benefit library users while promoting undergraduate research. Fellows commit to attending weekly seminars and work together on multidisciplinary projects, sharing results with the community.
The spring 2020 projects included encoding music manuscripts in Special Collections, developing data for Chinese cultural heritage preservation, curating a virtual library exhibition of 16th- to 19th-century popular literature, creating a campus historical tree tour viewable online, and examining issues related to technology and privacy and ethical concerns. Students also helped curate the planned 2021 exhibition Pressed for Time: Five Centuries of Prints from the May Collection in conjunction with Immersion Vanderbilt and a History of Prints course taught by Professor of Religious Studies David H. Price. Another student-created exhibition sheds light on a group of approximately 40 ornamental toggles worn in pre-modern Japan.
Before the pandemic, the fellows for the Ethics of Information project were scheduled to participate in a library fair on intellectual freedom and privacy issues, according to Andrew Wesolek, director of digital scholarship and communications for the Jean and Alexander Heard Libraries.
"Our students were going to staff the information tables and discuss with attendees the various online privacy tools they had learned about in weekly seminars," said Wesolek, who co-directed the fellowship with Melissa Mallon, director of Peabody Library; Bobby Smiley, director of Divinity Library; and Sarah Burriss, doctoral candidate in the Department of Teaching and Learning at Peabody College. "The fair was cancelled, but students pivoted to create highly informative public service announcements on information privacy that can be viewed online."
The student-produced PSAs cover everything from preventing unwanted Internet ad pop-ups to the dangers of personal data collection by some of the emerging and unregulated technologies.
Another group of Buchanan Fellows curated the library exhibition Tending to Popular Thought: What People Read and Why. The original plan was for the fellows to deliver their curator talks at an opening reception for the exhibition in April. COVID-19 pushed the physical opening of the exhibition to this fall. For their final assignment, the fellows wrote their curator talks at home and recorded them on their electronic devices. Their talks are part of the Fellows' online exhibition.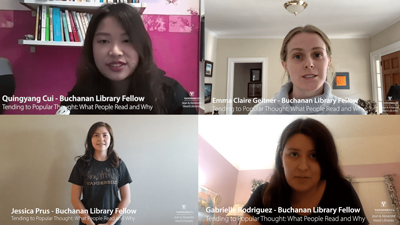 "It was challenging to record the video remotely as I could not be there with the physical object," said Emma Claire Geitner, a rising senior and one of the exhibition fellows. Her project examined the herbal as a piece of literature and as a piece of material culture. "Some woodcut illustrations from the book were integral to how it was originally used, so I am grateful that several pages were scanned before the pandemic and are now available through the online exhibit."
Gabrielle Rodriguez, a rising senior and history of art major who participated in the Tending to Popular Thought exhibition, was disappointed that she didn't deliver her talk in person, but said, "it was actually much easier for me to record a speech than to deliver it to a group of people." Her focus was on primary source material from collections in alchemy and astronomy.
A third project focused on the Music Encoding Initiative, a community-driven effort to provide guidelines and tools for encoding music notation in computational form. The fellows applied those skills to musical manuscripts held by Special Collections. Their final project included encoding an orchestral piece by Alfred Schnittke, a Russian post-modern composer.
"We officially began the Schnittke portion of the project in late February, shortly before everything moved online with the COVID-19 outbreak," said Jacob Schaub, librarian for music cataloging.
Each student in the music encoding fellowship was assigned to create specially coded files for their portion of the manuscript. "Organizing all of the files while working in Zoom, Brightspace, Box, Slack and GitHub had its challenges, but the students rose to the occasion very admirably," Schaub said. He co-directed the music encoding fellowship with Joy Calico, Cornelius Vanderbilt Professor of Musicology and professor of German studies.
Some of the spring 2020 Buchanan Fellowships were well-suited for completion online, such as one to help faculty develop data for Architectura Sinica, a digital image archive of the monumental architecture of Middle Period China.
"Being a Buchanan Library Fellow has provided me a strong foundation to continue my research in a doctoral program at Columbia University," said Qisen Song, who graduated in May 2020 with a double major in history of art and European studies. "Participating in the program during my last and most difficult semester—in the midst of a pandemic—greatly enriched and concluded my memorable experiences at Vanderbilt." His project mentors were Yuh-Fen Benda, librarian for Asian studies and librarian for metadata, and Tracy Miller, associate professor of history of art and Asian studies.
Students can now apply for the fall 2020 Buchanan Fellowships.
The Buchanan Fellows Program was endowed with a $1 million gift by the late Richard Buchanan, BA'57 and MD'61, and his wife, Poppy Buchanan, BS'61. Their keen interest and support for library programs had its beginnings in Richard's experience as a Vanderbilt undergraduate student who worked at the library.