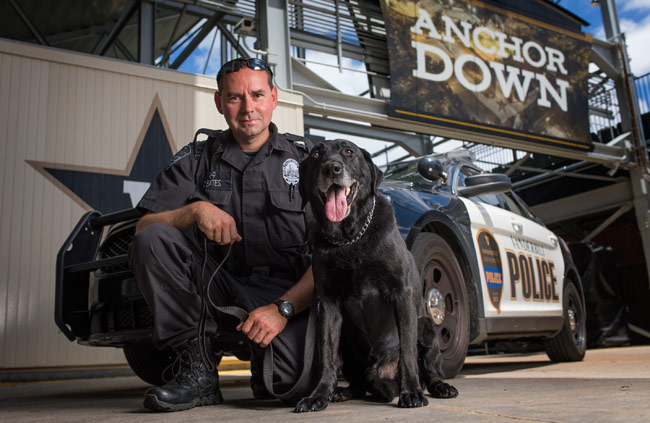 Gauge, the first recruit and longest-serving officer in Vanderbilt University Police Department's K-9 program, died July 20. He was 14 and a half.
An explosives detection dog, Gauge served VUPD for 10 years and was elevated to the rank of corporal. He was retired from the department in 2017.
Over his decade-long career, Gauge provided his sniffing services approximately 1,000 times for various events on campus as well as in response to suspicious packages, parcels and vehicles. He was USPCA- and ATF-certified and used to sweep Vanderbilt facilities before football, basketball and baseball games, events involving dignitaries, and most any large gathering on campus.
"As a partner, I couldn't have asked for a better dog," said Lt. Jason Bates, Gauge's longtime handler, to whose home he retired in 2017.
During Gauge's years of service, the pair was called on to assist the Metro Nashville Police Department several times each year for marathons, Tennessee Titans games, visits by former presidents to Nashville and the annual CMA Awards and Music Festival, among other events. Gauge also spent thousands of hours training with MNPD, the FBI Joint Terrorism Task Force, the Bureau of Alcohol, Tobacco and Firearms, the Nashville Airport Police and the Tennessee Highway Patrol.
At age 11, Gauge became arthritic in his hips, which hindered his ability to low-crawl under things, and sitting and standing became increasingly difficult. It was decided to retire Gauge to his handler's home to spend his days relaxing and playing.
No longer required to adhere to a strict diet in retirement, Gauge regularly feasted on kibble, ribs, chicken, turkey, sausages, hot dogs, the largest butcher bones available, and his all-time favorite treat: cheese puffs.
Gauge spent the remainder of his retirement in a large fenced yard with many trees and a choice of two dog houses, including a "winter home," which was heated. He had continuous access to at least a dozen balls—tennis balls were his favorite—strewn about the yard at any given time. Gauge had a habit of burying rawhide chews, but never forgot where he placed them. On warm days he relaxed in holes he dug in the yard, especially happy when they filled with water. He enjoyed playing fetch and swimming in the Stones River with his handler.
"Gauge was a friend to, and loved by, many family members, department personnel, community members, neighbors and certainly his handler," said VUPD in its monthly newsletter. "He spent most of his life doing what he loved to do—serving the police department that chose him for a specific, highly specialized job. He served that role with the utmost dedication and desire to please."