More than 300 faculty members participated in a virtual town hall on Wednesday featuring Derek Bruff, principal senior lecturer of mathematics and director of the Center for Teaching, on adaptive teaching and learning.
Interim Chancellor and Provost Susan R. Wente introduced the session, which was developed in response to faculty questions stemming from a June 15 town hall.
"I want to firmly reinforce that we are working closely together on how to best support faculty who are teaching this coming semester and this academic year. However, I recognize and value that curricular decisions are local, and that teaching norms and expectations differ across disciplines and schools/colleges," Wente said. "We have so much we can also learn from one another and help each other ensure excellence in our educational mission."
Following Bruff's presentation, Faculty Senate Chair and Stevenson Professor of Chemistry John McLean moderated a discussion that included Bruff Mavis Schorn, professor of nursing and senior associate dean for academics in the School of Nursing, and André Christie-Mizell, professor of sociology and dean of undergraduate education in the College of Arts and Science. Schorn and Christie-Mizell co-chair the Education Continuity Subcommittee of the University Continuity Working Group. Faculty questions included a wide range of topics including designing hybrid courses to classroom safety protocols.
To support faculty, the university has made substantial investments in teaching including enhancing and expanding classroom technology and offering new programming and tools through the nationally recognized Center for Teaching resources. Faculty will soon have access to additional instructional design experts through iDesign, which will provide both training and on-call support. More information about increased resources to support faculty this fall can be found on the adaptive teaching webpage and in future MyVU stories focused on new tools as they become available.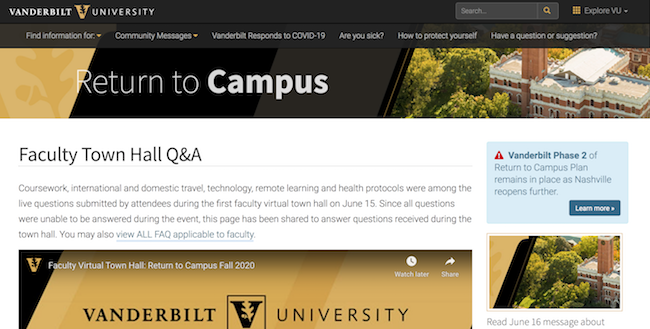 A new webpage that features answers to questions submitted during the faculty town halls has launched. Some questions from the June 24 town hall have been added to the webpage and more will be posted with answers as decisions are made.