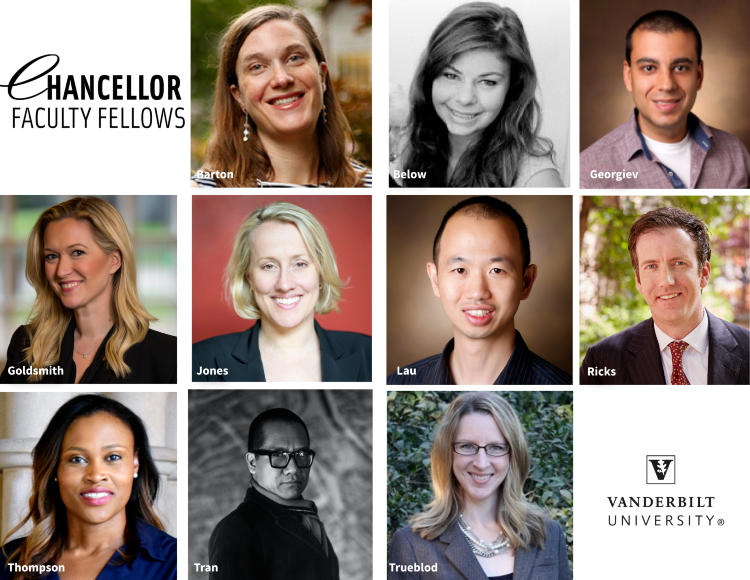 By Dana Meeks
Ten outstanding faculty members from across the university have been selected for the 2020 cohort of Chancellor Faculty Fellows. This group is composed of highly accomplished, recently tenured faculty from a wide variety of disciplines and areas of expertise.
"Investing in this remarkable group of faculty demonstrates our long-term commitment as a university to their advancement, leadership and pursuit of discovery," said Interim Chancellor and Provost Susan R. Wente. "I offer my congratulations to the 2020 cohort and know that their research and scholarship will play an integral role in solving some of the most pressing issues that we face today and in the future, both locally and globally."
The selected faculty members will meet as a group during the course of their fellowships to exchange ideas on teaching and research, building a broader intellectual community that advances trans-institutional scholarship.
The newly named 2020 Chancellor Faculty Fellows are:
The Chancellor Faculty Fellows program was launched in September 2014 under the Trans-Institutional Programs, or TIPs, initiative to support outstanding faculty who have recently received tenure. Some highlights of accomplishments from last year's cohort of fellows include:
Chancellor Faculty Fellow candidates are nominated by their deans and colleagues. With collaborative oversight by Tracey George, vice provost for faculty affairs and Charles B. Cox III and Lucy D. Cox Family Professor in Law and Liberty, and Jennifer Pietenpol, Vanderbilt University Medical Center executive vice president for research and B.F. Byrd Jr. Professor of Oncology, Biochemistry and Otolaryngology, the TIPs Council reviewed and made final recommendations to Wente and Jeff Balser, dean of the School of Medicine and VUMC President/CEO, on the many excellent nominations received for the 2020 cohort.