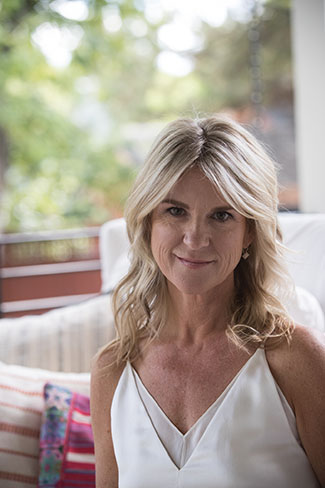 By Sydnie Hochstein
When Laura Love, BS'93, founded her own public relations agency in 2001, she envisioned that philanthropy would be a central part of her company's culture. As her agency, GroundFloor Media, and its sister digital agency, CenterTable, began to grow, so did her desire to give back to the community that supported her as she built her business.
In 2015, Love established the private 501(c)(3) Get Grounded Foundation with the goal of offering crucial seed money to help small Colorado nonprofits focusing on at-risk youth launch innovative ideas or programs. Since its inception, the foundation has granted more than $158,000 to nonprofits that support at-risk youth in the areas of child abuse and neglect, youth behavioral health and childhood hunger relief.
Then the COVID-19 pandemic hit, and Love recognized a void her company was uniquely positioned to fill.
"We realized a lot of the bigger nonprofit agencies were getting an outpouring of support," she said. "The smaller ones just didn't have the outlets to attract volunteers or donors like they normally would."
Love and her team quickly developed a website to connect Colorado nonprofits in need with people willing to volunteer or donate. They filled the site with a list of nonprofits and their greatest needs—including food and blood banks, foster agencies, homeless shelters and more.
"It was a chance to reshape our foundation through the lens of coronavirus," Love said. "Within a week we were able to get the site up, and it took off."
After a local news station ran a story about the site, Love said the website had thousands of hits, and many partner organizations experienced a surge of support. She heard from one nonprofit, a dog fostering agency, which received so many responses that they couldn't take on any more foster families.
Love and her team plan to expand their efforts to help throughout the pandemic. They are revamping the site to focus on immediate volunteer needs and debuted a podcast featuring conversations with local leaders about some of the good that shines through during this crisis. Among the many positives to come from developing the site, Love hopes that it will encourage people to view giving back as a new way of life.
"When you have no idea what's going to happen in the future, there's always a risk of falling into a place of fear," she said. "When you remove yourself from that, and take a look at what's happening in your community and where you can contribute, you move to a place a gratitude."
Following her graduation from Vanderbilt, Love earned her master's degree in journalism from Northwestern University and worked in television news before making the shift to public relations. Shortly after moving to Colorado for a new job in the late 1990s, she was laid off in the middle of an economic downturn and 9/11. That's when she founded GroundFloor Media—something she says she never could have imagined as a young student at Vanderbilt. However, she credits her Peabody education for preparing her to build a successful career and business.
"What I learned in the HOD program taught me the soft skills you need to become a leader in an organization," she said. "It has helped me throughout my life, but especially during challenging times like this."