Media Inquiries
Latest Stories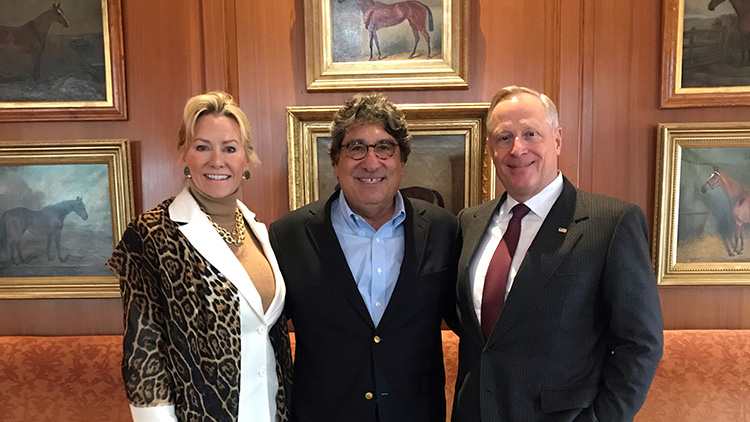 Vanderbilt University has received an $8 million commitment to create the Nicholas S. Zeppos Scholarship, honoring the institution's eighth chancellor.
The Sarah and Ross Perot Jr. Foundation made the gift to recognize Zeppos' extraordinary tenure as Vanderbilt chancellor from 2008 through 2019.
"It is both humbling and deeply gratifying that the Perot family—which has supported Vanderbilt in so many profound ways over the years—saw fit to create this scholarship program," said Zeppos, Cornelius Vanderbilt Chancellor Emeritus. "Scholarships give talented young people transformational opportunities to create meaningful, positive change in the world, regardless of their financial backgrounds. Scholarships change lives. Period. I am truly honored by this generosity."
Ross Perot Jr., BA'81, announced the gift Feb. 7 at a meeting of Vanderbilt's Board of Trust.  Zeppos will play the leading role in outlining the vision for Zeppos Scholars as the program begins.
"My wife, Sarah, and I want to mark our service to Vanderbilt and honor the leadership of Nick Zeppos by helping the university recruit the very best scholars possible," Perot Jr. said. "My family is dedicated to ensuring the university continues to excel for many years to come."
Interim Chancellor and Provost Susan R. Wente said Vanderbilt's ability to attract top students through both Opportunity Vanderbilt and professional and graduate scholarships has been vital in the university's ascent over the past decade.
"Since Opportunity Vanderbilt was launched in 2008 under the visionary guidance of Chancellor Zeppos, the university has supported nearly 12,000 talented, deserving undergraduate students," Wente said. "Supporters like the Perots have worked tirelessly and given generously to enhance the Vanderbilt community for all its current—and future—members. Through their generosity and those of other supporters, we have also been able to draw leading graduate and professional students and scholars to our university."
Two of the Perot Jr. family's four children, Henry "Hill" Ross Perot III, BA'09, and Sarah Catherine Perot, BS'13, attended the university during Zeppos' tenure as chancellor and were inspired by his mentorship and commitment to the holistic undergraduate student experience.
"Chancellor Zeppos was a tremendous leader. My favorite class at Vanderbilt was a seminar Zeppos taught on the Federalist Papers, and I will be forever honored to have been associated with him as a student," said Hill Perot. "The Nicholas Zeppos Scholarship Fund represents a fitting recognition of his distinguished legacy of service and passion for Vanderbilt University."
"Chancellor Zeppos' trademark positivity, passion for Vanderbilt, and tireless commitment to bettering the university was known by every Commodore during his tenure as chancellor," said Sarah Catherine Perot. "It is our hope that the Zeppos Scholars will embody his legacy and become outstanding leaders devoted to improving their communities and the lives of others."
Perot Jr. was named to Vanderbilt University's Board of Trust in 2010, and has served on the Academic Programs, Budget, Compensation, Executive, Investment, and Medical Center Affairs committees. He will become an emeritus trustee on July 1. Mr. and Mrs. Perot also have served on the Parents Leadership Committee. Previously, the Perot Jr. family has supported building projects, faculty and undergraduate financial aid.
Zeppos and his wife, Lydia Howarth, have established several scholarships in their own right—ranging from ones for undergraduates, student-athlete support and law students—underscoring their abiding commitment to student success. The chancellor emeritus is currently on a yearlong sabbatical and will return to the Vanderbilt faculty as professor of law and political science.