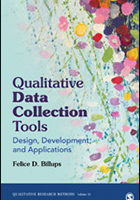 Qualitative Data Collection Tools: Design, Development, and Applications, (2020, Sage Publishers) by Felice D. Billups, EdD'91
This new and unique supplementary text that will guide students and new researchers to design, develop, pilot and employ qualitative tools in order to collect qualitative data. Templates of interview protocols, focus group moderator guides, content analysis tools, document analysis tools, reflective questionnaires, diary and journal logs, and observational rubrics give the reader either a cut-and-paste solution for their own research or a starting point to design their own personalized qualitative tools.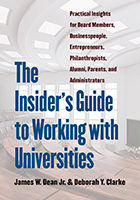 The Insider's Guide to Working with Universities: Practical Insights for Board Members, Businesspeople, Entrepreneurs, Philanthropists, Alumni, Parents, and Administrators (2019, University of North Carolina Press) by James W. Dean Jr. and Deborah Y. Clarke, MEd'98
Colleges and universities stand to benefit greatly when businesspeople engage with them. But many businesspeople are frustrated by the way institutions of higher education work—or rather, how they don't work. As leaders in higher education, this book draws on Dean and Clarke's expertise to offer real-world guidance for businesspeople who work with and seek to improve colleges and universities.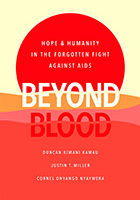 Beyond Blood: Hope and Humanity in the Forgotten Fight Against AIDS (2019, Greenleaf) by Justin Miller, BS'09, Cornel Onyango Nyaywera and Duncan Kimani Kamau
The true-life account of how three men from drastically different backgrounds came together to form CARE for AIDS, a grassroots nonprofit that has empowered thousands of HIV-positive people in East Africa to live lives beyond AIDS. Miller is the recipient of Vanderbilt's 2019 Young Alumni Professional Achievement award.