Media Inquiries
Latest Stories
In high school Andrew Brodsky wanted to become a middle school or high school science teacher. He chose Vanderbilt because of Peabody College's top rankings, and enrolled as a secondary education and chemistry double major. But sometimes plans change.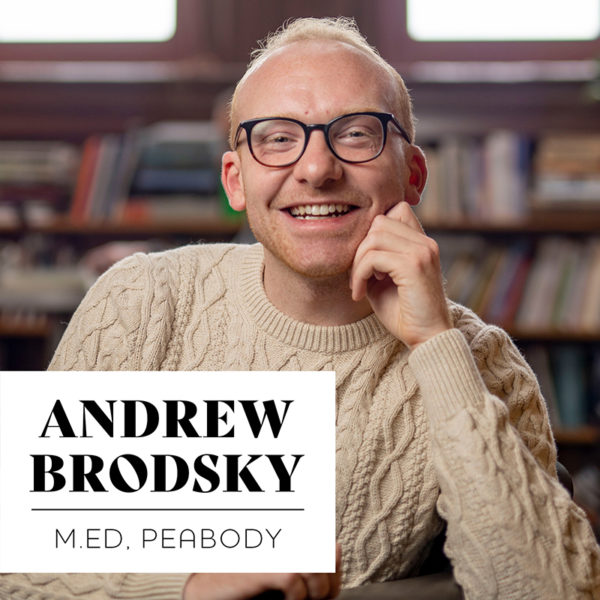 "I quickly realized that I'm awful at chemistry and even worse at working with children," says the Arkansas native with a laugh. "But during my first semester, I took a class with [Associate Professor of the Practice of Teaching and Learning] Catherine McTamaney that looked at the crucial role higher education plays in upward mobility in the United States, and that opened my eyes to a different way I could make an impact in the educational environment."
He changed his major to human and organizational development, graduating with his undergraduate degree in 2018, and then began to focus on a new passion: increasing access to higher education for underserved populations. The subject hits close to home, as he is a first-generation college student in his family.
"Opportunity Vanderbilt gave me the chance to afford a top-tier institution like Vanderbilt when otherwise I never would have been able to pay for it," explains Brodsky, who received the Orrin H. Ingram Scholarship. "Students from urban and rural areas face unique challenges when pursuing postsecondary education."
Now, with his master's in higher education administration from Peabody, Brodsky plans to use the tools and knowledge he has gained to make positive changes to the systems and organizations that deter many students from pursuing their college aspirations.
Brodsky says Vanderbilt's residential college system—especially The Martha Rivers Ingram Commons—served as a safe and supportive network for him as he navigated these decisions. "My freshman year I came in knowing absolutely no one. But by the end of the year, I had created an incredible and diverse community of friends who had helped me learn more about the world and more about myself."
Later, as a resident adviser at Crawford House, Brodsky reconnected with McTamaney, who served as head of house. "I learned from her the importance of meeting students where they are for their educational needs—and turning educational theory into sound practice that can help students thrive in their college experience," he says.
"During my time at Vanderbilt, I have had the unparalleled opportunity to meet and learn from people from all sorts of backgrounds and find support as I followed my dreams. I want others to have that, too."
Brodsky also found a supportive and inclusive community within the walls of the K.C. Potter Center, which houses the Office of LGBTQI Life.
"The undergraduate experience is often the first time people have the opportunity to freely and openly explore their sexual identities—myself included," he says. "The staff at the K.C. Potter Center helped me so much, and has done the same for countless other students at Vanderbilt."
Brodsky has accepted a job in New York City with Huron Consulting Group as an analyst with its Higher Education Strategy and Operations team. In his role he will travel to colleges and universities across the country to advise on long-term strategic planning.
"During my time at Vanderbilt, I have had the unparalleled opportunity to meet and learn from people from all sorts of backgrounds and find support as I followed my dreams," he says. "I want others to have that, too."