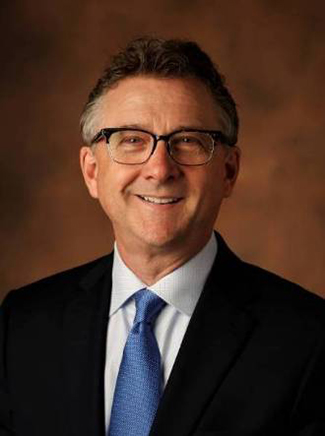 Vanderbilt University's senior technology leader, John M. Lutz, has been appointed interim vice chancellor for development and alumni relations, effective immediately, Interim Chancellor and Provost Susan R. Wente announced today. Lutz succeeds Susie Stalcup, who announced her retirement April 24. He also will continue to serve as vice chancellor for information technology.
"Philanthropy and alumni engagement are at the very foundation of our university's success and promise. We are very fortunate to have a leader with John's vision, experience and deep connection to Vanderbilt ready to step forward and lead our work in these areas during this transition. Since he joined the university seven years ago, he has transformed our technology enterprise to fully support our Academic Strategic Plan," Wente said. "He has also gone above and beyond his technology role to serve as an ambassador for the university with parents, alumni and donors. I am grateful to John for taking on this new role."
As vice chancellor, Lutz is responsible for IT infrastructure and application management across all of Vanderbilt's academic and administrative groups.
"The power of a university comes from the interconnectedness of its people—a diverse community of alumni, donors, students, faculty and staff empowered to act together with a common purpose," said Incoming Chancellor Daniel Diermeier. "The generous and steadfast philanthropic support from Vanderbilt's donors and alumni fuel financial aid programs like Opportunity Vanderbilt, research that changes lives, and so many other areas across the university. I believe John's strategic and management acumen, his commitment to Vanderbilt and its values, and his focus on people and processes make him an ideal leader to advance the university's mission."
Stalcup will continue as an adviser to Wente through May 31.
"I deeply appreciate Susie's dedication to Vanderbilt's success," Wente said. "I look forward to her continued counsel over the coming weeks to ensure a smooth transition."
Since joining the university in 2013, Lutz has combined seven organizations to create the university's first unified IT organization. He composed and executed a comprehensive plan in support of the reorganization of the university and Vanderbilt University Medical Center for infrastructure, networks and applications. In addition, he led significant enhancements to Vanderbilt's cybersecurity profile. To ensure strategic and efficient deployment of resources, he organized and led the first-ever cross-university governance process for IT and business projects to allow prioritization across various departments and schools. He also co-led the selection and implementation program for the full replacement of university human resources and finance systems with a modern cloud-based system and is leading the launch of a comprehensive new customer relationship management system.
Most recently, Lutz and his team have been at the core of the university's rapid and successful move to alternative learning and remote work as a result of COVID-19.
"I am excited and honored to take on these new responsibilities at this crucial time," Lutz said. "As a Vanderbilt parent myself, I know the tremendous role that our donor and alumni community play in student, faculty and staff success, and look forward to doing everything I can to advance our engagement and collaboration with the global Vanderbilt family."
Lutz has made growing and developing an outstanding, diverse team a priority. He and his team revamped and delivered comprehensive training and education curriculum for VUIT staff that incorporates technical, business, professional development, and diversity and inclusion modules.
Lutz joined Vanderbilt in April 2013 after serving as president of IBM Canada, where he was responsible for setting the strategic direction and overseeing the day-to-day operations of the IBM organization in Canada. He started his career with IBM in 1984 after interning at the T.J. Watson Research Center. Over his 29 years at IBM, he held a wide variety of positions, including roles as general manager of IBM's Global Financial Services Sector and as executive assistant to IBM Chairman and CEO Louis V. Gerstner Jr.
A native of southern Ohio, Lutz holds an A.B., magna cum laude, in computer science and linguistics from Harvard. He has three children, John, James and Charleton.