Vanderbilt employees respond to challenges amid COVID-19
Many of those who are helping to assure that Vanderbilt faculty, students, and staff have the resources they need to continue teaching, learning, and working during the global novel coronavirus pandemic are staff members in Vanderbilt University Information Technology.
From protecting data to training on Zoom to ensuring systems function properly to answering phones for the university and Vanderbilt University Medical Center, more than 280 staff members behind computer screens are working diligently to keep the university running.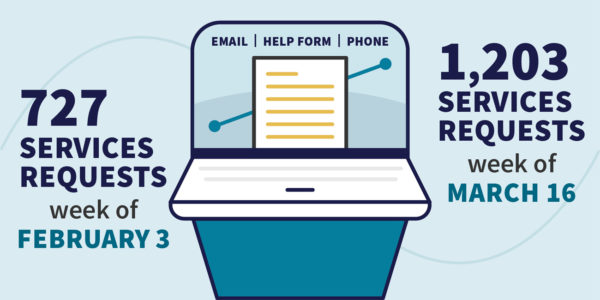 "While the last couple of weeks have been full of challenges, this time has also brought out the very best in Vanderbilt," Vice Chancellor for Information Technology John Lutz said. "Watching our VUIT staff adapt to the ever-changing environment has been an inspiring testament to their flexibility, creativity, and agility. The team has gone all-in on finding new ways of getting their work done and new ways to partner with colleagues across our now-virtual campus.
"Even more important has been their laser focus on enabling our faculty leaders and researchers to do their own jobs, which are the heart of Vanderbilt's mission, in innovative and powerful ways," he said. "I've never been prouder to be part of our Vanderbilt team."
Since the announcements in early March of the change to remote learning and working, VUIT has shifted its resources to high-need areas, including operator services, infrastructure services, and targeted phishing attack detection. A VUIT Command Center was established in early March to assist with supporting the university in its transition.
With increasing demands on VUMC as the number of COVID-19 cases in Middle Tennessee began to rise, VUIT's Voice and Network Services staff jumped in to support the hospital's efforts by adding 368 more phone lines, installing 40 new fax servers to handle the high demand, changed call menus, set up new call centers including a virus hotline, installed 212 soft phones and counting, and trained VUMC staff on how to utilize the technologies.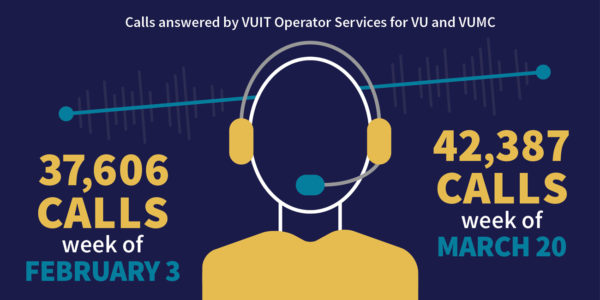 VUIT also worked closely with schools to quickly shift from on-campus to online and alternative learning and teaching in a matter of days. VUIT launched a fully operational Zoom platform for the campus on March 12 and started providing training for faculty the same day. The team also developed support pages for Zoom, Brightspace, and telecommuting to help assure that the campus community had the resources needed for the transition.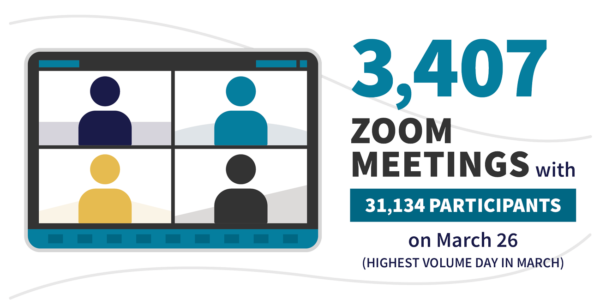 As the university prepared for online and alternative learning to begin, VUIT staff anticipated a peak number of 187 classes happening simultaneously. Pop-up studios were established on the first day back, March 16, to assist with the projected high volume of help requests.
Eric Johnson, Ralph Owen Dean, and Bruce D. Henderson, Professor of Strategy at the Owen Graduate School of Management, said that a strong partnership among the school's teaching staff, VUIT, and audiovisual teams helped faculty quickly transition to remote teaching.
"We worked to build five training classrooms, where VUIT and Owen staff supported faculty in both practice and live sessions prior to having faculty teach remotely," Johnson said. "The process allowed us to learn and clear many hurdles, ensuring better success when faculty were at home.
"On our first morning of online teaching, we had a SWAT team of VUIT, AV and teaching delivery staff ready to support any of the many classes that were running simultaneously," he said.
Although these technologies are not new, Vanderbilt Center for Teaching Director Derek Bruff said that institutions likely will continue to utilize these learning and teaching technologies post-COVID-19.
"Faculty and other instructors have always had a variety of tools to use in their teaching. We all know a lot more about some of those tools now, and have more experience using them," Bruff said.
"Going forward, we will continue to need to be intentional in how we teach with technology, aligning our tool use with our pedagogical goals," he said. "Our toolboxes have gotten bigger, and I expect we'll see our faculty use these tools more frequently, more creatively and more effectively."