Media Inquiries
Latest Stories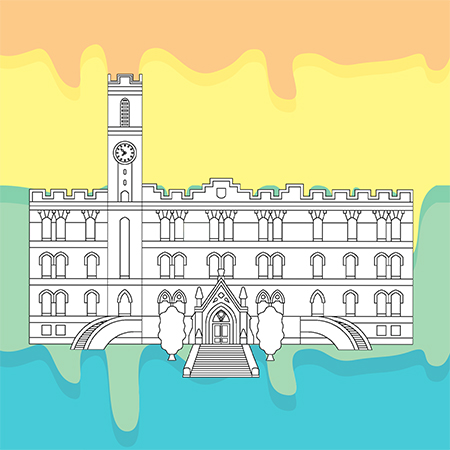 Vanderbilt University has developed a few printable activity pages, including Vanderbilt-related coloring activities and word searches, that children can engage with at home.
The activity pages were developed by the Division of Communications in partnership with The Acorn School, which offers early childhood care and education for the children of Vanderbilt faculty, staff and students as part of the Vanderbilt Child and Family Center. Additionally, Vanderbilt Athletics developed sports-themed coloring activity pages for community members with young children.
The Vanderbilt Child And Family Center also has provided daily activities for families to consider adapting for their preschoolers and implementing at home as they manage new routines due to COVID-19.
During dinner, the child can identify shapes and colors present in foods, and discuss with an adult.
Offer creative exploration opportunities for one uninterrupted hour each day. This could be setting up playdough for a child; finger painting on recycled cardboard; playing with blocks, Legos or puzzles; or curating dolls, costumes or props.
Read a book aloud together on a theme or topic the child is interested in. For example, if a child is interested in learning about the wind or weather changes, one could read books like When the Wind Blows by Linda Booth Sweeney, Little Could by Eric Carle, and Like a Windy Day by Frank Asch, or watch online books about the topics via YouTube. This could be enhanced by going outside with the curious child to explore the wind, using various items such as a kite, streamer or scarves that they can hold as the items blow in the wind. One also could invite their child to look at the sky and identify clouds together.
For additional ideas, tips and information on resources available to community members with young children, visit the Vanderbilt Child and Family Center's newly developed Family Life Resources webpage. The webpage includes links to interactive activities for families and caregivers, local virtual experiences for children to engage with, information on state and local resources, links to in-home care services, and guides for how to talk with children about COVID-19.
Click on the images to access the printable activity pages: