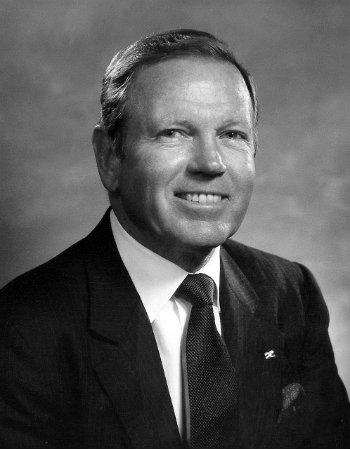 Brownlee Owen Currey Jr., an alumnus, emeritus trustee, financial services executive and entrepreneur who was noted for his philanthropic leadership at Vanderbilt University and in the community, died March 18. The Franklin, Tennessee, resident was 91.
"Brownlee Currey's deep love for his alma mater has touched and lifted many different areas of our university, and his long legacy will be proudly remembered at Vanderbilt," said Interim Chancellor and Provost Susan R. Wente. "We will always be grateful for his commitment to excellence, skillful leadership and support for our students through his many years of board service."
"Brownlee served the university with distinction under four of its chancellors," said John S. Beasley II, BA'52 and JD'54, vice chancellor for alumni and development,  emeritus, and counselor to the chancellor. "Apart from his philanthropy, Brownlee was a source of sense, good humor and grounded advice, and he put many of his broad range of connections to Vanderbilt's service."
Beasley was nearly a lifelong friend of Currey, who earned a bachelor of arts from Vanderbilt University in 1949. The day after Commencement Currey went to work as a securities broker for Equitable Securities. After being transferred to the company's New York office, he rose through the leadership ranks, being named a director and senior vice president of what became Equitable Securities Morton & Company Inc., a subsidiary of American Express.
In 1970, Currey was named vice chairman of the Commerce Union Corporation, which later became Bank of America. He went on to purchase the Nashville Banner, the city's longstanding afternoon daily newspaper, where he held the positions of chairman, CEO and publisher at varying times between 1980 and 1998.
Currey was an avid golfer and tennis player who had been nationally ranked in senior tennis. He provided strong support for Vanderbilt athletics, including his support for the Brownlee O. Currey Jr. Tennis Center.
The Currey family has contributed generously through the years to many areas of the university, including the Owen Graduate School of Management, where a family gift has established chairs named for his parents, Brownlee Owen Currey, BA'23, and Frances Hampton Currey, as well as two chairs in his own name.
Two Brownlee O. Currey Jr. Dean's Faculty Fellowships at Owen were created in 2017 to provide support to young assistant professors whose research has a significant impact. In addition, Currey's gift to the Blair School of Music honored his mother with the naming of the Frances Hampton Currey Instrumental Rehearsal Hall at the Ingram Performing Arts Center.
Currey joined the Vanderbilt Board of Trust as an alumni trustee in 1968. He continued his service as a full board member from 1977 to 2004, when he became an emeritus trustee.
He served on many boards throughout his life, including Thomas Nelson Publishing Company, the United States Equestrian Team Foundation, myFace – the Foundation for Facial Reconstruction, the Volunteer Horsemen's Association, Montgomery Bell Academy, and Leadership Nashville, among others. He was a generous supporter of Currey Ingram Academy.
Currey received Tennessee's Outstanding Achievement Award in 1984 from then-Gov. Lamar Alexander. He also was the recipient of the Nashville Area Chamber of Commerce Bronze Seal of Honor in 1984 for two gold medals that the horse Touch of Class, ridden by Joe Fargis, received in the 1984 Olympics in Los Angeles. The Curreys were among the owners of the horse syndicate.
Currey is survived by his wife, Agneta Akerlund Currey; their three children, Christian Brownlee Currey, BA'84, Stephanie Currey Ingram, BA'86, and Frances Currey Briggs, BA'86; and 12 grandchildren.
A Celebration of Life will be held in Nashville and New York at a time to be determined.
In lieu of flowers, memorial contributions can be made to Vanderbilt University or Montgomery Bell Academy.