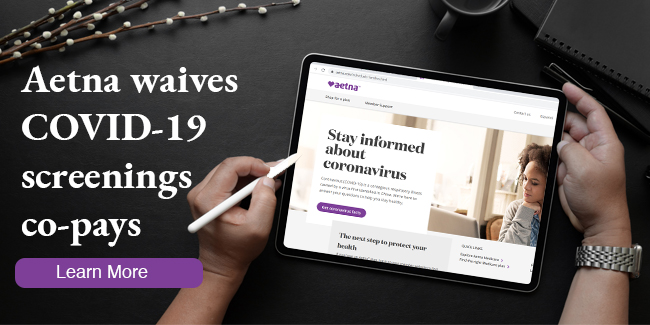 Insurance provider Aetna is taking significant steps in response to COVID-19. Effective immediately, Aetna will waive co-pays and member cost share for all diagnostic testing related to COVID-19. This will cover the test kit for patients who meet CDC guidelines for testing, which can be performed in any approved laboratory location.
Aetna is extending all member cost-sharing waivers for in-network telemedicine visits for outpatient behavioral and mental health counseling services through September 30, 2020.
Tennessee resources
Vanderbilt University Medical Center – If you are a Vanderbilt employee or patient with fever, cough or shortness of breath and are concerned about the coronavirus, call (888) 312-0847 to be assessed. This line is available daily from 7 a.m. to 7 p.m.
Visit the Tennessee Department of Health and the Centers for Disease Control and Prevention for the latest status and recommendations.
COVID-19 Public Information Hotline: (877) 857-2945, available daily, 10 a.m.–10 p.m.
Symptoms of COVID-19 include:
respiratory symptoms
fever
cough
shortness of breath
difficulty breathing
How to help prevent the spread of COVID-19
Wash your hands often.
Avoid touching your eyes, nose or mouth.
When you sneeze, cover your nose and mouth with a tissue.
Clean and disinfect surfaces and objects.
Drink plenty of fluids.
Learn more on the Aetna website, or contact HR at human.resources@vanderbilt.edu.