All university-sponsored, non-Athletics events and gatherings are suspended through April 30 due to COVID-19.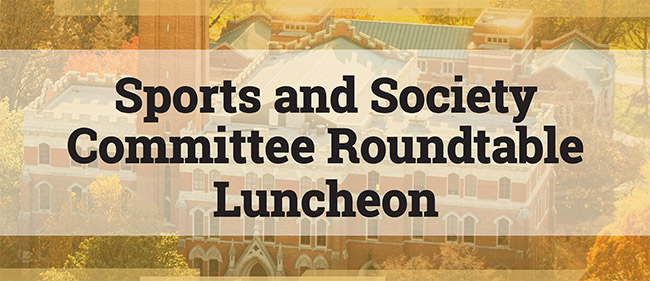 Faculty are invited to join a roundtable session focusing on research success stories from the Sports and Society Micro-Grant Program on March 19. The discussion and luncheon will begin at noon at the Bishop Joseph Johnson Black Cultural Center. During the event, which is hosted by the Sports and Society Committee, previous micro-grant recipients will talk about experiences and findings that emerged from their program participation and provide information on how attendees can engage with the initiative.
The micro-grant program offers a framework to further campus engagement in investigating how sports impact our society and vice versa, in areas such as race, law, gender, education, medicine, media and more.
"We look forward to welcoming faculty from across the university as we build the foundation for future ideas and programs that will advance the interrelation of sports and academics," said Christin Essin, chair of the Sports and Society Committee and associate professor of theatre.
Rosevelt Noble, director of the Bishop Johnson Black Cultural Center and assistant dean of residential colleges, will lead the discussion. He is a Sports and Society committee member and a recipient of a 2018 micro-grant. Two additional grant recipients, Brandon Byrd, assistant professor of history, and Celso Castilho, assistant professor of history, will also speak to their experience as awardees and how they utilized their funding.
An RSVP to the roundtable is requested as lunch will be served.
Download a flyer for this event to post in your work area.
Visit the Sports and Society Initiative website for more information.