Media Inquiries
Latest Stories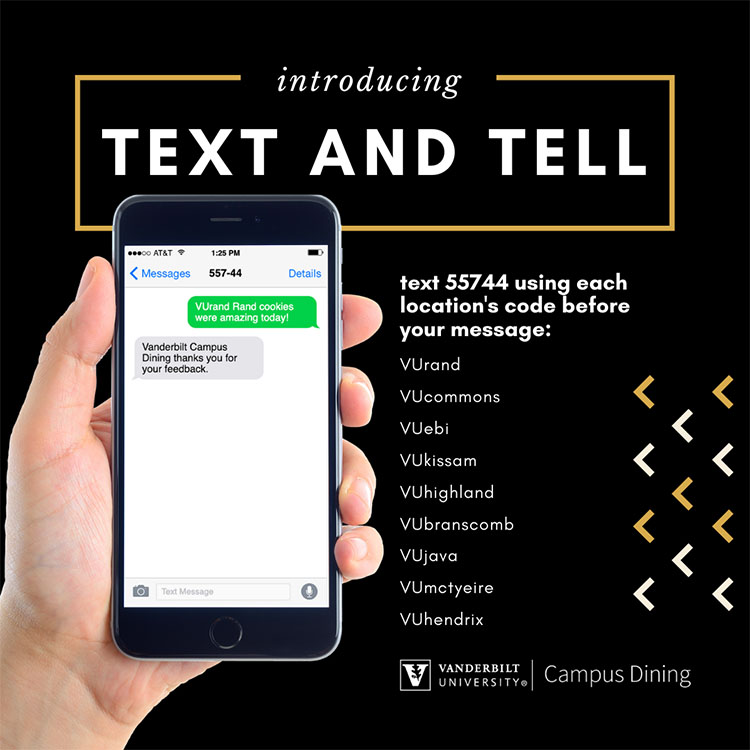 Vanderbilt Campus Dining is hungry for feedback, and it's easier than ever to let them know about your experience.
Text and Tell is Campus Dining's new in-the-moment feedback solution. Using a simple text code, guests now have the ability to instantly communicate with management—sharing kudos, concerns or even questions for Campus Dining.
Here's how it works: Guests send a text message to 55744. In the message, include the location code followed by your comments. Location codes are posted on signage around Campus Dining units and are specific to each dining hall, allowing staff to instantly locate and respond to any issue.
"Campus Dining is a key component of the residential student experience at Vanderbilt, and we want to be sure our dining facilities reflect a consistently high level of excellence," Sean Carroll, director of marketing and communications for People and Business Services, said. "Text and Tell not only helps us ensure that Campus Dining is following through on that commitment, it also takes us to the next level in terms of student engagement."
Text and Tell is the latest of many student-facing initiatives Campus Dining expects to launch this academic year. For more information about Vanderbilt Campus Dining, visit vu.edu/dining.