Vanderbilt students, faculty, staff and postdoctoral fellows honored the legacy of Martin Luther King Jr. through programs, lectures, interactive teach-ins, community service projects and more as part of the university's annual Martin Luther King Jr. Commemorative Series.
The series began on Jan. 17 with a kickoff at the Bishop Joseph Johnson Black Cultural Center. The event included Melanated A Capella performing "Lift Every Voice and Sing," remarks from Interim Vice Chancellor for Equity, Diversity and Inclusion and Chief Diversity Officer André L. Churchwell, and a keynote from Emmy Award-winning visual artist and community leader James Threalkill, BS'79.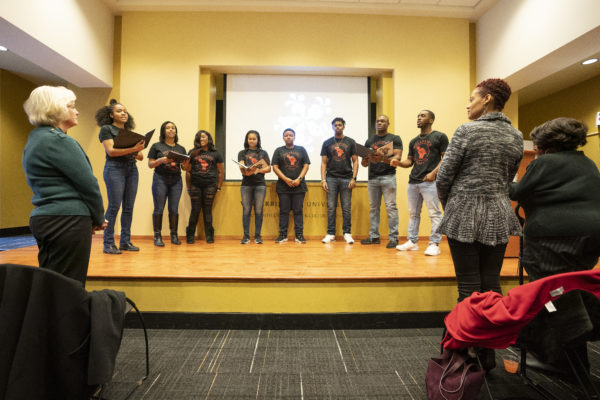 "I did not know Martin Luther King Jr., but I spent many of my early years in Nashville following his career. We have learned a lot from him. As he recognized, only love can defeat hate and only light can conquer and erase darkness, and we should never demonize a race or people or person, but seek to understand them," said Churchwell during the kickoff. "Leaders like Martin Luther King Jr. would also admonish us not to view him as some messiah or marvel superhero, but as a man, a man whose principles and ideology was forged on the battlefield of civil rights."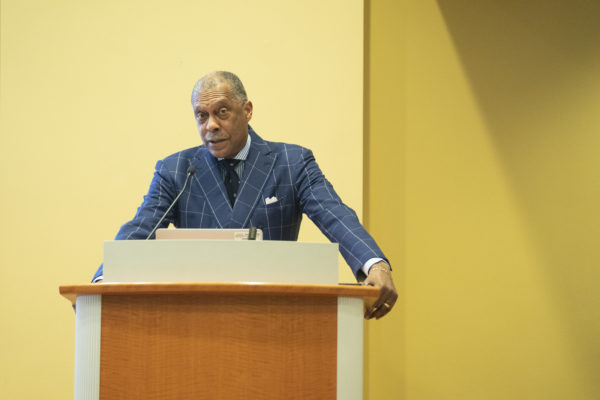 During his keynote, Threalkill shared several personal stories that inspired him on his journey and encouraged the students in attendance to continue paving the way for those to come.
"To the current students I say, you're creating stories that are going to pave the way. I honor your presence here today, because you have a great responsibility to continue to pave the way for those who are going to come behind you, just like the graduates who came before me paved the way for me to have the opportunities I've had," said Threalkill. "You have within you the power to change the world, make our society a better place, to be what Dr. King dreamed it could be."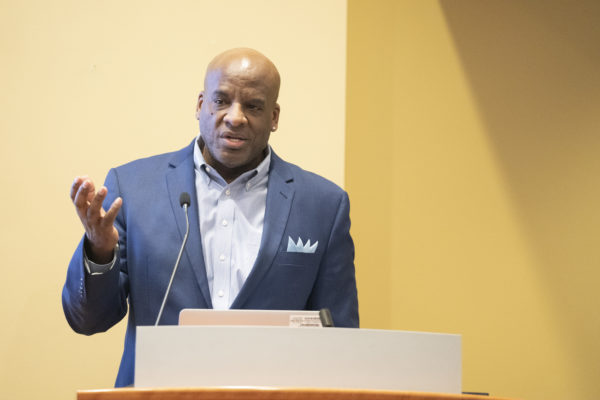 The following day, Vanderbilt community members participated in the MLK Joint Day of Service: The Sit-ins@60: Students. Action. Justice. The day was collaboratively organized with other local colleges and universities including Belmont University, Fisk University, Lipscomb University, Meharry Medical College, Nashville State Community College, Trevecca Nazarene University and Tennessee State University. At TSU's Kean Hall, more than 500 students, including some 40 from Vanderbilt, gathered to hear an address from civil rights activist and Freedom Rider Ernest "Rip" Patton before volunteers spread out to service sites across Nashville.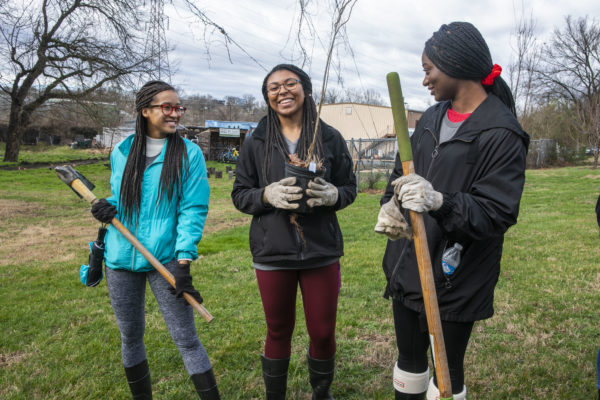 The 2020 MLK Commemorative Series keynote event, hosted in partnership with the Chancellor's Lecture Series, featured Janelle Monáe, a Grammy-nominated singer-songwriter, performer, producer and actor, and Yusef Salaam, one of the Exonerated Five, formerly known as the Central Park Five.
Read the full recap of the keynote event in partnership with CLS. >>
Prior to the keynote in Langford Auditorium, nearly 1,000 people participated in a candlelight vigil in honor of Martin Luther King Jr. during a ceremony led by Divinity School Assistant Dean for Student Life Amy E. Steele. The vigil was followed by a presentation from the winner of the MLK Day writing contest with Metro Nashville Public Schools Christopher A. Martin, a 7th grade student at James Early Museum Magnet Middle School.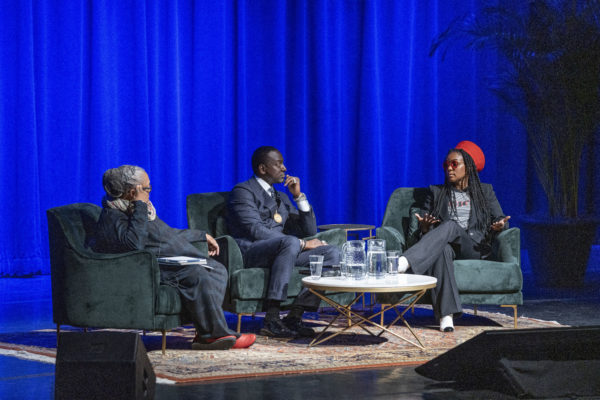 On Monday, Jan 20., Martin Luther King Jr. Day, dozens of Vanderbilt students, faculty, staff, postdoctoral fellows and university leadership gathered at Jefferson Street Missionary Baptist Church for Nashville's annual MLK Day March to a convocation at TSU's Gentry Center. The convocation included musical performances and remarks from several community leaders, elected officials and students. Joy-Ann Reid, an author, journalist and host of MSNBC's AM Joy, served as the keynote speaker during the convocation.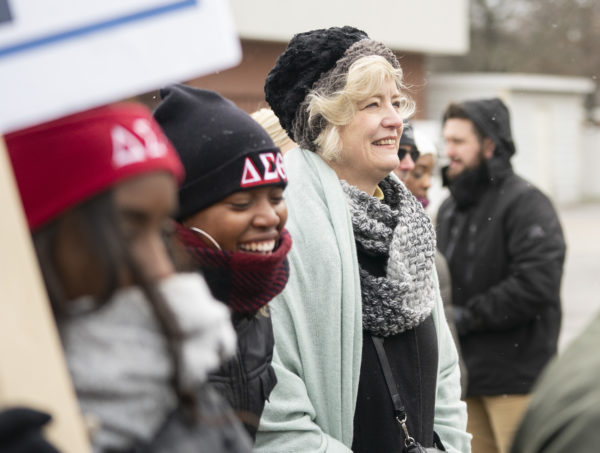 Reid spoke about Martin Luther King Jr.'s life in the context of the nation's and Tennessee's history with slavery, the civil war, the dismantling of reconstruction, the civil rights movement, the Poor People's Campaign, the 1968 Memphis Sanitation Strike, and current day injustices and economic inequities that persist. She also highlighted Nashville's history, including how the Nashville student sit-in movement and the efforts of individuals like the Rev. James Lawson, Diane Nash and others involved greatly inspired King.
Later in the day, numerous students, faculty and staff participated in the annual Nashville Freedom Ride tour coordinated by the Office of Housing and Residential Experience.  The event retraced the steps of important civil rights moments in the city's history, and was led by Nashville Freedom Rider and former Metro council member Kwame Lillard. They visited numerous sites across the city relevant to civil rights, including historic locations at Jefferson Street, Fisk University, Meharry Medical College, downtown Nashville and the Nashville National Cemetery.  Specific sites included the W.E.B. Du Bois statue at Fisk University, the Davidson County Courthouse, Jefferson Street Sound Museum, Citizens Savings Bank and Trust, the preserved Looby House, and more.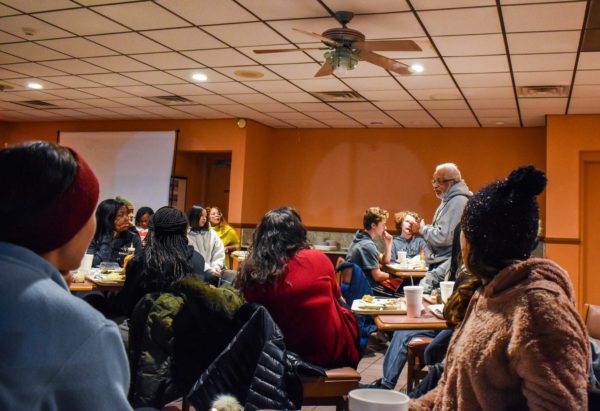 This year, the tour was organized with support from Vanderbilt Athletics, who for the past three years has taken trips on MLK Day to visit sites related to the Civil Rights Movement in Washington, D.C., Memphis, and Montgomery.
At the conclusion of the tour, participants had the opportunity to reflect on the day with Lillard and discuss strategies that Freedom Riders used to facilitate non-violent protest and innovative ways students can continue using their voices today to combat injustice.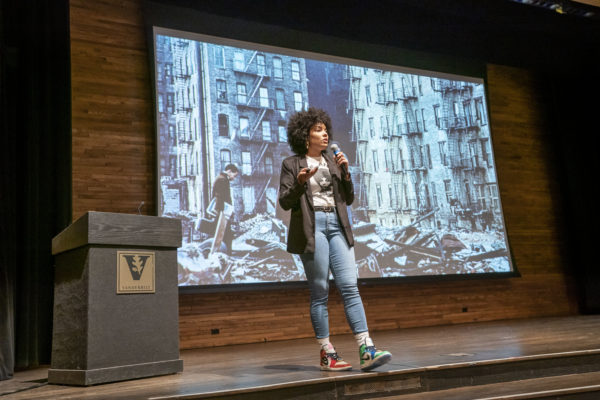 Vanderbilt's MLK Day commemoration also included a series of teach-ins, hosted by faculty, staff, graduate and professional students. The teach-ins covered a broad range of topics, including the history of hip-hop as storytelling; an interactive story exchange to foster empathy; gaining new perspectives on historical cultural narratives through the story of Pocahontas; a West African-based model of listening and storytelling for social change; storytelling as community-bridging; and how media and knowledge of the civil rights movement can aid in enacting social change and empowering student activism.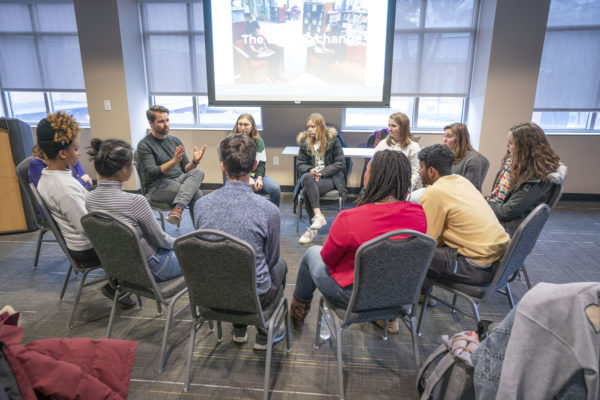 As part of the commemorative series, Vanderbilt Hillel also hosted its annual MLK Day blood drive at the Ben Schulman Center for Jewish Life. During the drive, 43 pints of blood were collected, which could meet the needs of nearly 130 patients. Additionally, 27 of the donors who participated gave blood for the first time during the drive.
The MLK Commemorative Series started in 1985 at Vanderbilt to honor the legacy of King. To learn more about the events that took place this year, visit the MLK Commemorative Series website.