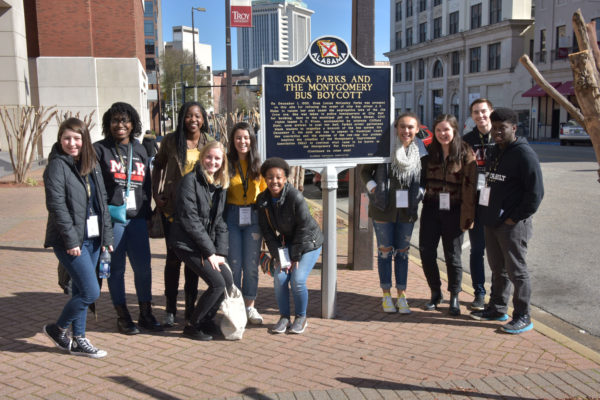 Vanderbilt Athletics hosted students, staff and faculty on a daylong trip to Montgomery, Alabama, on Jan. 21. The annual Martin Luther King Jr. Day trip, now in its third year, provides members of the Vanderbilt community with the opportunity to learn more about the history of the civil rights movement and current efforts to further King's legacy.
"Three years ago, we decided to start taking groups of students to places of significance that centered around what Martin Luther King Jr. stood for, while realizing that the legacy of the civil rights movement is much greater than just one person and one place," said David Williams, vice chancellor for athletics and university affairs and athletics director. "Each year we try to get students to see places that they normally wouldn't see, and this trip to Montgomery is really important because this is where the bus boycott started."
While in Montgomery, Associate Vice Chancellor for University Affairs and Deputy Athletic Director Candice Lee announced that, going forward, the trip would be named the David Williams Annual MLK Day Trip. "This was David's vision years ago, and now we have been able to make it come to fruition over the past three years," Lee said. "It is only fitting that future trips recognize David and his commitment to this important learning and growth opportunity."
The first stop on this year's trip was Dexter Avenue Baptist Church and its nearby parsonage, where King lived and worked as pastor for the church. The church was later renamed Dexter Avenue King Memorial Baptist Church in his honor and was designated a national historic landmark in 1974. This visit was followed by a stop at the Rosa Parks Museum, located at the site of Parks' 1955 arrest for not yielding her seat to a white passenger on a segregated public bus. At the museum, trip attendees learned more about Parks, her arrest, and the Montgomery Bus Boycott, which shaped the civil rights movement across the nation.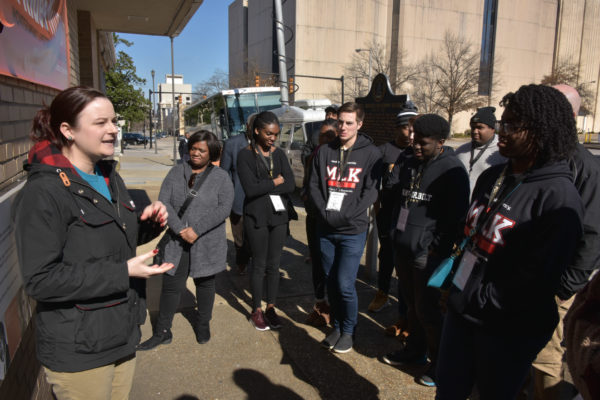 The trip also included a visit to the Freedom Rides Museum, located at the bus station where a group of young college students made history in 1961 by challenging the practice of segregated travel through the South. The Freedom Riders, who were committed to non-violence, were met with great animosity, hatred and violence when they arrived in Montgomery.
While at the museum, attendees met retired Alabama State University Associate Professor of Physical Therapy Valda Harris Montgomery. She shared her memories of her family's home providing a safe place for the Freedom Riders who had been attacked and her experiences of growing up as a neighbor to the King family, who lived just a few houses away.
The daylong trip concluded with a visit to the Equal Justice Initiative's Legacy Museum and the National Memorial for Peace and Justice, both of which were established in April 2018, coinciding with the 50th anniversary of King's assassination. The Legacy Museum features interactive displays, sculptures, videography and artifacts that tell the interrelated stories of the domestic slave trade, racial terrorism, the Jim Crow South and mass incarceration. After experiencing the Legacy Museum, the Vanderbilt group visited the nearby National Memorial for Peace and Justice. The memorial was established in order to create a meaningful space acknowledging and contextualizing the long history of racial terrorism and lynching in the United States.
As the trip concluded, Vanderbilt participants reflected on the day with a range of thoughts, emotions and take-aways. "This trip was really powerful for me, especially learning about the Freedom Riders from Nashville. Being a college student in Nashville, I never really realized how close I am in my current position to all the Freedom Riders who made such a big difference," said senior Farah Arif. "A quote I heard that really resonated with me today was, 'if not us, then who? And if not now, then when?' I'll remember that forever."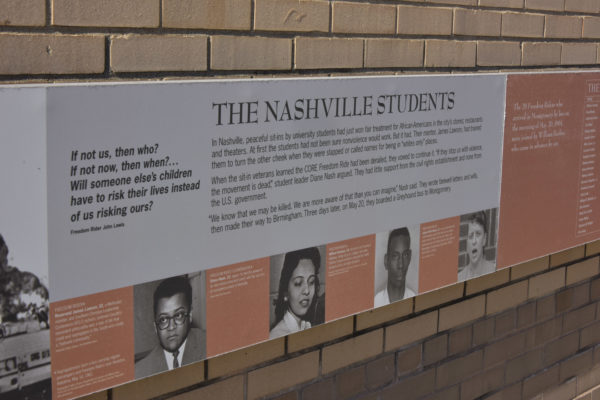 Other students noted the weight of the stories they heard during the trip. "I grew up learning the story of Emmett Till, but going to the Legacy Museum taught me that there are a lot more Emmett Tills out there," said first-year student Brannen Dickson. "It opened my eyes to recognizing that it's not just one person it happened to, and I think it's important to acknowledge all of these stories."
"It was a really good experience because I got to learn about parts of American history that I wouldn't have otherwise known about," said senior Tashana Blair. "Being from the Caribbean, we have our own experience with slavery, which is not necessarily the same as it was experienced here. So being able to come face to face with that and Jim Crow and the civil rights movement was very eye-opening."
The newly named David Williams Annual MLK Day Trip was established in 2017. Past trips include visits to the National Museum of African American History and Culture in Washington, D.C. and the National Civil Rights Museum in Memphis, Tennessee.