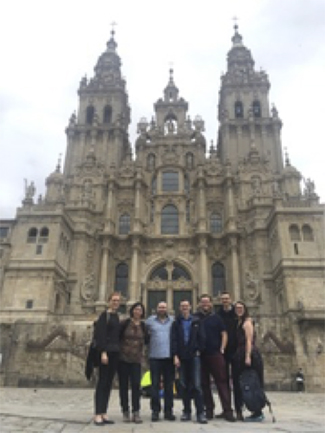 The Russell G. Hamilton Graduate Leadership Institute (GLI) ended 2019 on a high note with the announcement of the spring 2020 Travel Grant and Dissertation Grant recipients. The institute has supported more than 100 Vanderbilt University Graduate School students in their research and professional development endeavors since the Travel and Dissertation Enhancement Grants were established in spring 2019.
The GLI Travel Grant supports Graduate School students pursuing professional and/or academic development opportunities not covered by the Graduate School's current Travel Grant to Present Research. These funds have supported students from more than 35 different graduate programs in their travels to workshops, short courses, specialized trainings, conferences, symposia and meetings in 23 states across the U.S. and 12 countries around the globe.
The GLI also offers the Dissertation Enhancement Grant, which supports Ph.D. students with outstanding potential to accelerate progress on their research, adding depth and/or breadth to their work. In 2019, grant funds were awarded to 26 students across 14 graduate programs to expand their research over a broad range of topics that included climate change, re-localizing agriculture, protein interaction, political rhetoric in Latin America, material coatings for medical devices and language interventions.
"I am delighted with the enthusiastic response to the new GLI grant program. It shows that our students are actively seeking out opportunities to broaden their academic and professional perspectives," said Mark Wallace, dean of the Graduate School. "To provide our graduate students with funding to pursue activities that they may not have been able to explore otherwise is a driving factor behind the development of this program."
Applications for the next grant cycle will open May 1, 2020. The GLI is excited to continue supporting Graduate School students in the new year with an expanded grant program, new workshops and the launch of its fellowship program in fall 2020.
2020 Travel Grants
Stephanie Castillo, Communication of Science and Technology
Sara Eccleston, Human and Organizational Development
Maura Eveld, Mechanical Engineering
Richard Hall, Leadership, Policy and Organizations
Laura Hesse, Pathology, Microbiology and Immunology
Alison Hessling, Hearing and Speech Sciences
Joseph Luchsinger, Basic Sciences
Emily Matijevich, Mechanical Engineering
Tin Nguyen, Special Education
Gloria Pérez-Rivera, Anthropology
Terren Proctor, Anthropology
Julie Sriken, Community Research and Action
Bryan Steitz, Biomedical Informatics
Rachel Teater, Mechanical Engineering
Previous Travel Grant awardees
2020 Dissertation Enhancement Grants
Kaitlen Cassell, Political Science
Kellie Cavagnaro, Anthropology
Azadeh Hadadianpour, Pathology, Microbiology and Immunology
Alison Hessling, Hearing and Speech Sciences
Sangeun Kim, Political Science
Alexander Korsunsky, Anthropology
Justin Marinko, Biochemistry
Michaela Peterson, Earth and Environmental Sciences
Terren Proctor, Anthropology
Facundo Salles Kobilanski, Political Science