Inspired to make a child's life better through engineering and design, students from Vanderbilt, occupational therapists and professional engineers worked for three days straight—with little sleep—to build inventions that would make life a little easier for a child with special physical needs.
Seven teams from diverse backgrounds took part in Vanderbilt's third annual TOM Makeathon Nov. 8-10 at the Wond'ry. TOM comes from Tikkun Olam, which is Hebrew for "repairing the world." The goal of this worldwide maker effort is to empower communities of makers to create and disseminate affordable solutions to neglected challenges of the disabled, the elderly and the poor—also known as "need-knowers."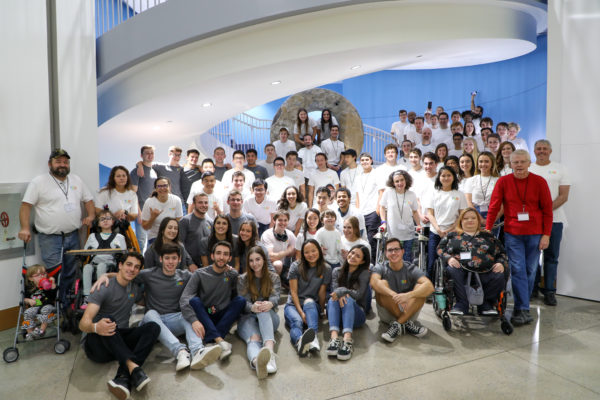 Team effort

Each team met with their need-knower and his or her family in early October to talk through a specific goal they had. Then the need-knowers worked with their teams during the makeathon to give guidance and feedback as the devices were being created and tested. Each family ultimately was able to leave with a custom invention.
Team Ivy's need-knower is living with cerebral palsy and wanted a gaming controller that could pair up with an adaptive Xbox system that she could use with different parts of her body, such as her hands, head and feet, as well as with various wheelchairs.
"She really wants to play video games with her cousins, friends and her dad, not just watch," said Ivy's mom, Wendy Humble. "She's so excited because it will give her independence to not only play video games with other people, but by herself, just like other kids."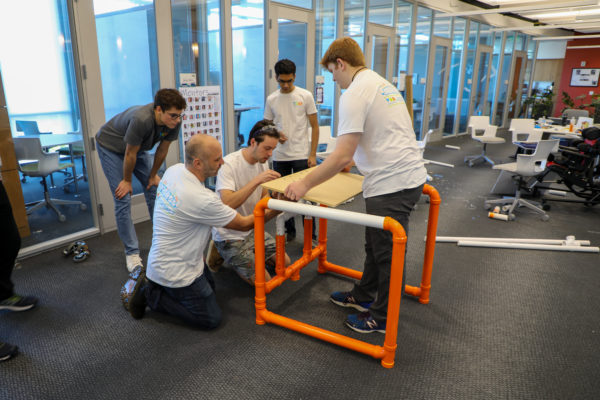 Humble and her family learned about the TOM:Vanderbilt makeathon through their physical therapist. Projects are submitted by application to TOM by or on behalf of the need-knowers. The assistive technologies developed at each TOM event are then uploaded to an open source database available worldwide.
"I'm inspired to be a part of this because we spend all of this time in classes learning technical skills, and you never realize how much power these skills give us to do good for others," said biomedical engineering major and TOM:Vanderbilt organizer Blake Hanan. "The response from a need-knower when we make something for them that genuinely improves their lives feels really genuine."
Hanan said the TOM makeathon helps perpetuate the inclusive and collaborative way the Vanderbilt community has always felt. And the families said they felt that same culture of caring as well.
"I'll drive to the moon if I need to get Ivy what she needs to be more successful," Humble added. "We were thrilled to be a part of what I call a 'dream convention,' because this type of assisted tech is making one of my girl's dreams come true."
DIVE learning

This immersive learning experience is part of Vanderbilt's dedication to human-centered design thinking, specifically through the DIVE (Design as an Immersive Vanderbilt Experience) process.
"TOM:Vanderbilt creates a unique, mini-immersive experience that builds up the creative confidence for everyone involved," said Kevin Galloway, assistant professor of mechanical engineering, director of making at the Wond'ry and DIVE director. "Everyone leaves with a greater sense of purpose and a new appreciation for what they are capable of doing. Ultimately this is what we want every student to discover during their time at Vanderbilt."
Some other projects included:
Team Hugh: Hugh's hands conform in a unique way that makes interacting with the world more challenging. He had one team working on how to help him with everyday tasks like opening car doors and using the sink. A second team focused on creating adaptive toys and recreational tools like a fishing pole and golf club.
Team Carrie: Carrie has always had an issue with holding her umbrella and simultaneously moving her wheelchair. Her team's goal was to design an umbrella that easily and reliably attaches to her wheelchair, so she can have her hands free to navigate herself around without getting wet.
Team Linden: Linden has radial dysplasia, which makes his right hand difficult to control. Linden came back to TOM:Vanderbilt for a second year to improve a guitar pick holder a team made last academic year, allowing him to modulate pressure on the pick.
Team Zion: Zion has ectrodactyly and only has pinkies. He is unable to effectively use the console controllers designed for a standard hand shape. His team made a specialized and customized control board for various console controllers that he can use with the same functionality as a normal controller.
Team Sarah: This team modified an existing bathtub chair to make it easier for Sara to get into the shower by herself.
Team Kristi: Kristi uses a walker to help her get around, which makes it difficult to get food in the lunch line. This team created an attachment to her walker that holds a tray for her.
Student's eye view

The video and all of the photos in this story were created by TOM:Vanderbilt volunteer Joshua Lipsey. Lipsey is a cinema and media arts and psychology double-major in the Class of 2021.