Smetana named to executive governing board of Higher Education Recruitment Consortium
by
Katherine Keith
Nov. 11, 2019, 10:20 AM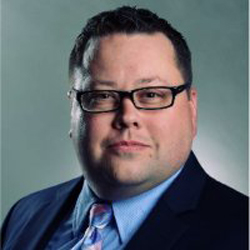 Erik Smetana, executive director for compensation and talent in Vanderbilt Human Capital and Business Services, has been named chair of the finance committee of the national Higher Education Recruitment Consortium.
HERC is a nonprofit consortium of more than 700 colleges, universities, hospitals, research labs, government agencies and related non- and for-profit organizations whose goal is to promote equity and excellence in the higher education space by advancing the ability of member institutions to recruit and retain the most diverse and talented faculty and staff.
Vanderbilt has been a member institution of HERC since 2015, when the Southeastern HERC was founded. Smetana oversees Vanderbilt's membership in the national consortium and serves as the managing director of the Southeastern HERC in collaboration with Vanderbilt's Office of Faculty Affairs.
"Vanderbilt's involvement in HERC bolsters our commitment to expanding the pipeline of new faculty, as well as staff and administrators, coming to the university and helps to ensure by way of best practices that our recruitment efforts are equitable and inclusive," Vice Provost for Faculty Affairs Tracey George said. "I greatly appreciate Erik's continued leadership within HERC, and the tools and resources the consortium provides in helping Vanderbilt attract and retain the very best talent."
HERC diversifies the pipeline of faculty, staff and executives in academia through outreach, advertising and by sharing over 40,000 job opportunities and expert career advice. HERC also provides member institutions with resources and networks to bolster equitable, inclusive recruitment and retention practices.
Vanderbilt administers the Southeastern HERC, which includes members in Tennessee and Alabama and will soon include other states in the Southeast. In addition to the growth that has taken place since moving administration to Vanderbilt, the Southeastern HERC has deployed unique member benefits regionally, including a peer institution benchmark survey program and hosting the group's first-ever Higher Ed Diversity Summit, which will take place in March 2020 in Nashville.
Smetana has been a member of HERC for more than a decade, serving as a founding advisory board member of the then-titled Greater St. Louis HERC, administered by Washington University in St. Louis. Smetana then helped bring that organization under the administration of the University of Missouri System, growing it into the Greater Missouri HERC before joining Vanderbilt University in January 2018.