Faculty Books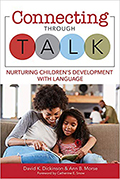 Connecting through Talk: Nurturing Children's Development with Language (2019, Brookes) by David K. Dickinson, Margaret Cowan Professor of Teacher Education; Ann B. Morse and Catherine E. Snow
Building on foundational knowledge of multiple facets of early childhood development and examining how each is linked to language development, Connecting through Talk gives snapshots of more than a dozen programs that support language and literacy development by coaching parents and providing books for young children. Readers learn how these programs promote thoughtful, responsive adult–child interactions and expand children's access to books. Additionally, brief summaries of the research demonstrate the success of each program.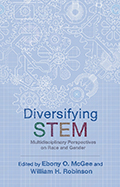 Diversifying STEM: Multidisciplinary Perspectives on Race and Gender (2019, Rutgers University Press), edited by Ebony O. McGee, associate professor of teaching and learning, and William H. Robinson
This book brings together a wide array of perspectives and the voices of several multidisciplinary scholars who look at the important ways in which race and gender intersect within the complex structural dynamics of STEM. The essays cover three main areas: the widely held ideology that science and mathematics are "value-free" (promoting colorblindness in the classroom as well as an avoidance of discussions around the use of mathematics and science to promote social justice); how male and female students of color experience the intersection of racist and sexist structures that lead to general underrepresentation and marginalization; and the evidence-based research that suggests concrete ways of doing a better job including individuals of color in STEM.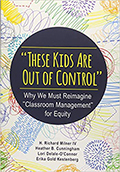 "These Kids Are Out of Control": Why We Must Reimagine Classroom Management for Equity (2019, Corwin) by H. Richard Milner IV, Cornelius Vanderbilt Professor of Education and professor of leadership, policy and organizations; Heather B. Cunningham; Lori Delale-O'Connor and Erika Gold Kestenberg
Classroom management is one of the most challenging aspects for K-12 teachers, who often lack the necessary tools to address the challenges faced by their students, including children of color, English learners and children from low-income households. In response to this need, a team of education researchers has developed a set of culturally responsive, research-based best practices for creating learning environments that are both nurturing and rigorous.
Alumni Books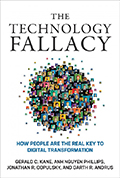 The Technology Fallacy: How People Are the Real Key to Digital Transformation (2019, MIT Press) by Gerald C. Kane, Anh Nguyen Phillips, Jonathan R. Copulsky and Garth R. Andrus, EdD'88
Digital technologies are disrupting organizations of every size and shape, leaving managers scrambling to find a technology fix that will help their organizations compete. This book offers managers and business leaders a guide for surviving digital disruptions by making the organizational changes required to harness the power of technology. The authors argue that digital disruption is primarily about people and that effective digital transformation involves changes to organizational dynamics and how work gets done. The best way to respond to digital disruption is by changing the company culture to be more agile, risk-tolerant and experimental.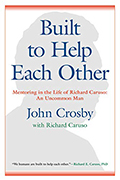 Built to Help Each Other: Mentoring in the Life of Richard Caruso— An Uncommon Man (2019, Radius Book Group) by John Crosby, MEd'63, with Richard Caruso
n what is partly a biography and partly a mentoring how-to, John Crosby, a former school superintendent and founding executive director of the Uncommon Individual Foundation, recounts the business career of Richard Caruso, son of immigrants and a successful executive who established Integra Life Sciences, a breakthrough medical company. On the surface an unlikely pair, Caruso and Crosby partnered to design and run mentoring programs for corporations, government agencies, colleges and universities, and youth groups. The book describes various types of mentoring systems while also offering frequently inspiring anecdotes from an uncommon life.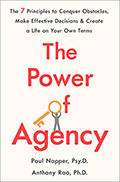 The Power of Agency: The 7 Principles to Conquer Obstacles, Make Effective Decisions, and Create a Life on Your Own Terms (2019, St. Martin's Press) by Paul Napper and Anthony Rao, PhD'89
Agency is the ability to act as an effective agent for oneself—reflecting, making creative choices, and constructing a meaningful life. Grounded in extensive psychological research, The Power of Agency lays out tools to help alleviate anxiety, manage competing demands, and help readers live their versions of success. Featuring stories of people who have successfully applied these principles to improve their lives, the book gives insights and skills to build confidence, conquer challenges and live more authentically.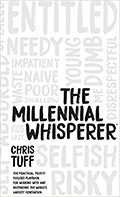 The Millennial Whisperer: The Practical, Profit-Focused Playbook for Working with and Motivating the World's Largest Generation (2019, Morgan James) by Chris Tuff, BS'03
In The Millennial Whisperer, Chris Tuff puts into context the ways Millennials differ from previous generations and shares practical steps companies and leaders can take to immediately boost productivity without building an office of ping-pong tables, beer kegs and participation trophies. Tuff provides practical ways for leaders to build a corporate culture in which Millennials can thrive, establish effective rewards systems at lower cost, and address disciplinary methods effectively.