Media Inquiries
Latest Stories
By Lauren McGuire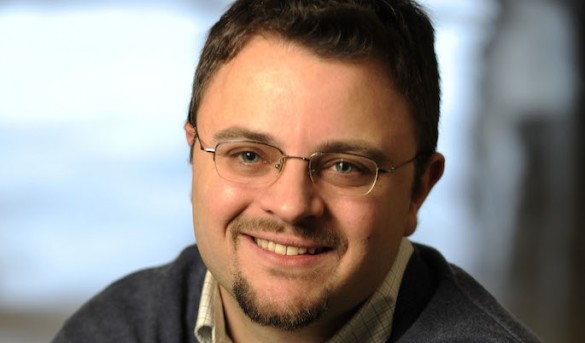 The Oak Ridge National Laboratory collaboration with Vanderbilt University will grow stronger through a new faculty liaison and enhanced management of travel assistance awards. ORNL, located in Oak Ridge, Tennessee, is the largest U.S. Department of Energy science and energy laboratory conducting research in energy security. Since 2004, ORNL has been working with Vanderbilt to offer opportunities for Vanderbilt University faculty, postdoctoral researchers and students to access ORNL's world-class facilities as well as develop collaborations with ORNL researchers.
"ORNL has some of the best equipment and personnel for materials and nanotechnology research. They are constantly pushing the frontiers of innovation on technique development," said Piran Kidambi, assistant professor of chemical and biomolecular engineering, who utilized the travel support offered by Vanderbilt to work with ORNL researchers earlier this year. Kidambi's experience imaging sub-nanometer defects in single-atom-thick membranes at ORNL, among other research activities, will contribute meaningfully to his work.
Vanderbilt community members partnering with ORNL, like Kidambi, will be supported through a new faculty liaison, Jason Valentine, associate professor of mechanical and electrical engineering. Valentine will carry on the collaborations established by Carlos Lopez, assistant professor of biochemistry and biomedical informatics. As liaison, Valentine will work closely with Vanderbilt faculty, the Office of the Provost, university deans and Vanderbilt University Medical Center leadership to advance key research themes that align with both Vanderbilt and ORNL priorities.
"With his deep and broad expertise in nanomaterials as well as his existing relationship with Oak Ridge National Lab, Jason is perfectly positioned to advance scientific collaborations between Vanderbilt and Oak Ridge further," Vice Provost for Research Padma Raghavan said. "I am delighted to have him in this role, and look forward to working with him to develop this important collaboration further."
Valentine received his Ph.D. in mechanical engineering from the University of California, Berkeley. He joined the faculty in the Department of Mechanical Engineering at Vanderbilt in 2010. Valentine's past and current work includes the development of negative index optical metamaterials, optical cloaks, dielectric metamaterials and hot electron devices. His work was selected by Time magazine as one of the "Top 10 Scientific Discoveries in 2008." At Vanderbilt he has received an NSF CAREER Award and the Office of Naval Research Young Investigator Award as well as the Chancellor's Award for Research.  Valentine was named deputy director of the Vanderbilt Institute for Nanoscale Science and Engineering earlier this fall.
Under Valentine's guidance, Vanderbilt will continue to support VU researchers who visit ORNL for collaborations, workshops and meetings. As the new senior research projects manager in the Office of the Vice Provost for Research, Jane Hirtle will support Valentine and the Vanderbilt community by managing the ORNL travel support available to researchers seeking to use ORNL facilities and collaborate with ORNL researchers. Hirtle's work will not only help to advance research and discovery at Vanderbilt, but also to promote educational accessibility to one of the most innovative labs in the world.  Vanderbilt researchers can request limited travel support to visit ORNL by completing this form.
Matt Wilkins, a postdoctoral fellow at the Vanderbilt University Center for Science Outreach, agrees that travel funds open doorways for interdisciplinary collaboration with ORNL. "It was a great experience meeting with researchers and staff at ORNL about my work with the Center for Science Outreach and how to bridge the gap between STEM experts and K-12 audiences," he said, reflecting on his trip to ORNL this summer.
With the advancement of the Vanderbilt-ORNL collaboration through these developments, the university will continue to foster interactions that create transformative and collaborative research.