Media Inquiries
Latest Stories
This fall Vanderbilt welcomed its newest faculty members to campus, and their impact is already being felt, both in the classroom and through their wide-ranging research.
Among these new faculty members are a molecular biologist originally from Mexico whose pioneering studies on membrane transporters could lead to a potential treatment for breast cancer, a political scientist whose influential blog about politics is a favorite among readers of The Washington Post, and a special education professor who's using innovative speech-generating technology to help children with severe developmental disabilities. In the pages that follow, we share a handful of stories that reflect the dynamic work being done by this talented and diverse group of scholars.
To learn more about them and some of this year's other new faculty members, visit our online profile gallery.
---
'Love' as an Action Word | Lisa Thompson, MA'11, PhD'13, associate professor and Cornelius Vanderbilt Chancellor Faculty Fellow of Black Homiletics and Liturgics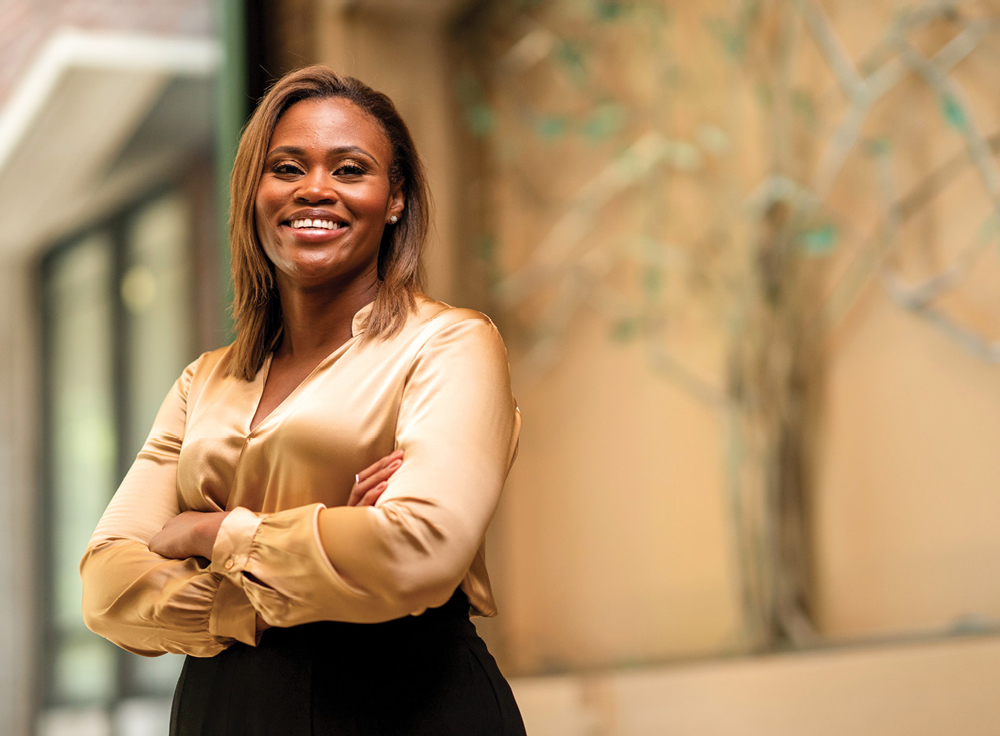 Lisa Thompson firmly believes that when the needs of those who are most underrepresented in society are attended to, everyone flourishes. It's an approach she brings to her new role at Vanderbilt Divinity School.
Born and raised in Cedar Grove, North Carolina, Thompson says the communities of her youth had a lasting impact on her work. "I center my work on the lives and experiences of black women first and foremost," she says. "I believe that if you're able to attend to some of the most underrepresented voices and support what they need in order to flourish, we all do better."
Thompson—who earned a bachelor's degree from the University of North Carolina at Charlotte, a master of divinity from Fuller Theological Seminary, and a master of art in religion and doctor of philosophy from Vanderbilt—prioritizes her teaching and research around the ways in which religious speech, rhetoric, communication and worship can impact our public discourse and well-being for good or for ill. She thinks about these matters in regard to more conventional religious traditions, as well as in ways that engage less expressly religious mediums, such as artwork, spoken word, music, theater, dance, protest movements and more.
Thompson notes that this interest arose in part from her early childhood experiences at church. "I remember seeing the ways in which religion and faith were tools of empowerment, especially for the women in my life."
Thompson's book Ingenuity: Preaching as the Outsider examines how black women have found their voices in spaces that traditionally have been exclusionary. "I surveyed sermons by black women and thought deeply about how black women are able to find voice and preach even in the midst of being in spaces that are not for their voices, and how black women use creative ways to thrive in these spaces, regardless," she says.
Thompson's upcoming book, Preaching the Headlines, is based on a course she created and has taught since 2012. The book focuses on the intersection of social and religious discourse to help communities engage in everyday issues as matters of faith and justice.
After serving as a faculty member at Union Theological Seminary in the City of New York, Thompson says she is excited to return to Vanderbilt. "We have a strong legacy of forward-thinking," she says. "We are building something that truly hasn't been done before."
—JALEN BLUE
---
The Impact of Politics on Daily Life | John Sides, professor of political science
John Sides has a maxim he likes to share with students.
"I tell my students that you don't have to like politics in order to care about them," says the political scientist and writer, who joined Vanderbilt's faculty this year. "Politics has tremendous consequences for how we live our lives, in ways that are not always obvious to us, like the quality of our air and water, the quality of schools, how our take-home pay is taxed and so on. It's really difficult to identify any sphere of our lives that isn't about politics, and that's why it's so important to understand."
How ordinary people think about political issues and make political decisions—especially at the ballot box—stands at the center of Sides' scholarship. His passion for making the findings of political science accessible to everyone extends to his role as editor-in-chief of Monkey Cage, an influential blog about political science and politics currently hosted by The Washington Post. It features analyses of current affairs written by academic experts for a general audience.
"My co-founders and I started the site as a corrective to popular discussions of politics that just didn't have the facts right," he says. "And scholars share the blame because we don't always communicate those facts well or because we communicate them only in forums that are exclusive to academics. Our goal is to improve the public conversation by making the research be more central to it."
Previously on the faculty at George Washington University, Sides is the author of a number of scholarly articles and a textbook about campaigns and elections. His studies have examined voting behavior, campaign communications, whether people can be persuaded to change their minds about political topics, and how ethnic stereotypes influence opinions about public policy.
Beyond the United States, he's looked at European opinion about immigration, as well as what factors create a shared national identity in multiethnic countries. He currently is working on a project examining the political forces shaping fiscal policy in Congress.
Sides, who is teaching Introduction to American Government this fall, is also the author of two book-length accounts of the 2012 and 2016 elections, respectively, that bring a social science perspective on the races to the general public. He also has written extensively about politics in the press.
—LIZ ENTMAN
---
Nurturing Potential in Students with Disabilities | Elizabeth Biggs, PhD'17, assistant professor of special education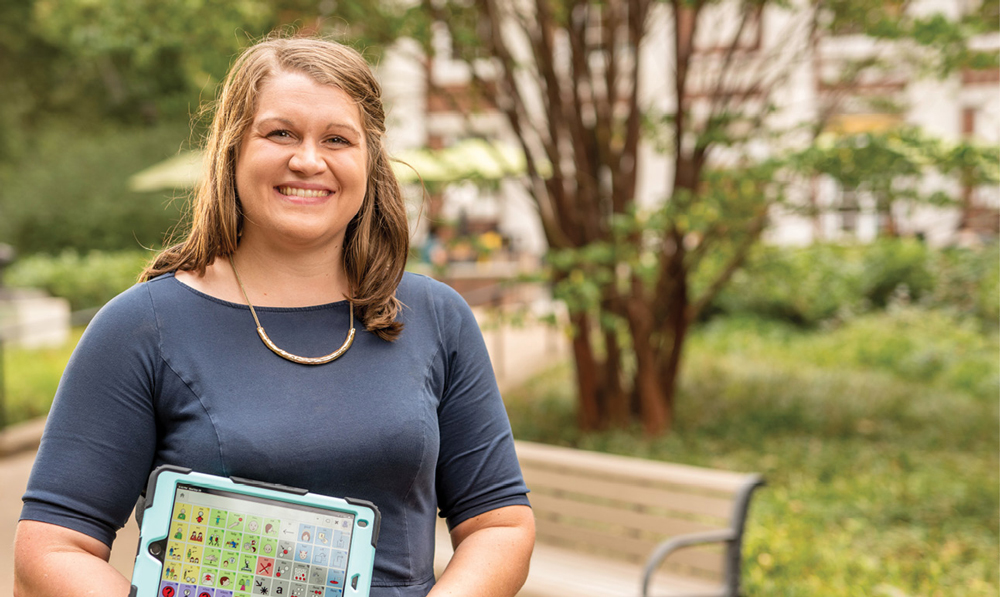 Elizabeth Biggs' introduction to teaching and academics started with a misunderstanding.
While studying abroad in Uganda as an undergraduate, she visited a primary school where her host sister worked as a teacher. The school's headmaster, upon being introduced to Biggs, thanked her for offering to teach the children English. Shocked, she replied, "You don't understand—I'm just visiting. I'm not qualified to teach English."
He responded with a smile, "Not qualified? You speak English, don't you?" She accepted the invitation and began volunteering regularly at the school. To her surprise, Biggs found a calling.
"In Uganda I fell in love with a lot of things about teaching," the Indiana native says. "That experience helped me realize the power of education to change the lives of people, including those in less-resourced communities and those with disabilities."
After completing her undergraduate degree, Biggs moved to the American Southwest, where she enrolled in a special education master's program at Western New Mexico University. She also took a special education teaching position on a Native American reservation where teacher turnover was high and resources were low. Children with disabilities were especially at risk. She recalls a third-grade boy with an intellectual disability who had limited verbal speech. His Individualized Education Program (IEP), which included goals like learning to tie his shoes, had not changed since pre-K.
"Few people saw it, but he had incredible potential," she says. "Within months he was writing his name, communicating and making friends. Working with students like him helped strengthen my passion for working with children with some of the most significant support needs."
Biggs went on to earn a doctorate at Peabody College of education and human development, a hub for scholarship and training in special education.
"This is one of the most innovative and high-impact special education departments in the country," she says. "It is thrilling to work alongside so many incredible colleagues who are on the cutting edge of solving these complex issues and improving the lives of people with severe developmental disabilities."
Biggs, now on the faculty of the Department of Special Education at Peabody and a member of the Vanderbilt Kennedy Center for Research on Human Development, is focusing her research on social and communication interventions for students with limited verbal speech who use augmentative and alternative communication systems, such as computerized speech-generating devices.
—JOAN BRASHER
---
The Poetics and Politics of Black Literature | Anthony Reed, associate professor of English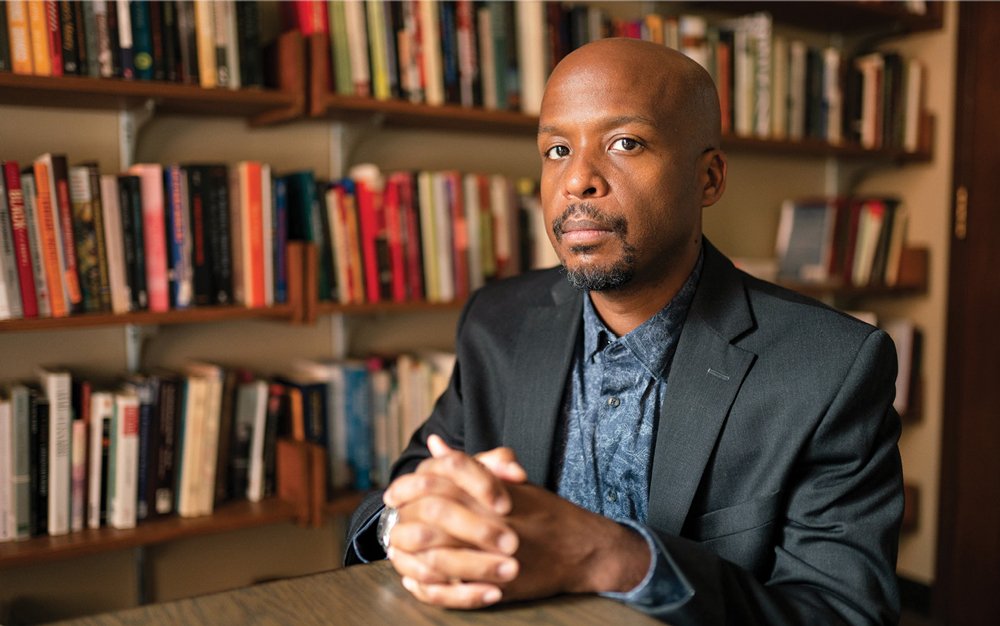 Anthony Reed's deep interest in the intersections between black literary forms and politics was sparked during the 1980s, when, as a child, he discovered hip-hop and rap music.
"Listening to the radio while growing up in the Detroit area was my first exposure to names and points of view that were bracing and exciting," Reed says. "It brought my attention to how poetry and other popular forms of expression could mobilize people or just galvanize attention."
Reed earned both a bachelor of arts with distinction in English language and literature and a master of fine arts in prose fiction from the University of Michigan, where he also wrote poetry, started a novel and led a jazz band.
He taught at Harold Washington College in Chicago and focused on his own writing before enrolling at Cornell University, where he earned his doctorate in English and American literature in 2010. He then taught at Yale University, with appointments in English and African American studies.
Reed has devoted significant research to unconventional writers during the black power movement of the 1960s and '70s. His first academic book, Freedom Time: The Poetics and Politics of Black Experimental Writing, won the William Sanders Scarborough Prize awarded by the Modern Language Association to recognize an outstanding scholarly study of black American literature or culture.
"I coined the term 'black experimental writing' to capture works that diverge from what we think we understand about blackness and writing," Reed says. In Freedom Time, he offers extended analyses of many African American and Afro-Caribbean writers from the 20th century, such as the late N. H. Pritchard, whose poetry was considered avant-garde in the 1960s, as well as contemporary writers like Nathaniel Mackey.
Reed disagrees with those who feel that the black power movement is no longer relevant. "Some would argue that we are in a similar moment today, and it would benefit us to work through the social justice issues that were raised 50 or more years ago," he says.
Reed also looks back at the 20th century for greater understanding of our present and future in his forthcoming book, Soundworks: Race, Poetry, and Sound in Production. He explores recorded collaborations between poets and musicians, starting with Langston Hughes and Charles Mingus, noting that there has been a flurry of similar collaborations in recent years.
—ANN MARIE DEER OWENS
---
From One Side of the Membrane to the Other | Nancy Carrasco, Joe C. Davis Professor of Biomedical Science and professor of molecular physiology and biophysics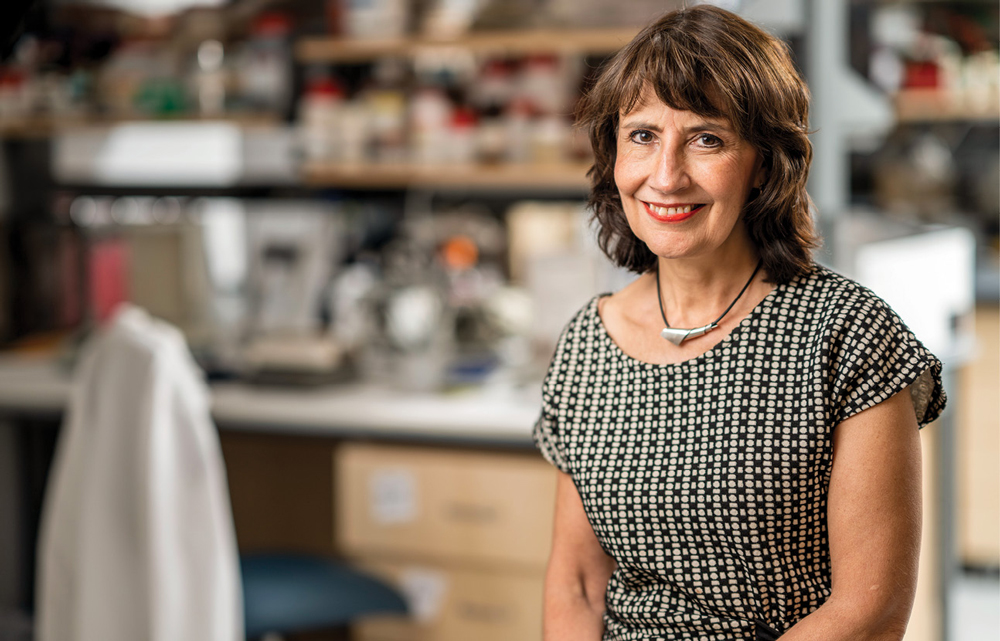 Nancy Carrasco knows how enriching an experience living abroad can be. Originally from Mexico City, she earned an M.D. and a master's degree in biochemistry from UNAM, the National Autonomous University of Mexico, but has lived much of her life in the United States.
"If everyone had the opportunity to live abroad for a couple of years, the world would be a better place," says Carrasco, who moved with her husband to the U.S. to pursue postdoctoral research. "People would learn that there's more than one correct way of doing things and would be more flexible."
While Carrasco focused on her postdoctoral studies at the Roche Institute of Molecular Biology in New Jersey, her husband worked on a doctorate in composition at the Juilliard School in New York City. The couple's original plan was to learn as much as possible and then move back to Mexico, but they decided to stay in the U.S.
"If we were going to stay, I wanted to be independent," Carrasco says.
Carrasco's faculty career started at the Albert Einstein College of Medicine in 1987 and then continued at Yale University in 2011. In July 2019 she was named chair of the Department of Molecular Physiology and Biophysics at Vanderbilt.
Carrasco has always been interested in transport across biological membranes. As a postdoctoral scholar, she worked on the lactose carrier of E. coli, one of the best-characterized transporters in biology. She then took a 180-degree turn and focused her research on a lesser understood protein—the sodium/iodide symporter (NIS). Although NIS has been in use in the evaluation, diagnosis and treatment of thyroid disease since 1946, very little was known about it.
Carrasco's research has shed light on many aspects of NIS, including key mechanistic details about how it works. Although scientists initially believed that NIS was a thyroid-specific transporter, it is now known that NIS is also expressed in a high percentage of breast cancers. Carrasco hopes to conduct clinical trials at Vanderbilt that use NIS as an imaging molecule and potential treatment for metastatic breast cancers that are not responding to traditional chemotherapies.
"I'm looking forward to continuing the tradition of excellence of this department," she says, "and to interacting with colleagues from all over the place."
—LORENA INFANTE LARA
---
Delivering Heart-Healthy Pregnancies | Mulubrhan Mogos, assistant professor of nursing
Early in his career, as Mulubrhan Mogos cared for fragile babies in a neonatal ICU, he questioned whether the mother's experience during pregnancy and delivery could provide clues about what went wrong, setting him on a path to study the long-term impact of cardiovascular disease on mothers and babies.
Mogos, new to the faculty at Vanderbilt University School of Nursing, is a rising star in the study of cardiovascular health conditions during pregnancy and associated adverse maternal–fetal health outcomes. His research has received local and national funding, including an R01 grant from the National Institutes of Health investigating the role of ultrasound technology in predicting preterm birth, on which he is a co-investigator. In 2017 he earned a diversity fellowship supported by the NIH and the National Heart, Lung and Blood Institute.
His most recently published research found that the first six weeks after delivery, when at least 60 percent of pregnancy-related heart failure hospitalizations occur, are the most dangerous for women at risk of heart failure. Heart disease, including heart failure, is a leading cause of maternal mortality and morbidity in the United States.
"The United States is the place to study this because of the abundance of resources," says Mogos, who started his nursing career in Africa. "The goal is to develop effective interventions that are scalable on a national, and even global, level."
Mogos says pregnancy presents a unique window of opportunity, as most women have regular prenatal checkups. "It's a chance for us to closely monitor women who are at risk, and encourage heart-healthy lifestyles while educating women about symptoms to watch for," he says. After delivery, women may not be seen by health care providers for up to six weeks, during which serious symptoms may arise and be left untreated.
"Concerns of new moms—fatigue, shortness of breath—are often waved away even by providers," Mogos says. In one well-known instance, tennis great Serena Williams, who recognized signs of a recurring pulmonary embolism after the birth of her daughter, had to challenge her hospital caregivers repeatedly to get the right diagnosis and care.
Mogos most recently was on the faculty at the College of Nursing at the University of Illinois in Chicago.
—JAN READ
---
Beyond Star Ratings | Hallie Sue Cho, assistant professor of operations management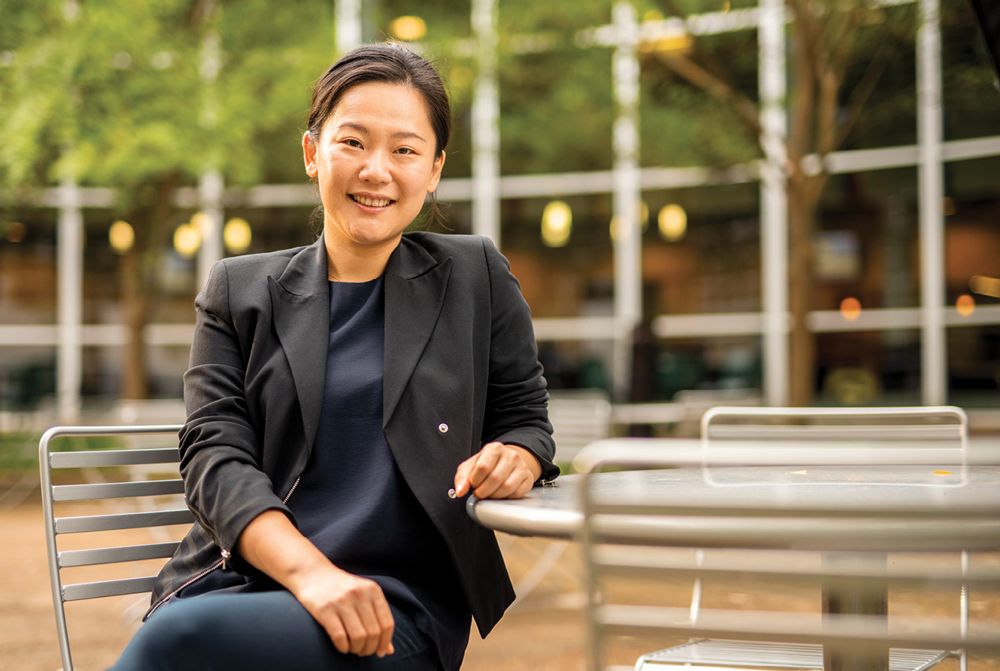 Hallie Sue Cho split her summers as an undergraduate at MIT between internships and research opportunities in mechanical engineering. By her senior year, she was convinced her future lay not in industry, but in research and academia.
"I've always liked making things," Cho says. "But for me, the excitement comes from solving problems and having the freedom to pursue my interests."
She brings that zest for discovery, in addition to experience in product design, market research and business strategy, to the Owen Graduate School of Management as an assistant professor of operations management. Cho is teaching an elective in business analytics focused on strategies to wrangle big data into actionable information.
After earning a bachelor's in mechanical engineering and management science, Cho began work on her master of science in mechanical engineering at MIT. As a graduate student she co-founded OttoClave, a low-cost medical instrument sterilization system designed for rural health clinics in developing countries.
"Invasive medical instruments have to be heated at 121 degrees Celsius (250 degrees Fahrenheit) for a minimum of 30 minutes to be sterile—boiling them for 15 minutes isn't sufficient," Cho says. "But sterilization is time-consuming, and an unstable heat source can corrupt the whole process."
Using a pressure cooker, a pressure sensor and a talking cycle monitor, OttoClave proved successful during trials in Nepal, reducing infections and improving patient outcomes. But after a year of development supported by funding, the OttoClave team determined their product wasn't viable as a business.
The team members moved on, with Cho resuming her studies, this time pursuing her doctorate in management science at INSEAD, a graduate business school based in France and Singapore. The OttoClave project gave her experience in convincing stakeholders to adopt new technology, which led to her interest in how perception of quality influences consumers. Her dissertation focused on understanding the impact of online reviews—both star ratings and written responses—on product demand.
"You'd think the stars—1 to 5—would be the summary measure that capture all aspects of a review, but they're really not. The logical, analytic reviews are in the text responses," she says. "My goal was to find ways to develop that information into quality signals that the manufacturers could use to boost their product."
—JAN READ
---