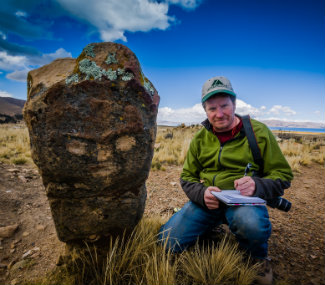 John W. Janusek, an archaeological anthropologist whose research interests ranged from the development of complex societies and cities in the South American Andes to the history of beer and brewing in Nashville, died Oct. 22. Janusek, 56, had been a member of the Vanderbilt faculty since 1998.
"John profoundly influenced a generation of Andean archaeologists with his large-scale projects in Bolivia," said Beth Conklin, associate professor of anthropology and department chair. "He was a beloved colleague and popular professor among our students, especially with his enthusiasm and passion for innovative teaching and discovery. He was playing a key role in our department's emerging focus on the anthropology of food with his keen interest in the history of fermentation and feasting."
Janusek's research interests included political ecology, urbanism, iconography, ritual practices and materiality.
Janusek was born in Chicago Heights, Illinois, on Sept. 20, 1963. He was raised in a musical family and was a talented musician who played everything from brass instruments to guitar and bass. Janusek majored in anthropology at the University of Illinois at Chicago, where he received his bachelor's and master's degrees. He earned a doctor of philosophy from the University of Chicago in 1994.
Janusek devoted more than three decades of research to the pre-Columbian world, primarily focused on the Tiwanaku civilization and its formative precursors in the Bolivian highlands. He had long-term projects at the sites of Khonkho Wankane and Iruhito in the southern Lake Titicaca basin of Bolivia.
With a provost-funded Research Scholar Grant, Janusek had been delving into the mystery of what he called "stone giants," or Andean monoliths, with many of his colleagues. He was also co-directing a trans-disciplinary project in the eastern Lake Titicaca basin and Andean valleys.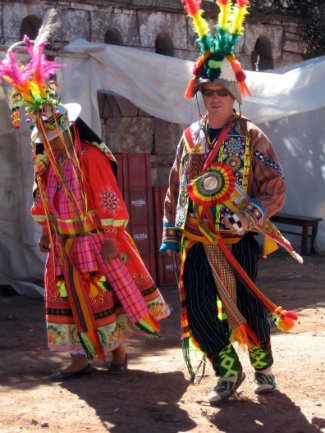 "John was always deeply committed to the Bolivian communities that hosted his research projects, and he was a devoted participant in Andean rituals and celebrations," Conklin said. "One of his proudest moments was in 2007, when he had the honor of serving as the preste sponsor of the Festival of Saint James procession in the community of Qhunqhu Liquiliqui."
Since 2017, Janusek co-taught with Bruce Carter, professor of biochemistry, a popular University Course called The Science and History of Brewing. "John was always bubbling over with ideas about expanding the course, from putting together lecture series and conferences on brewing to creating a brewery on campus," Carter said. "His passion ran deep for any topic that interested him."
The cross-disciplinary course provides students with a cultural, historical and religious perspective on the use and abuse of alcohol, an understanding of the neuroscience of reward and addiction, and the science of biochemical processes involved in brewing and consuming beer. Students also learn about how fermented products play into the rituals and practices of various religions, and the environmental effects of brewing around the world over the centuries.
Janusek's books included Identity and Power in the Ancient Andes (Routledge, 2004), Ancient Tiwanaku (Cambridge, 2008), Khonkho Wankane: Archaeological Investigations in Jesus de Machaca, Bolivia (University of California, Berkeley, 2018), and as co-editor (with Steve Kosiba and Tom Cummins), the forthcoming Sacred Matter: Animacy and Authority in the Americas (Dumbarton Oaks Press, 2019).
"John was a true intellectual, driven by his roving curiosity, deep scholarly engagement and commitment to the highest ideals of humanistic and scientific inquiry," said Tiffiny Tung, associate professor of anthropology. "He passed those ideals on to the many students who had the privilege of working with him in the classroom, field and laboratory."
Janusek was scheduled to teach a Maymester course next spring during which students would conduct an archaeological dig at a downtown Nashville site where beer was believed to have been brewed in historic cellars and tunnels during the 19th century.
"I will miss how John's sense of humor and passion for anthropology made our department that much more a collegial and fun place to work," said Jada Benn Torres, associate professor of anthropology. "In a department as small as ours, every member, in their own way, adds to our community, and John will be dearly missed."
During the 2011-12 academic year, Janusek co-directed the Sacred Ecology Fellows Program at the Robert Penn Warren Center for the Humanities with Betsey Robinson, associate professor of history of art and classical and Mediterranean studies, and Tracy Miller, associate professor of history of art and Asian studies. Janusek had explained in an interview that examples of sacred ecology in Nashville would include the Ryman Auditorium and Tootsie's Orchid Lounge, as both are rich in references to the history of country music.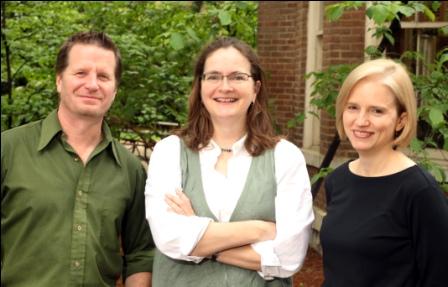 Janusek returned to the Warren Center during 2017-18 to take part in another fellows program with the theme "Telling Stories: Modes, Media and Meanings." Just a few weeks ago, Janusek had participated with some of the other fellows in an interactive discussion and exhibit at the Southern Festival of Books, showcasing their work from the 2017-18 program.
In addition to being an associate professor of anthropology, Janusek was a research associate with the Field Museum of Natural History in Chicago. His memberships included the Society of Archaeology, the American Anthropological Association and Breweriana Collectors of America.
Janusek's many hobbies included beer can collecting, which began early in his life when he found some old cans in vacant lots near his home in the Chicago area. He became a nationally renowned expert on the history of beer and beer cans in the collectors' community.
Janusek is survived by his wife, Anna Guengerich, research assistant professor of anthropology, with whom he shared many research interests in the historical ecology of South America. Other survivors include his mother, Carol Janusek, his brother, Mike Janusek, and his nephew, Andrew Janusek.
Announcements of memorial gatherings and other initiatives are forthcoming.