Interim Chancellor and Provost Susan R. Wente presented the first two Chancellor's Heart and Soul Staff Appreciation Awards of 2019-20 to Elizabeth Wright, associate athletics director for academic support in the Division of Athletics, and Oscar Cole, food service supervisor with Campus Dining.
Both honorees received a $1,500 cash prize and a custom-made, engraved wooden box and pen. The box and pen set, created by Nashville artist Brenda Stein, is carved from historic wood repurposed from Alumni Hall.
Staff are nominated for the Chancellor's Heart and Soul Award by their supervisors, managers and colleagues. Nominations focus on a specific instance when a staff member did more than what was assigned or expected, and for carrying the spirit and mission of Vanderbilt in all they do.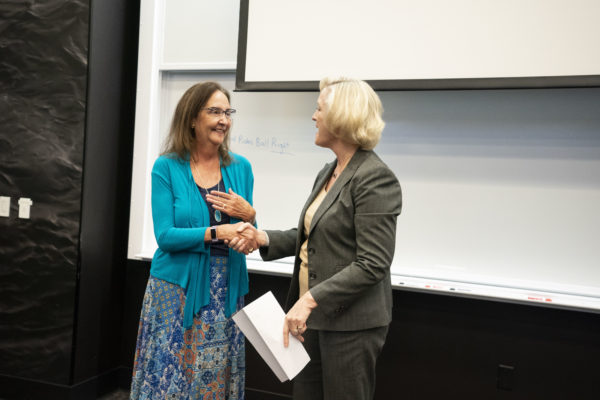 Wente surprised Wright during an Oct. 9 Athletics staff meeting in the McGugin Center. Wright, who has worked at Vanderbilt since 1999, was nominated by staff in the academic support office for her unwavering devotion to Vanderbilt's student-athletes and personal efforts to ensure their success in the classroom. Her nomination was the first from Athletics and included letters of support from Athletics leadership and women's tennis head coach Geoff Macdonald.
"Elizabeth has established new programs and support teams to help our student-athletes succeed as scholars and grow as people," Wente said. "She has helped develop academic policies and standards for our student-athletes that other schools in the Southeastern Conference look to as best practices."
Wente noted that during Wright's time working in academic support for Athletics, Vanderbilt student-athletes have earned greater than a cumulative 3.0 GPA every year for the past 13 years; the university ranks near the top in the NCAA's Academic Progress Rating of Division I schools; and the Commodores consistently have one of the best graduation success rates in the nation.
In his nomination letter, Vice Chancellor for Athletics and University Affairs and Athletics Director Malcolm Turner described the many ways that Wright connects with student-athletes. "Sometimes her office serves as a safe haven for students as they navigate their own personal challenges. She serves many a role—coach, counselor, judge, parent, mediator, mentor—and she wears these many hats with grace and humility," wrote Turner.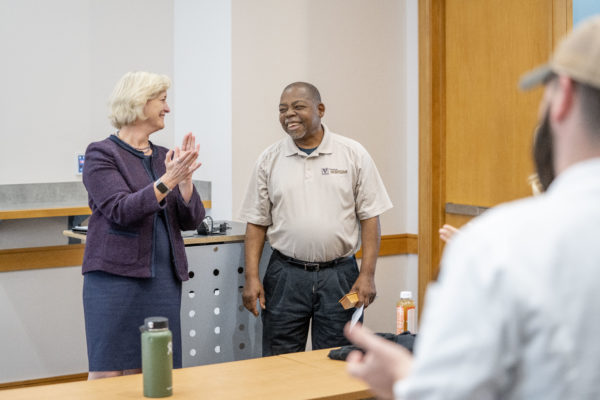 Wente surprised Cole with his award Oct. 16 during a monthly meeting for Campus Dining supervisors and managers. Cole has worked at Vanderbilt for 41 years, starting his career as a part-time dishwasher while a student at Tennessee State University. He quickly rose within the department and now manages food service employees and student staff workers. He is also an active member of his church and a leader in multiple ministries in the Nashville area.
"His colleagues describe his kind smile, his approachability, his incredible work ethic and his commitment to treating others the way he would want to be treated," said Wente when presenting the award to Cole. "Based on the expression of the faces in this room right now, I know he has made an enormous impact on many lives."
Cole was nominated by Kiley Stokes, director of business services in the Division of Administration. In her nomination, she wrote that Cole's colleagues in Campus Dining appreciate his strong work ethic. "Over and over, employees have stated that Mr. Cole has always been the kind of supervisor that works alongside them—he doesn't just tell them what to do."
The Chancellor's Heart and Soul Staff Appreciation Award, created in 2017 by Chancellor Emeritus Nicholas S. Zeppos, honors the efforts of staff at the university. The chancellor presents the award to staff during visits to their workplaces or in group settings.
Learn more about the Chancellor's Heart and Soul Staff Award at vanderbilt.edu/chancellor.