Media Inquiries
Latest Stories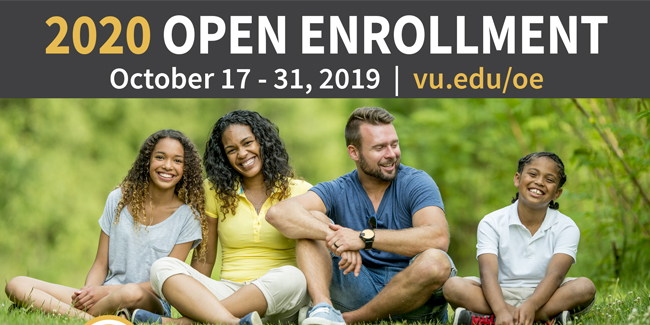 Open Enrollment is open now through 11:59 p.m. Oct. 31. All benefits-eligible faculty and staff are required to make an active plan selection for 2020 coverage. Employees will not automatically default into their current plan option if no action is taken.
Vanderbilt University will offer fully benefits-eligible employees two health care plan options in 2020: the Select PPO plan and the Choice CDHP.
Making an active health care election and completing the questions about tobacco use and spousal coverage can save employees money. Those who don't complete these questions may pay up to $120 per month in avoidable costs in 2020 (see chart below). Employees also can receive credits for completing the Go for the Gold steps. Those who don't actively enroll will miss out on the opportunity to contribute pre-tax money to 2020 health care and/or dependent care flexible spending accounts.
Open Enrollment is the annual opportunity for employees to update or choose the benefits that best meet their and their family's needs. Elections are effective Jan. 1–Dec. 31, 2020. After the plan year starts on Jan. 1, 2020, employees can only make coverage changes if they have a qualifying life event, such as getting married or having a baby.
What happens if fully benefits-eligible employees don't enroll?
Benefit
If NO action taken:
Health Plan

You will default to the health care plan option with the lowest premiums (Choice CDHP), at the same individual/family tier you have now, if you don't make a plan selection and …

You'll miss out on a $20/month credit toward premiums if you do not confirm that you and your covered family members are tobacco-free.
You'll pay a $100/month spousal fee if your spouse is on the Vanderbilt Health Plan but has access to health insurance through their own employer. If your spouse does not have access to another employer's health plan, or works for Vanderbilt University, you must confirm this every year to avoid the fee.

Dental Plan
You'll have the same coverage you elected from 2019.
Vision Plan
You'll have the same coverage you elected from 2019.
Flexible Spending Accounts
No pre-tax money can be deposited in your health care and/or dependent care flexible spending accounts unless you enroll each year.
Accidental Death & Dismemberment
You'll have the same coverage you have in place for 2019.
What are the options for partially benefits-eligible employees?
Partially benefits-eligible employees may enroll in the Choice CDHP or choose to waive coverage. Those who elect the CDHP may contribute to the accompanying HSA; there is no employer contribution.
Those currently enrolled who do not confirm 2020 elections or waive coverage will miss out on a $20 per month credit toward premiums when all covered family members are committed to being tobacco-free.
Need help enrolling?
Enrolling is quick and easy. Visit vu.edu/oe to view the detailed guide to Open Enrollment, benefits videos, updated health care premiums, information on the new Choice CDHP, FAQs, PLANselect (Vanderbilt's decision support tool) and more.
Employees can enroll online at any time from any internet-connected computer. Those who need help enrolling or don't have access to a computer can visit an enrollment lab or stop by Vanderbilt Human Resources on the 10th floor of the Baker Building (110 21st Ave. S.) between 8 a.m. and 5 p.m. Monday-Friday through Oct. 31.
Employees need an active VUnetID and password to enroll. If you need help with your VUnetID or your password, contact your IT support provider or the Help Desk.
Learn more at vu.edu/oe.