Vanderbilt University paid tribute to the trailblazing leadership of David Williams II with the naming of its recreation and wellness center for Williams, the university's first African American vice chancellor, who made a transformative impact on college athletics and higher education.
A ceremony unveiling the new name—David Williams II Recreation and Wellness Center—and remembrances of the man affectionately called the "Goldfather" took place on Oct. 18 at the facility where Williams oversaw a significant expansion and renovation.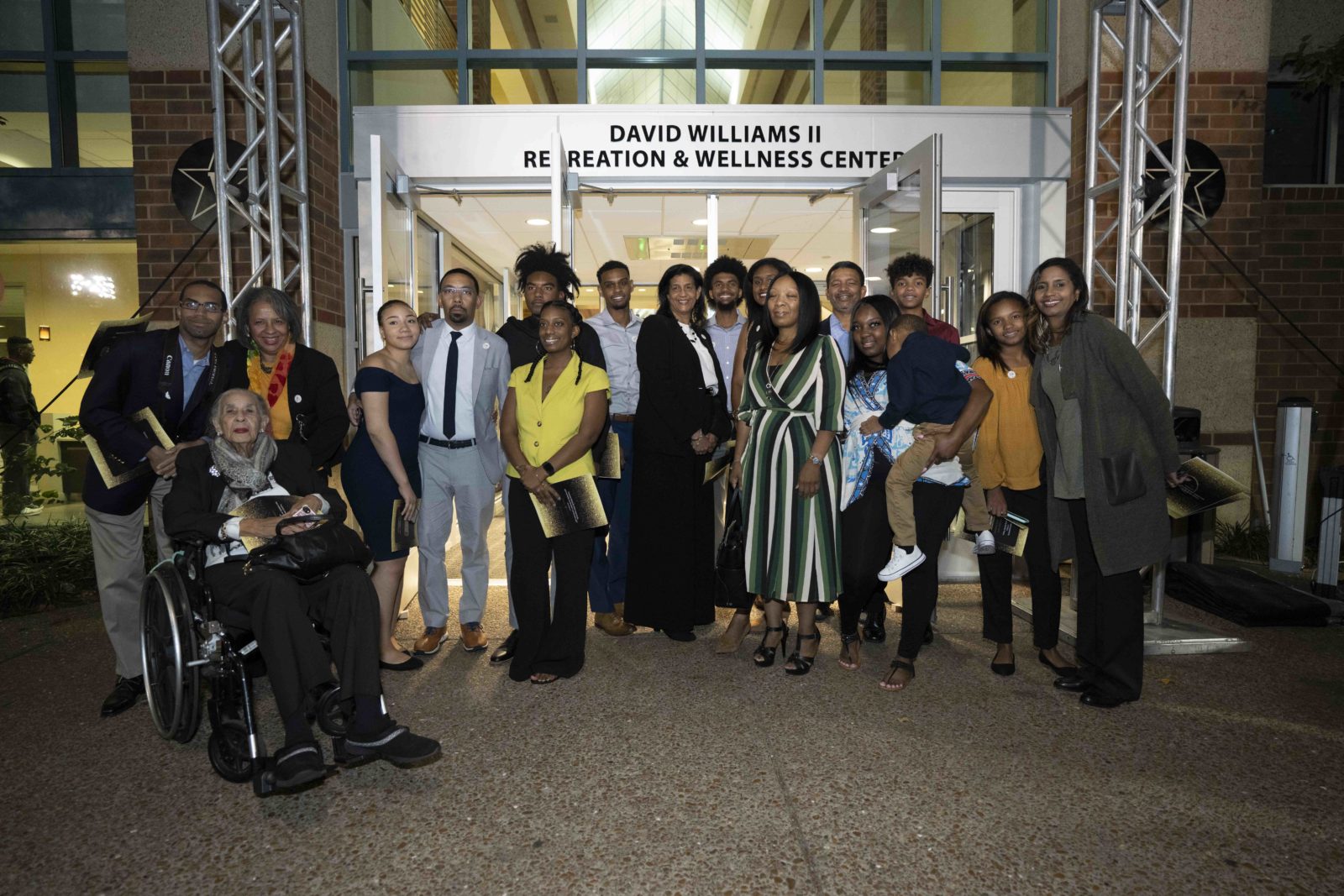 "The name on a building should be a teacher; it should spark curiosity, admiration, inspiration," Chancellor Emeritus Nicholas S. Zeppos said. "The name on this building is a fitting tribute to David because he was the ultimate teacher. He believed that if you give someone an education, you give them an opportunity to change their lives, just like education changed his life."
Williams died unexpectedly at age 71 on Feb. 8, just eight days after stepping down as vice chancellor for athletics and university affairs and athletics director. He had returned to being a full-time law professor at Vanderbilt Law School, where he was focused on establishing a new Sports, Law and Society Program. Earlier on the morning of Feb. 8, the Vanderbilt Board of Trust, on recommendation from Zeppos, had voted to rename the Student Recreation and Wellness Center after the former vice chancellor and athletics director.
Under Williams' direction, the 2013 renovation and expansion of the recreation and wellness facility was designed to serve the entire Vanderbilt community. Upgrades included a four-lane bowling alley, a demonstration kitchen for preparation of healthy meals, and expanded cardiovascular and fitness areas. In addition, the field house was constructed, featuring a 120-yard-long indoor turf practice field surrounded by a 300-meter track. The field house received LEED silver certification from the U.S. Green Building Council for its environmentally responsible construction. Williams also oversaw major improvements at Hawkins Field, Brownlee O. Currey Tennis Center and McGugin Center, among other facilities.
Williams also brought Vanderbilt Athletics into a new era of prominence, with the Commodores winning four national championships under his leadership.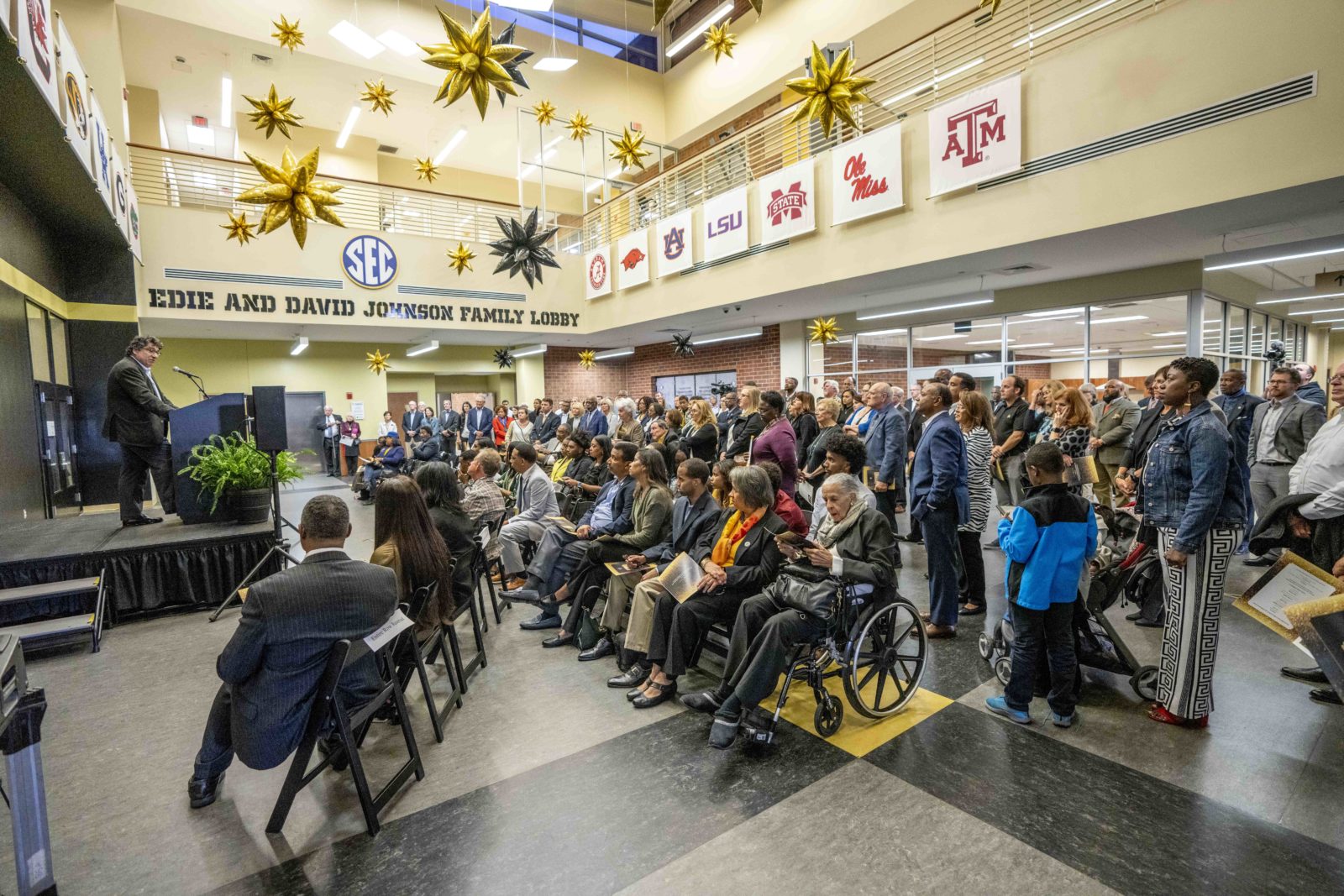 "In 2014 when we won the College World Series, he was on the field," said Tim Corbin, head baseball coach. "I could see tears coming down both cheeks. He looked like a proud dad, and I'll never forget that look."
A hallmark of Williams' tenure was the expansion of academic and experiential opportunities for student-athletes. Thanks to his leadership, Vanderbilt now offers the nation's most comprehensive summer internship program for student-athletes.
Zeppos recounted Williams' push to change NCAA rules to better support student internships, as well as his constant dedication to Vanderbilt's student-athletes, crediting him with pioneering the Vanderbilt Way. "College athletics is part of the student-athlete experience. He believed that you could achieve athletically and academically, and David is the person who built the Vanderbilt Way," Zeppos said.
"Students inspired David because he was an educator. Everything he did, he did for students," said Williams' wife, Gail, associate director of community engagement in Vanderbilt's Division of Government and Community Relations. "He was inspired by the kindergarteners he first taught as a teacher in the 1970s, but he was also inspired by the kindergarteners he worked with at Buena Vista right here in Nashville. And he was inspired by all those students in between, to whom he got to bring his passion."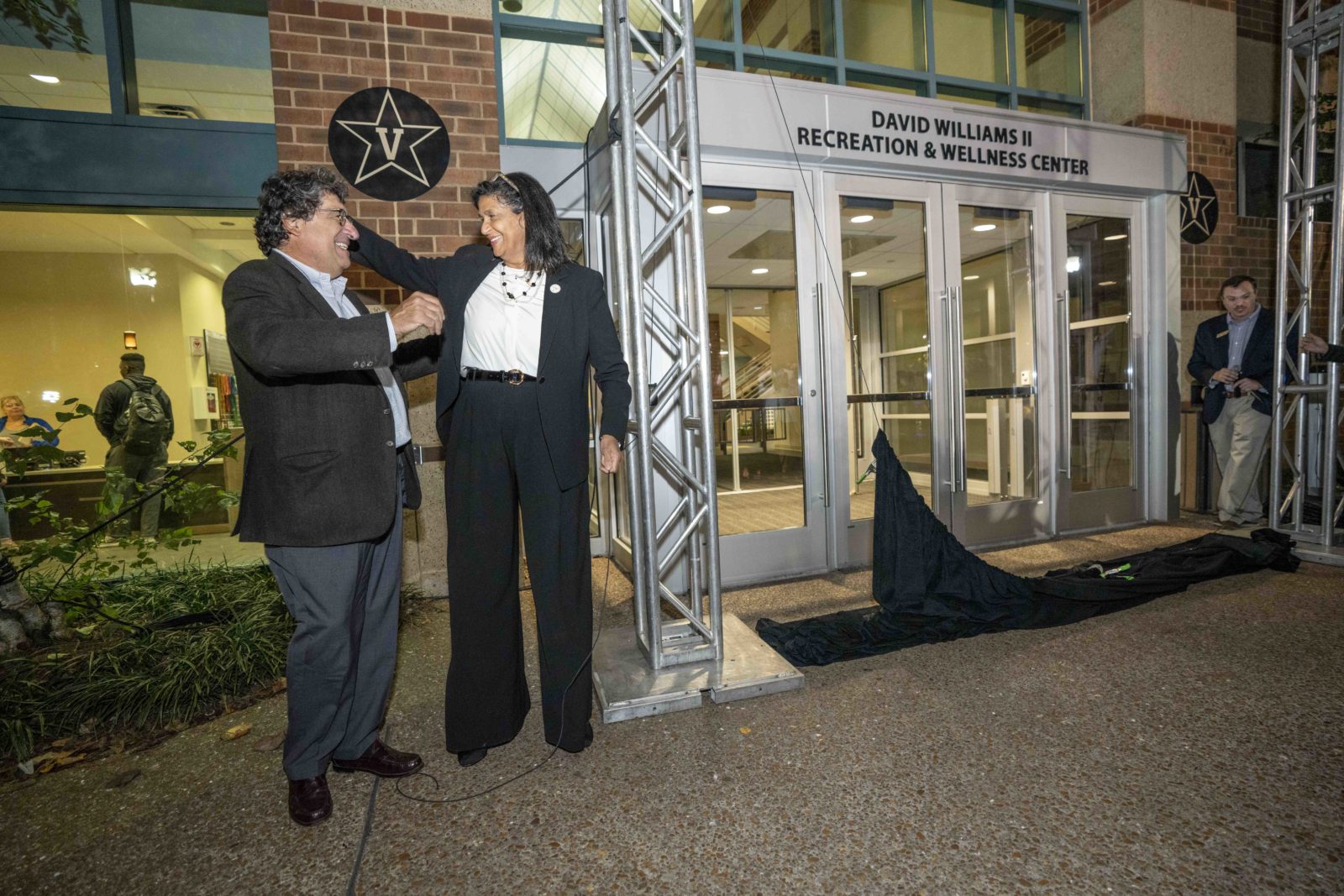 Williams also will be remembered for the attention he brought to sports' impact on society and the university's troubled history during the civil rights movement. He helped lead efforts for recognition of and reconciliation with Vanderbilt pioneers that included student-athletes Perry Wallace and Godfrey Dillard.
"He realized that if Vanderbilt faced up to its past of racial exclusion and discrimination in an honest light, that there was a glimmer of hope," Zeppos said. "If we could be honest, there was a better way forward for a more perfect university. He did so much to try to lead us to that place."
Also speaking at Friday evening's program was Jennifer Edobi, a Class of 2018 alumna who was a member of the track and field team. She credited Williams with helping to recruit her to the university and making her feel at home once she was a Commodore.
"I quickly started calling him 'Grandpa,'" Edobi said. "It didn't matter where I saw him—whether on Jess Neely Drive riding on a golf cart or at the end of a finish line when I was ready to pass out and couldn't feel my legs—it was always, 'Hey, Grandpa!' and I would sneak in a hug."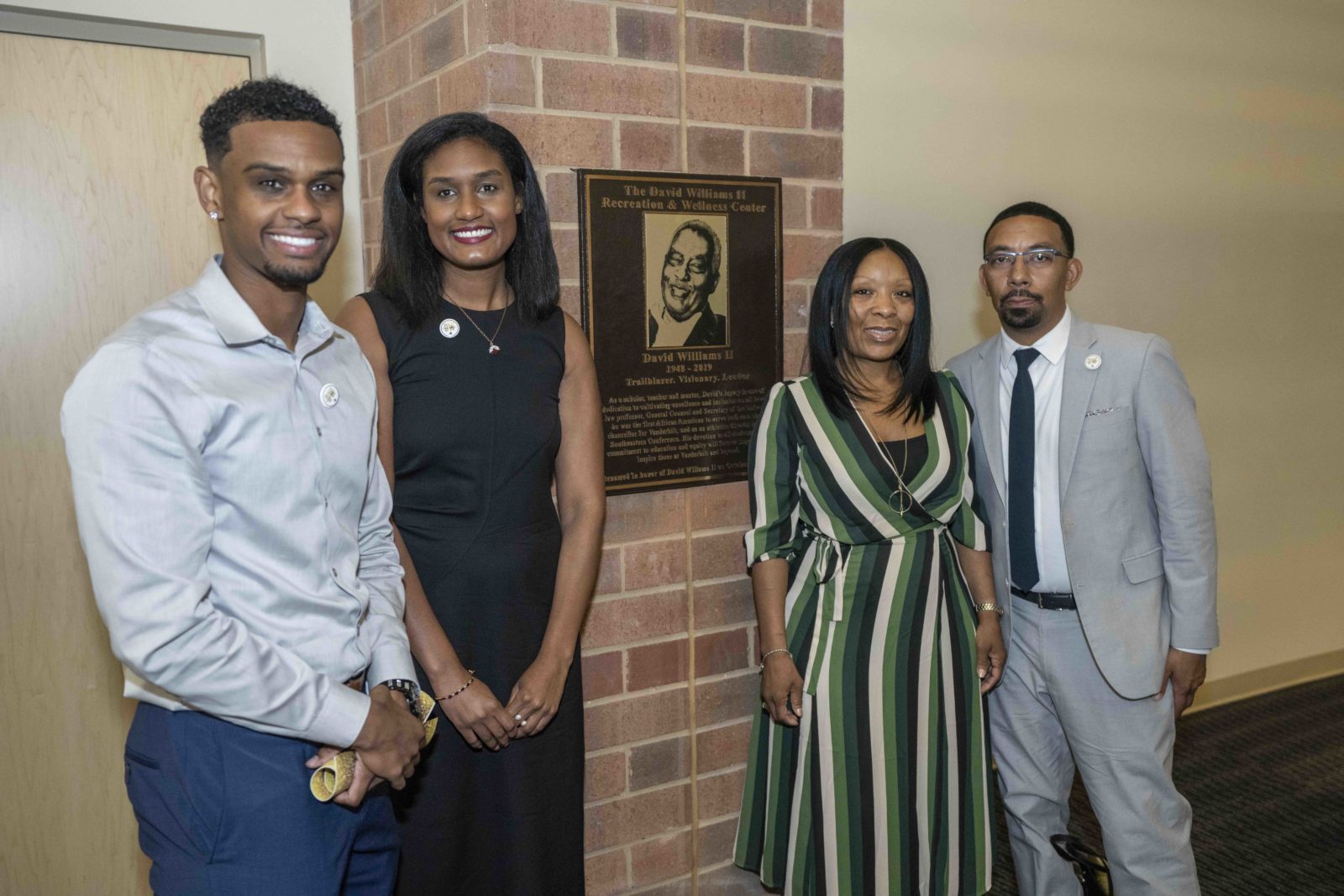 Edobi also spoke of Williams' ability to empower student-athletes on and off the field, making them feel like people first, students second and athletes third. "It didn't matter who you were, he made his office and presence feel like home to you. Whatever level you were on, he met you on that level."
Curt Moody, CEO and founder of Moody Nolan, the construction company that oversaw the renovation of the recreation center, also spoke, noting Williams' vision for the field house. "When building this indoor practice facility, David didn't want this building just to be for the football team. He wanted it to be for all students. That's the kind of facility he wanted for Vanderbilt University," Moody said.
Gail Williams concluded the remarks and remembrances. "I thank the university for celebrating David's body of work and for allowing it to live on at Vanderbilt," she said. "Others can come to this campus and visit and be a part of a building that celebrates the things that David was all about. Our family is so grateful. David would be so deeply appreciative, and he would have said, 'But I was just doing my job.'"
Interim Chancellor and Provost Susan R. Wente and Board of Trust Chair Bruce R. Evans were among the university leadership who attended the ceremony, which was followed by a reception in the field house. The reception included Metro Council members Burkley Allen and Thomas Cash reading a Metro Council resolution in honor of Williams.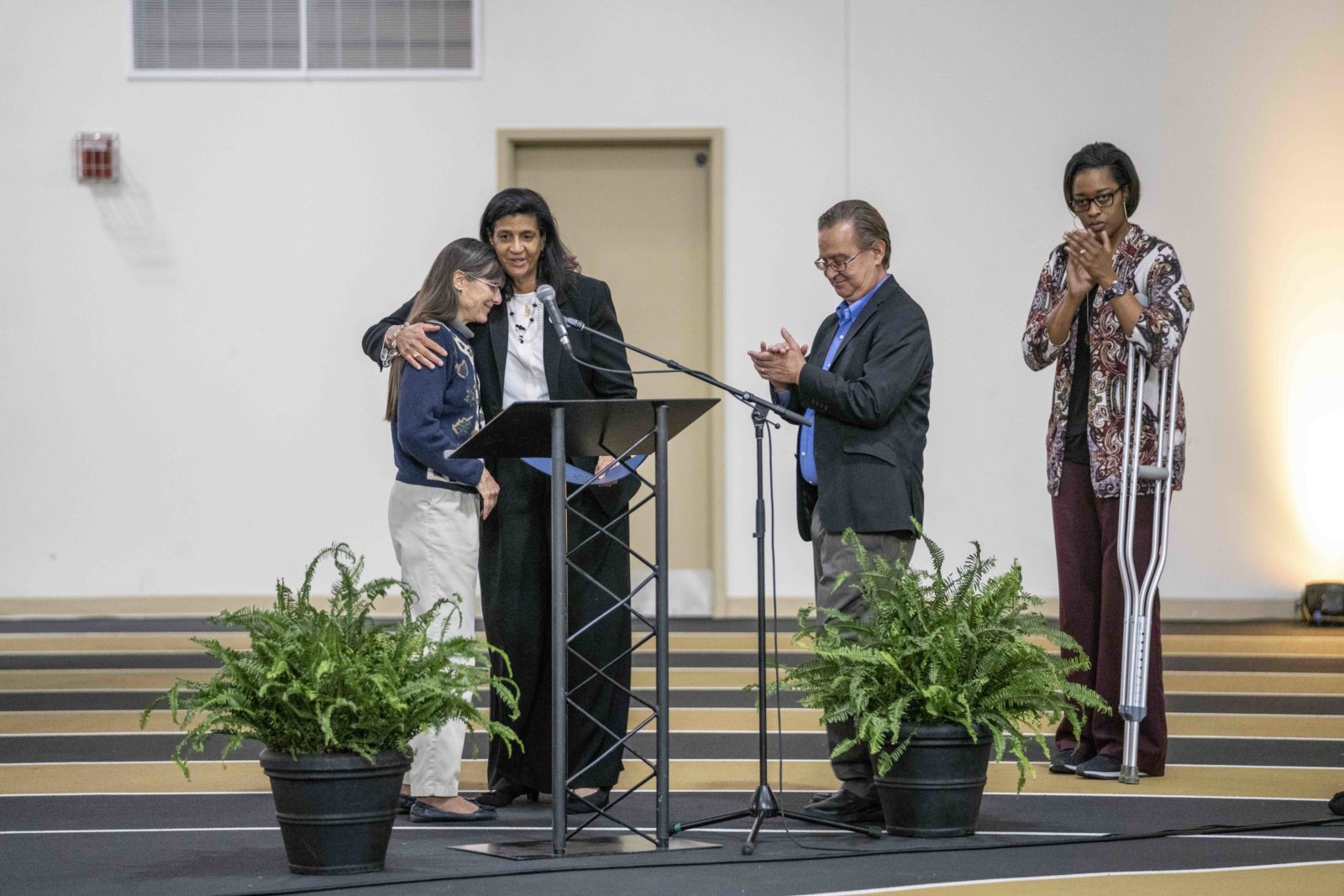 The celebration was one of many ways Vanderbilt honored Williams during Reunion Weekend. Wente unveiled a Vanderbilt Trailblazers portrait of Williams that now hangs in Kirkland Hall, and Williams also was recognized with a Legacy Pioneer Portrait at the Bishop Joseph Johnson Black Cultural Center.
Gail Williams noted, "It's his family's hope that his trailblazing legacy creates more trailblazers for us to follow in the many years to come."
Learn more about David Williams and his legacy at Vanderbilt.
Kate Derrick contributed to this story.