Beginning the week of Oct. 21, all enrolled students will have access to log in to Oracle Cloud, regardless of their status as a student worker or stipend recipient. This will provide all enrolled students the ability to access training in Oracle Learning, which has been implemented this year as a replacement for the legacy Learning Exchange.
In addition, enrolled students who are later hired for on-campus jobs (for example, via Hire-a-Dore) or need additional Oracle expenses access (for example, to submit expense reports for a student organization) will have the ability to securely share their data access with an HCM Specialist, who can then process their hire in the system.
Getting started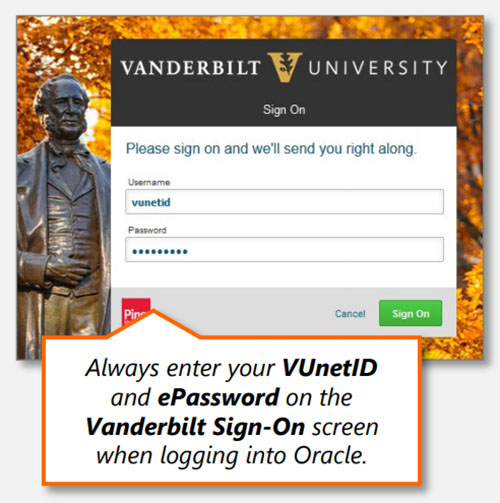 To log in to Oracle Cloud, navigate to https://oraclecloud.vanderbilt.edu and then enter your VUnetID and ePassword on the Vanderbilt single sign-on page. We encourage users to bookmark this login link for use when accessing Oracle Cloud
If an alternate login page is displayed, click the blue "Company Single Sign-On" button to open the Vanderbilt single sign-on page.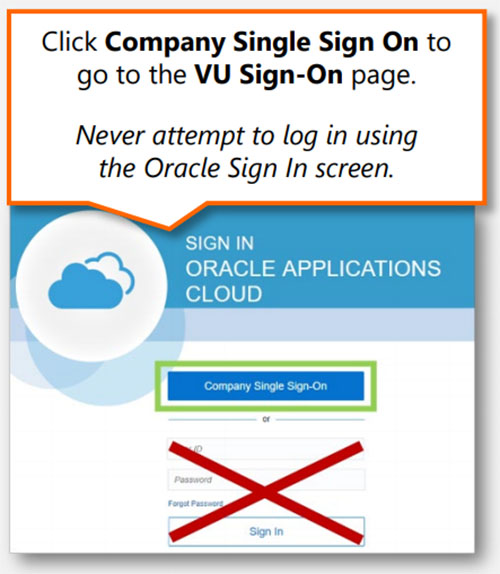 In the event one of your pages does expire due to inactivity, please be sure to navigate to Vanderbilt's single sign-on page before entering your VUnetID and password.
Click here to view a quick reference guide for accessing and navigating in Oracle.
Issues logging in to Oracle Cloud?
Contact the Process and Systems Optimization team at skyvu@vanderbilt.edu.