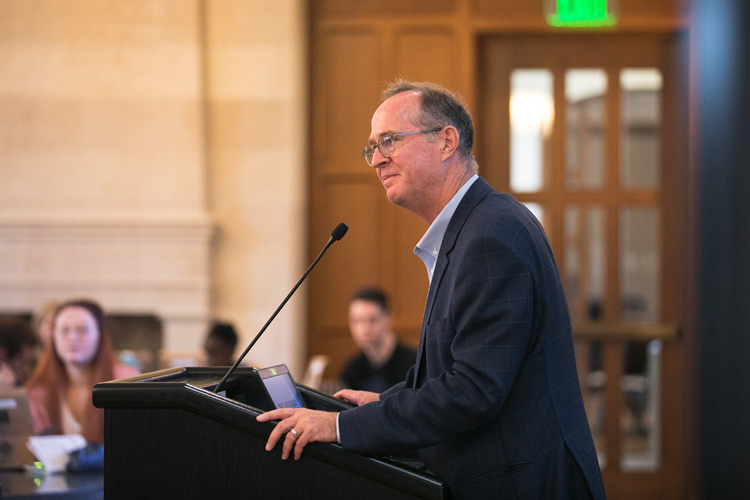 By Denise Malone
The Russell G. Hamilton Graduate Leadership Institute launched its fall semester programming with a presentation by Tom Tait, JD'85, MBA'85, former mayor of Anaheim, California. Tait explored themes of authentic leadership and leading with kindness during his Oct. 7 talk.
As part of the GLI mission to provide graduate students with the tools to thrive in leadership roles at all levels and the ability to recognize and develop leadership skills in themselves and others, Tait was invited to discuss his unique perspective on fostering leadership by creating a positive social culture.
Tait served two terms as the mayor of Anaheim from 2010 to 2018. While still a city councilmember in 2004, Tait introduced the "Make Kindness Contagious" theme inspired by the life of Natasha Jaievsky, a young Anaheim resident who sought to be kind to family, friends and strangers. Jaievsky's life was tragically cut short in a car accident at age 6, and artwork she created came to serve as the logo for the city of Anaheim's "Make Kindness Contagious" campaign.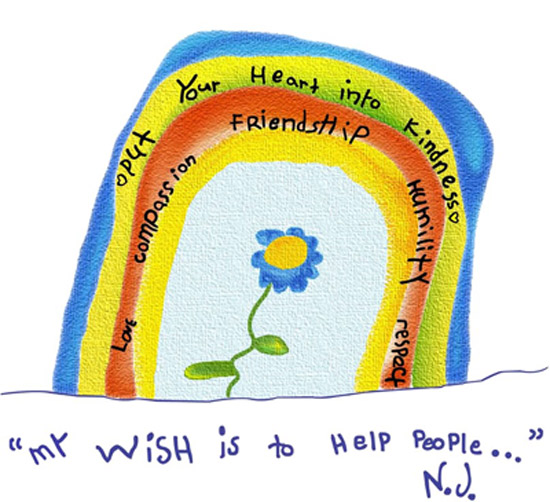 As mayor, Tait embraced a holistic approach to healing Anaheim using kindness as a tool to shift the city's core culture rather than merely treating symptoms of its urban challenges.
Tait defines kindness as "doing something for someone else with no expectation in return." He partnered with the superintendent of the Anaheim Union School District and challenged children from 24 local elementary schools to complete 1 million acts of kindness. As hoped, the small acts of kindness had a transformative effect across the student population. Though no formal studies were conducted, Tait shared that positive behavioral trends were observed by teachers and principals, including a significant decrease in bullying and suspensions.
One of many powerful messages Tait shared during his presentation was the time and perseverance it took to begin this movement. In the first two years, little visible progress was made; however, Tait's commitment to the core value of kindness drove him to continue working to develop a culture of kindness within the city. His tenacity paid off. Over the last decade the movement has been recognized and supported by the Dalai Lama, Lady Gaga and mayors from across the country.
"One of the core tenets of leadership development is self-awareness—knowing your core values and understanding your leadership style," said Mark Wallace, dean of the Graduate School. "Tom Tait's message is simple yet powerful. Every one of us has the ability to accomplish our goals and effect real and lasting change in our communities, from the lab to the departments, schools, neighborhoods and cities in which we live. To be kind while doing so benefits us all."
The Graduate Leadership Institute's fall programming continues Nov. 12 with a workshop on "The Art of Negotiation" with Chris Guthrie, dean of the Law School. The semester concludes with a collaborative workshop Nov. 20 between the GLI and the Writing Studio on how to write an op-ed.
To learn more about upcoming seminars and workshops and to register for events, visit the Graduate Leadership Institute website and follow the @VUGradLead on Twitter.