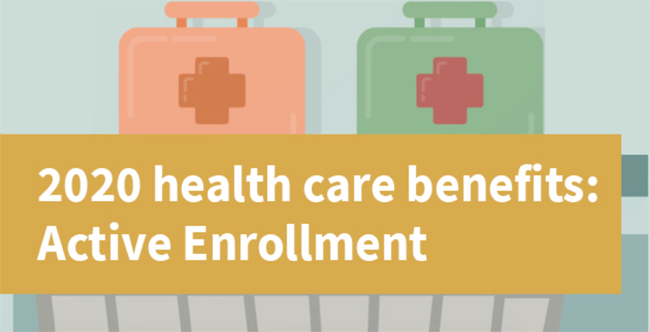 This year during Open Enrollment, eligible faculty and staff must elect a health plan or they will default to the Choice Consumer-Driven Health Plan (Choice CDHP) at their current individual or family coverage level.
Vanderbilt University is committed to providing high-quality benefits to serve the diverse and changing needs of faculty and staff. To help faculty and staff make the best decision for themselves and their families, the 2020 health plan options are outlined below. At the end of this article, links to additional tools and information, as well as dates and locations for enrollment labs, are provided.
What are my options?
For calendar year 2020, Vanderbilt will continue to offer two health plans: the Select PPO (Preferred Provider Organization) and the Choice CDHP (Consumer-Driven Health Plan). While the two plans are quite different, they share several important common features. Both plans will continue to use the existing "Tier 1" VHAN (Vanderbilt Health Affiliated Network) and "Tier 2" Aetna network of health care providers, and both provide preventive care at 100% coverage. The monthly premium for both plans will continue to be based on a three-tier salary band approach established in 2018—premiums are adjusted for salary level, and higher-paid employees have higher premiums.
Any fully benefits-eligible faculty or staff member who waived coverage in 2019 will continue to be waived for 2020 unless they make a different election during Open Enrollment. Partially benefits-eligible employees may enroll in the Choice CDHP or may choose to waive coverage.
Select PPO plan features
Higher monthly premiums, with lower deductibles, than the Choice CDHP.
The deductibles and out-of-pocket maximums will not increase for 2020.
For prescription drugs, in the Select PPO plan the employee covers only the designated co-insurance or co-pay.
Employee co-payments are $20/visit for primary care physicians and $35/visit for specialist visits.
Once the deductible amount is met, the Select PPO plan provides co-insurance at the 90% level (employee to pay 10%) until the out-of-pocket maximum is reached. Upon reaching out-of-pocket maximums, the Select PPO plan pays 100% of qualified expenses for the remainder of the plan year.
The Select PPO may be paired with a health care Flexible Spending Account (FSA) that can be used for qualified medical expenses during the plan year. During Open Enrollment, the employee chooses an amount to contribute in 2020 and then makes voluntary pre-tax contributions up to annual IRS limits. The funds in a health care FSA do not roll over from year to year; if funds are not used, they are forfeited. Vanderbilt does not contribute to health care FSA accounts.
Choice CDHP
Lower monthly premiums, with higher deductibles, than the Select PPO plan.
For prescription drugs, the employee pays 100% out of pocket for prescription drugs until the Choice CDHP deductible limit is met.
The Choice CDHP is paired with a Health Savings Account (HSA)—an investment account into which the IRS allows annual contributions of up to a maximum of $3,550 for individuals and $7,100 for families in 2020.

For 2020, Vanderbilt will make a contribution into each fully benefits-eligible faculty or staff member's HSA. Vanderbilt will contribute $750 for those with single coverage ($375 in January and $375 in July), and $1,500 for those with family coverage ($750 in January and $750 in July). Vanderbilt's contribution counts toward the IRS maximum.
Those 55 and older may make an additional $1,000 annual contribution to the HSA.
To see what your max contribution could be, check out our HSA worksheet.
Funds that the employee and Vanderbilt contribute to the HSA roll over from year to year if they are not used, and may be used tax-free for qualified medical expenses (as defined by the IRS, see "Medical and Dental Expenses"), either in the same year or in the future.
HSA funds are considered to be "triple-tax advantaged." This means any money put into the HSA account is contributed on a pre-tax basis, any earnings on the investments are not taxed, and any funds withdrawn for qualified medical expenses are not taxed. The HSA is an account owned by the employee, and the employee may choose to use HSA funds in the current plan year or roll the account balance forward to let it grow—even into retirement. If an employee leaves Vanderbilt, the HSA goes with them.

100% of qualified expenses (including pharmacy prescriptions) are paid by the employee until the employee deductible is met. Once the deductible is met, the employee will pay 20% co-insurance until the employee's out-of-pocket maximum is reached. At that point, the Choice CDHP plan pays 100% of qualified expenses for the remainder of the plan year.

A child may be covered by a parent's health care plan per Affordable Care Act (ACA) regulations through age 26, regardless of whether the child is a dependent for tax purposes; however, under separate IRS regulations, a parent's HSA funds cannot be used to reimburse for a child's health expenses unless the child is claimed as a dependent on the parent's tax return.

Employees who enroll in the Choice CDHP with the HSA cannot also enroll in the health care Flexible Spending Account (dual enrollment is prohibited by the IRS, since both are tax-advantaged accounts).
Note: If an employee is Medicare-eligible, still working, and enrolls in Social Security, they will be automatically enrolled in Medicare Part A. Neither Vanderbilt nor employee can contribute to the HSA after enrolling in any part of Medicare (Part A, B, C or D). For more information, visit the Social Security website.
Making a decision
To help employees make the best and most informed decision for themselves and their families, Vanderbilt offers the following additional tools and resources:
Use the My VU Benefits website to view benefit elections, update beneficiaries or make a family status change.
Visit the Open Enrollment website for:

"PlanSelect," an online Q&A guide that provides a personalized cost and value analysis. By entering personal scenarios, the tool estimates what costs might look like under each of the two plans.
A comparative plan design chart
2020 health care monthly premiums
Additional information about Vanderbilt, mail-order and retail pharmacy options
2020 health care FAQs

Visit the Open Enrollment Event Calendar for information on upcoming opportunities to learn more and ask questions about Vanderbilt benefit plans.

Benefits Open House, Oct. 23 from 10 a.m. to 4 p.m., Baker Building, 10th floor
Schedule for Benefits Enrollment Labs, where employees can get assistance to help enroll
For questions or assistance, email human.resources@vanderbilt.edu, or call 615-343-4788.