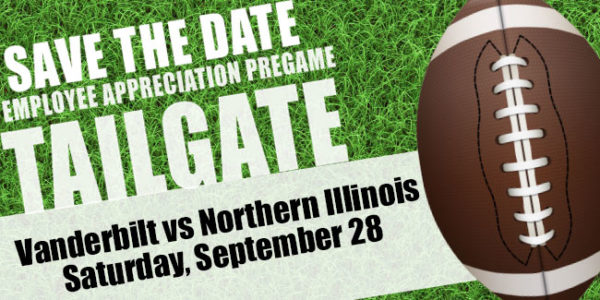 Vanderbilt University employees and their families are invited to an exclusive pregame tailgate on Saturday, Sept. 28, prior to the Vanderbilt vs. Northern Illinois football game. The pregame tailgate will take place three hours prior to kickoff, the time of which has yet to be announced. Please check the website after Sept. 17 for game time.
The annual Vanderbilt University Employee Tailgate will be held at Rob Roy Purdy Field. Rob Roy Purdy Field runs parallel to the indoor practice field, next to the Vanderbilt Recreation and Wellness Center. The pregame tailgate will feature food, music and fun. A gold Vanderbilt University ID with the iclass symbol is required for admission.
Online ticket registration for the football game and pregame tailgate party will begin at 10 a.m. Friday, Aug. 30, and will be available on the Tailgate 2019 website. Tickets are free for university employees and their families but must be reserved in advance. There are a limited number of tickets available, and each employee may reserve up to four tickets.
Football tickets will be available for pickup at the pregame tailgate event only on the day of the event, Sept. 28; there is no early pickup. Employees must present a gold Vanderbilt University ID with the iclass symbol to receive tickets. Any reserved tickets not claimed on Sept. 28 will be made available on a first-come, first-served basis. Vanderbilt University employees are encouraged to wear black and gold. Free tickets will not be given to anyone wearing red and black or the Northern Illinois University logo.
Game attendees must have a ticket to enter the stadium. Children age 2 and under do not require a ticket for any regular season home game on Vanderbilt's campus. The child must sit in the lap of a parent, and any related bags should be stowed under the parent's seat to keep the aisles and rows clear of items that may hinder the ingress or egress of fans. Please follow the SEC clear bag policy at vucommodores.com/clear-bag-policy.
Free parking for the event will be available in the West Garage on Children's Way. There will be no parking adjacent to the Rob Roy Purdy Field. Please download the parking permit.
For more information, visit the Tailgate 2019 website or email employeeappreciation@vanderbilt.edu.