The Tennessee General Assembly on Aug. 23 honored head baseball coach Tim Corbin and the Vanderbilt Commodores for winning the 2019 College World Series, with the House of Representatives unanimously passing a resolution sponsored by Rep. Johnny Garrett (R-Goodlettsville) and Rep. John Ray Clemmons (D-Nashville).
" … the Commodores of Vanderbilt University recently completed the greatest season in the history of the university's baseball program as the team captured the 2019 College World Series … (and) both the Southeastern Conference regular season and tournament titles," the resolution, in part, read. "Since 2003, the Commodores have been led by a true legend, head coach Tim Corbin, who has built a college baseball program that is second to none … (and) was also fittingly honored as the National Coach of the Year by the American Baseball Coaches Association and Collegiate Baseball."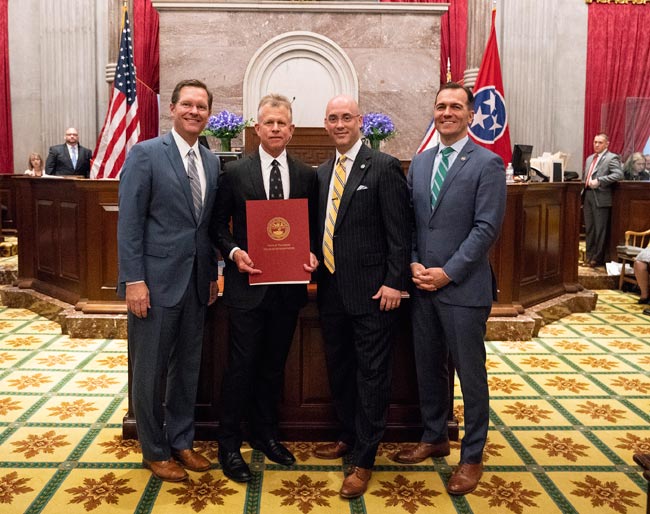 Corbin told legislators at the event that it was a privilege to be inside the Capitol, and a privilege to be honored by the group.
"Our trajectory has always been pointed at the development of kids and using baseball as a foundation to do so," Corbin said. "We're glad to be a small extension of the university, and one of its programs, but also since (wife) Maggie and I have been here, now going on our 18th year, we feel like this is home, and we're glad, in some small way, that we can add to this city as well."
Friday's ceremony at the State Capitol capped off a string of celebrations by various elected officials honoring the baseball team. In late June, Tennessee Gov. Bill Lee and Nashville Mayor David Briley joined hundreds of Commodore fans to greet Corbin and the VandyBoys upon their return to campus from the team's championship run at the College World Series in Omaha, Nebraska.
Friday's event was coordinated by the Office of State Government Relations.
Contact: Collier Roberts
collier.roberts@vanderbilt.edu