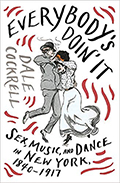 Everybody's Doin' It: Sex, Music, and Dance in New York, 1840-1917 (2019, W.W. Norton) by Dale Cockrell, professor of musicology, emeritus
Everybody's Doin' It is the eye-opening story of popular music's 70-year rise in the brothels, dance halls and dives of New York City. It traces the birth of popular music, including ragtime and jazz, to convivial meeting places for sex, drink, music and dance. Whether coming from a single piano player or a small band, live music was a nightly feature in New York's spirited dives, where men and women, often black and white, mingled freely ― to the horror of the elite. Cockrell recreates this ephemeral underground world by mining tabloids, newspapers, court records of police busts, lurid exposés, journals, and the reports of undercover detectives working for social-reform organizations who were sent in to gather evidence against such low-life places.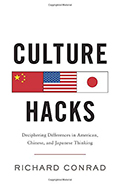 Culture Hacks: Deciphering Differences in American, Chinese, and Japanese Thinking (2019, Lioncrest) by Richard Conrad (pseudonym of Dickon Corrado, BS'92)
International business requires a deep level of industry insight, but also a keen understanding of the cultural differences that impact how business is done. An American working in China or Japan for the first time may not realize the way each culture thinks and reasons is quite different, which can lead to frequent misunderstandings. Corrado draws on his 25 years of experience living and working in Asia to explain the different ways Americans, Chinese and Japanese think, reason and interpret the world. This book equips the reader to successfully navigate unfamiliar territory by offering best practices and recommendations for interacting with and understanding each other.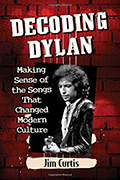 Decoding Dylan: Making Sense of the Songs That Changed Modern Culture (2019, McFarland) by Jim Curtis, BA'62
Taking readers behind Bob Dylan's familiar image as the enigmatic rebel of the 1960s, this book reveals a different view — that of a careful craftsman and student of the art of songwriting. Drawing on revelations from Dylan's memoir Chronicles and a variety of other sources, the author arrives at a radically new interpretation of Dylan's body of work, which revolutionized American music and won him the Nobel Prize for Literature in 2016. Dylan's songs are viewed as collages, ingeniously combining themes and images from American popular culture and European high culture.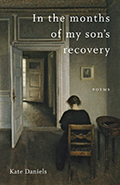 In the Months of My Son's Recovery: Poems (2019, LSU Press) by Kate Daniels, Edwin Mims Professor of English and director of creative writing
The poems of In the Months of My Son's Recovery inhabit the voice and point of view of the mother of a heroin addict who enters recovery. With clear perception and precise emotional tones, Daniels explores recovery experiences from multiple, evolving vantage points, including active addiction, 12-step treatment, co-occurring mental illness and addiction (known as dual diagnosis), and relapse. These harrowing poems reveal the collateral damage that addiction inflicts on friends and families, in addition to the primary damage sustained by addicts themselves. Offering descriptions of medical processes, maternal love, and the potential for hope as an antidote to despair, this timely collection offers a firsthand account of the many crises at the heart of the opioid epidemic.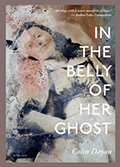 In the Belly of Her Ghost (March 2019, Los Angeles Review of Books True Stories) by Colin Dayan, Robert Penn Warren Professor in the Humanities and professor of English
A tale of love and resentment, In the Belly of Her Ghost is a memoir and meditation on the author's dead mother ― a Haitian woman attempting to assimilate into white Southern belle high society during the Civil Rights era. Dayan's mother grows austere with her newfound glamour and dismissive of her daughter, whose darker skin foments a loving connection with Lucille, her African American nanny. Capturing the bitter struggle of mother and daughter ― from her childhood to death and beyond into the disconcerting present ― the book journeys through memory and loss. A literary ghost story, In the Belly of Her Ghost grapples with complicated notions of race, identity and femininity.

All Families Invited (2019, Kathleen Goodman Counseling) by Kathleen Goodman, illustrated by Jo Edwards
When eight-year-old Annabel dreams of making her school's father-daughter dance more inclusive of all family types, she thinks changing the name of the dance will be an easy task. But Annabel quickly realizes that it's harder than she thought to change the way things have always been done. Nevertheless, she carries on and feels empowered by the wise words of her mother. In the end, Annabel learns what it takes to succeed in creating a fun and welcoming experience for all students, no matter their family composition. Goodman has worked for more than a decade as a school counselor, where she has observed the shifting demographics of families.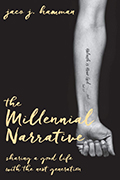 The Millennial Narrative: Sharing a Good Life with the Next Generation (2019, Abingdon Press) by Jaco J. Hamman, professor of religion, psychology and culture
As millennials (born 1982-2002) face economic uncertainty, reduced career prospects, unceasing change, as well as civic, global and ecological uncertainties, a large number of them are overwhelmed with feelings of anxiety and depression. With their need for community and success, a strong spirituality, and believing that their gifts should be recognized and can make a difference, millennials increasingly find meaning and purpose outside the church. Ironically the church often holds the same values. The Millennial Narrative is written for pastoral leaders who want to welcome millennials, both inside and outside their congregation, drawing on the wisdom of the Book of Joel as a narrative worth living into.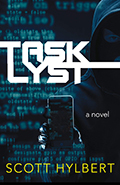 Task Lyst (2019, Turner) by Scott Hylbert, MLAS'15
Elliott is a struggling musician who is trying to piece together enough cash every month to keep alive his dream of performing, while also paying his rent. That's when he discovers the new app TASK LYST. As a service provider, he sets his own hours, his funds are delivered covertly in bitcoin and the rates continue to grow, but so does his suspicion over the type of tasks that he is being asked to complete. Is the anonymous nature of app-based freelance work enough to abate Elliott's suspicions and conscience? This gig-economy thriller takes a look at the on-demand service industry, and its shady possibilities as Elliott follows its many sides, shades and shadows and tests the question: how far is too far?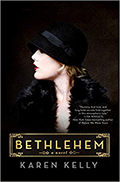 Bethlehem: A Novel (2019, St. Martin's Press) by Karen Kelly, BA'81
A young woman arrives at the grand ancestral home of her husband's family, hoping to fortify her deteriorating marriage. But what she finds is not what she expected: tragedy haunts the hallways, whispering of heartache and a past she never knew existed. Bethlehem is a multigenerational saga that weaves together the lives of two prominent families during the historic steel boom era of Bethlehem, Pennsylvania. Inspired by the true titans of the industry, this is the tale of two complex women: the dynamic and beautiful Susannah Parrish Collier and her daughter-in-law, the outsider Joanna Rafferty Collier. Thrown together in the name of family, they will unravel complex, long hidden mysteries that threaten to tear apart a dynasty.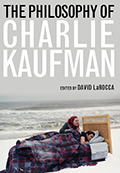 The Philosophy of Charlie Kaufman (Philosophy of Popular Culture series, paperback edition, 2019, University Press of Kentucky), edited by David LaRocca, MA'99, PhD'00
The Philosophy of Charlie Kaufman is the first collection of essays devoted to a rigorous philosophical exploration of screenwriter Charlie Kaufman's work [including Academy Award-winning Eternal Sunshine of the Spotless Mind (2004), Academy Award-nominated Adaptation (2002), and cult classic Being John Malkovich (1999)] by a team of critical scholars from a wide range of disciplines. From political theorists to philosophers, classicists to theologians, professors of literature to practicing filmmakers, the contributing authors delve into the heart of Kaufman's innovative screenplays and films, offering not only original philosophical analyses, but also extended reflections on the nature of film and film criticism. This recently released paperback edition features a new preface by LaRocca.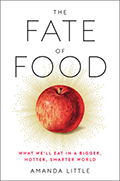 The Fate of Food: What We'll Eat in a Bigger, Hotter, Smarter World (2019, Penguin Random House) by Amanda Little, writer in residence in English and communication of science and technology
Climate models show that global crop production will decline every decade for the rest of this century due to drought, heat and flooding. Water supplies are in jeopardy. Meanwhile, the world's population is expected to grow another 30 percent by midcentury. So how, really, will we feed nine billion people sustainably in the coming decades? Little, an award-winning journalist, spent three years traveling through a dozen countries and as many U.S. states in search of answers to this question. Throughout her journey, she finds and shares a deeper understanding of the threats of climate change and encounters a sense of awe and optimism about the lessons of our past and the scope of human ingenuity.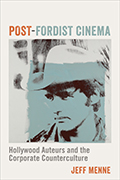 Post-Fordist Cinema: Hollywood Auteurs and the Corporate Counterculture (Film and Culture Series, 2019, Columbia University Press) by Jeff Menne, MA'04, PhD'08
The New Hollywood boom of the late 1960s and 1970s is celebrated as a time when maverick directors bucked the system. Against the backdrop of counterculture sensibilities and the prominence of auteur theory, New Hollywood directors such as Robert Altman and Francis Ford Coppola seemed to embody creative individualism. In Post-Fordist Cinema, Menne rewrites the history of this period, arguing that auteur theory served to reconcile directors to Hollywood's corporate project. For firms such as Kirk Douglas's Bryna Productions, Altman's Lion's Gate Films, the Zanuck-Brown Company, and BBS Productions, the counterculture ethos limbered up the studio system's sclerotic production process―with striking parallels to how management theory conceived of the role of the individual within the firm.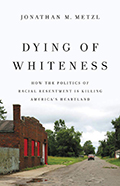 Dying of Whiteness: How the Politics of Racial Resentment Is Killing America's Heartland (2019, Basic Books) by Jonathan Metzl, Frederick B. Rentschler II Professor of Sociology and Medicine, Health, and Society and director, Center for Medicine, Health, and Society
In the era of Donald Trump, many lower- and middle-class white Americans are drawn to politicians who pledge to make their lives great again. But as Dying of Whiteness shows, the policies that result actually place white Americans at ever-greater risk of sickness and death. Physician Jonathan M. Metzl's quest to understand the health implications of "backlash governance" leads him across America's heartland. Interviewing a range of everyday Americans, he examines how racial resentment has fueled pro-gun laws in Missouri, resistance to the Affordable Care Act in Tennessee, and cuts to schools and social services in Kansas. And he shows these policies' costs: increasing deaths by gun suicide, falling life expectancies, and rising dropout rates. White Americans, Metzl argues, must reject the racial hierarchies that promise to aid them but in fact lead to demise.

Math Art: Truth, Beauty, and Equations (2019, Sterling) by Stephen Ornes, senior lecturer of communication of science and technology
The worlds of visual art and mathematics come together in this spectacular volume. Ornes explores the growing sensation of math art, presenting more than 80 pieces, including a crocheted, colorful representation of non-Euclidian geometry that looks like sea coral, and a 65-ton, 28-foot-tall bronze sculpture covered in a space-filling curve. For each work, we get the artist's story followed by accessible and thought-provoking explanations of the mathematical concept and equations behind the art. From 3D-printed objects that give real form to abstract mathematical theories, to mystic fractals, to Andy Warhol as a solution to the Traveling Salesman Problem, these artworks embody some of strangest, most beautiful relationships among numbers and across dimensions.
The Power of Agency: The 7 Principles to Conquer Obstacles, Make Effective Decisions, and Create a Life on Your Own Terms (2019, St. Martin's Press) by Dr. Paul Napper and Anthony Rao, PhD'89
Agency is the ability to act as an effective agent for yourself ― reflecting, making creative choices, and constructing a meaningful life. Grounded in extensive psychological research, The Power of Agency offers tools to help alleviate anxiety, manage competing demands and help the reader live his or her version of success. Psychology experts Paul Napper and Anthony Rao help break through feelings of being overwhelmed by showing how to access personal agency with seven empowering principles: controlling stimuli, associating selectively, moving, positioning oneself as a learner, managing emotions and beliefs, checking intuition, deliberating and then acting.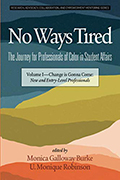 No Ways Tired: The Journey for Professionals of Color in Student Affairs: Volume I – Change Is Gonna Come: New and Entry-Level Professionals; Volume 2 – By and By: Mid-Level Professionals; Volume 3 – We've Come a Long Way: Senior-Level Professionals (2019, Information Age Publishing), edited by Monica Galloway Burke and U. Monique Robinson, assistant dean for student affairs, Vanderbilt Peabody College of education and human development
Even though diversity is currently conveyed as a ubiquitous principle within institutions of higher education, professionals of color still face such issues as discrimination, the glass ceiling, lack of mentoring, and limited access to career networks. Unfortunately, an open channel does not exist for these professionals to express their frustrations and genuine concerns. The narratives in No Ways Tired present a powerful collective voice speaking about the experiences of student affairs professionals of color in higher education, with the goal of promoting discussions of how they can be more proactive in developing strategies conducive to their professional and personal success as they navigate their higher education careers.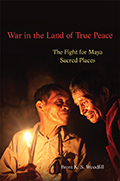 War in the Land of True Peace: The Fight for Maya Sacred Places (2019, University of Oklahoma Press), by Brent K.S. Woodfill, PhD'07
Guatemala's Northern Transversal Strip with its wealth of resources — fertile soil, petroleum, and the only noncoastal salt in the Maya lowlands — is the site of some of the most sacred Maya places, and thus also the focus of some of the signal struggles for power in Maya history. In War in the Land of True Peace, Woodfill delves into archaeology, epigraphy, ethnohistory, and ethnography to write the biographies of several of these places, covering their histories from the rise of the Preclassic Maya through the spread of transnational corporations in our time. The book documents a continuity in Maya culture over several thousand years — and illuminates the world view, with its sense of personhood and religion so different from the West's, that informs this enduring culture.