As Wente assumes the role of interim chancellor, she looks to further the university's commitment to learning, discovery and creative expression with the same drive and optimism she's cultivated as an academic leader, scholar and mentor.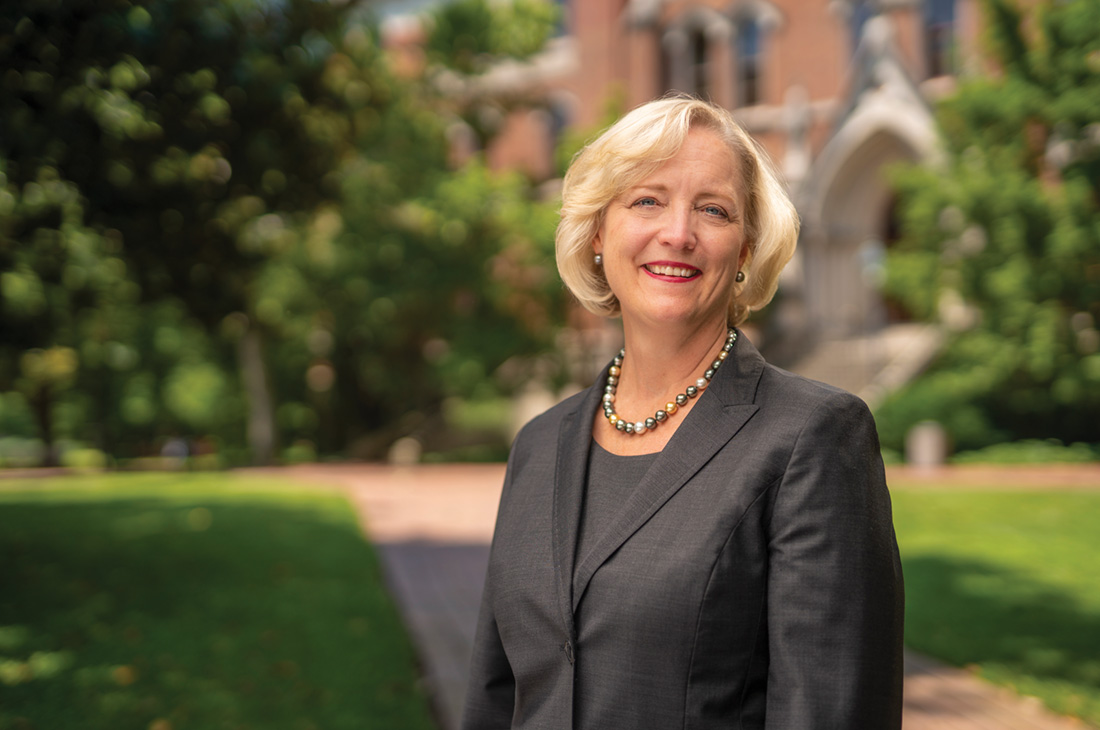 At every step along Susan R. Wente's career path—from graduating with honors and high distinction in biochemistry, to making a string of breakthrough scientific discoveries lauded by the National Institutes of Health, among others, to becoming the first woman named as Vanderbilt provost in 2014—the renowned scholar and university leader has been driven by a pursuit of excellence that has resulted in her making a transformative impact wherever she's gone.
Now, as she assumes the role of interim chancellor, while still serving as provost, Wente continues to push Vanderbilt to even greater heights.
Working alongside Chancellor Nicholas S. Zeppos, Vanderbilt's senior leadership team, the Board of Trust, deans of all 10 schools and colleges, and the entire Vanderbilt community, Wente played a ubiquitous role in implementing the most important initiatives in the university's history—all in the service of the university's core mission of teaching and research to drive positive change in the world.
These accomplishments include a massive, multiyear expansion of the visionary living–learning residential colleges program; an unprecedented push to endow hundreds of new faculty chairs and fellowships; significant university funding to foster trans-institutional collaboration among Vanderbilt's many academic disciplines, schools and colleges; strategic planning for a $300 million endowment for graduate education and research; opening an award-winning Innovation Center; spearheading a $65 million partnership with private industry to fast-track drug discovery; and developing a path-breaking undergraduate immersion program. In addition, she launched initiatives to invest in the arts and humanities, enhance the university's international reputation, and build the leadership infrastructure for the Office for Equity, Diversity and Inclusion—which includes an effort to promote women at Vanderbilt.
The university's remarkable upward trajectory in recent years has been driven by Vanderbilt's Academic Strategic Plan, which was shaped largely by exploring how the idea of "One Vanderbilt" could be leveraged to further strengthen the university. Before being named provost, Wente co-chaired the executive committee working on the Academic Strategic Plan with the current dean of the College of Arts and Science, John Geer.
"As Susan showed when she expertly guided the strategic planning process—straight through her tenure as provost—she possesses an insatiable curiosity, always looking for the smartest path forward for Vanderbilt, and is relentless in her pursuit of excellence," Zeppos says, noting in particular Wente's enthusiastic commitment to diversity and inclusion. "The university is in extremely capable hands with her serving as interim chancellor."
Wente says one characteristic she most admires about Vanderbilt's culture—and is something that mirrors her own personality—is that the university community always wants to go beyond the status quo, even at the strongest point in its history. Vanderbilt currently is ranked No. 14 by U.S. News and World Report and No. 10 on Reuters' list of the World's Most Innovative Universities, the highest placement yet in both rankings.
"We're always willing to embrace change and embark on new challenges," she says. "We're recruiting the best students and recruiting and retaining the most outstanding faculty and staff. And we're actively building curriculum and programs, as well as state-of-the-art facilities, to support all aspects of learning and discovery at this critical inflection point in the university's history.
"But we're not resting on our accomplishments," she adds. "There's no pause button. It's full steam ahead."
FROM THE HEARTLAND TO HIGHER ED
Born in Nebraska, Wente grew up in Iowa and earned a bachelor's degree in biochemistry from the University of Iowa. She then made a "big leap out of the heartland," as she puts it, to attend the University of California–Berkeley, where she earned a Ph.D. in biochemistry.
From there she moved across the country to work at Memorial Sloan Kettering Cancer Center in New York City with the renowned scientist Ora Rosen, whom Wente credits as being an inspiring role model as both a scientist and mother. When this position was ending due to Rosen's passing, and while considering a career change to patent law, she seized on a chance meeting with Günter Blobel, whose pioneering work on communication signals within cells won him a 1999 Nobel Prize. Wente earned a coveted fellowship in Blobel's lab at Rockefeller University, also in New York City, and charted her own scientific path studying "nuclear pore complexes," which transport molecules between the cell's nucleus and cytoplasm.
Wente soon joined the faculty at Washington University School of Medicine in St. Louis, where she quickly moved through the ranks of its prestigious Department of Cell Biology and Physiology. In 2002, Vanderbilt recruited Wente to lead its own Department of Cell and Developmental Biology, where she increased the number of faculty by 85 percent and tripled the number of women faculty.
During this same time, Wente worked to increase the department's NIH funding by 40 percent. Her own line of scientific inquiry also led to a highly prized MERIT award in 2010 from the NIH. These grants provide long-term support to investigators "whose research competence and productivity are distinctly superior." Wente is among 33 researchers at Vanderbilt—five of them women—who have received the MERIT award.
From Iowa to Vanderbilt, Wente says she has actively pursued critical guidance from mentors. Those experiences, in turn, encouraged her to become a mentor herself—a defining hallmark of academic research that Wente says drew her to university life.
"I've been so fortunate to have incredibly talented people to turn to for advice at every pivot of my career," she says. "I look at my own mentoring as a way of giving back."
As Wente has taken on greater leadership responsibility at Vanderbilt, her perspective on mentoring has only widened. What started as providing guidance to undergraduates, graduate students and postdoctoral fellows in her own laboratory and department has since expanded to include faculty, deans and other administrators.
"It's an expanding purview," Wente says. "But it's still about how to create the best situations and the best environment for each person's success."
As provost and vice chancellor for academic affairs, Wente currently oversees the academic programs of Vanderbilt's 10 schools and colleges, as well as student affairs, housing, admissions and financial aid, and research on campus. It's a job that requires a firm understanding of the circumstances unique to each program as well as a clear vision of the larger mission of the university—not unlike her skill as a scientist recognizing how the microscopic features of a cell can have far-reaching implications for human health.
Wente's background in science informs her leadership style in other ways as well.
For one, she believes in the importance of gathering data and taking into consideration "all potential options and all potential consequences" before making a strategic decision. "I like to dive into something and find out everything that's been done in the past and then think about how that can have an impact on what we're planning to do next," she says.
Yet at the same time, like any good scientist and scholar, she's also keen to experiment and take necessary risks.
"Part of my approach is being willing to do experiments but knowing that sometimes experiments fail," she explains. "It's the spirit of entrepreneurship. If you've got a great idea, let's try it and see if it works."
There's one overriding element, however, that Wente says has been the most important factor in her success as a scientist, a faculty member and a top university leader: an unvarnished sense of optimism.
"It motivates me personally," she says, "but it also crosses disciplines and inspires the staff, students, faculty members and leaders I work with every day. The idea that progress and advancements are possible, and that there's a place for good in the world, is fundamental. It's a driving force for all of us, for as far as I can see."
---
Watch a video about Interim Chancellor and Provost Susan R. Wente:
---