Media Inquiries
Latest Stories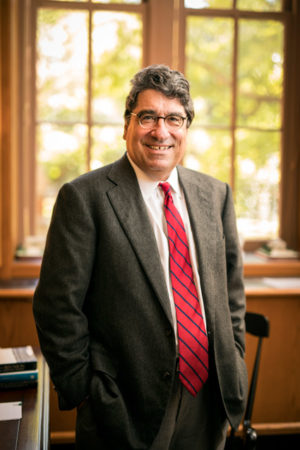 Zeppos' tenure as Vanderbilt chancellor to conclude Aug. 15
Chancellor Nicholas S. Zeppos, a distinguished legal scholar and teacher who has elevated Vanderbilt's mission as a top academic research university, will mark his last day as chancellor Aug. 15 after more than a decade in the role.
Zeppos will become chancellor emeritus, effective upon his resignation. He plans to take a yearlong sabbatical before returning to the faculty as professor of law. Zeppos announced his plans to step down April 2. Provost and Vice Chancellor for Academic Affairs Susan R. Wente will serve as interim chancellor.
He was named Vanderbilt's eighth chancellor on March 1, 2008, after serving for seven months as interim chancellor. Zeppos joined the faculty in 1987 as an assistant professor of law and then spent the next 21 years serving the university in various roles, including professor, associate dean of the Law School, associate provost for academic affairs, vice chancellor and provost.
Among Zeppos' many accomplishments as chancellor, he worked tirelessly to deepen Vanderbilt's commitment to access and equity in education with the 2008 launch of Opportunity Vanderbilt, the university's pioneering financial aid program. Over the past 10 years, Opportunity Vanderbilt has supported 10,000 students and raised more than $400 million in gifts, resulting in the recruitment of the most accomplished and diverse students in the university's history.
A milestone achievement during Zeppos' tenure occurred in 2016 when he led the historic transition of the university and Vanderbilt University Medical Center into two separate legal and financial entities, a prescient restructuring that has positioned both institutions for long-term success. In Zeppos' time, the endowment has increased from a low of $2.9 billion after the financial crisis of 2008, to $6.4 billion. This includes, outside of investment returns, $2.6 billion in new monies added to the endowment during his tenure.
He also placed a constant focus on ensuring Vanderbilt is a welcoming and inclusive environment. He created the role of vice chancellor for equity, diversity and inclusion and chief diversity officer and has been an outspoken advocate for the university's imperative to ensure it fosters opportunities, respect and safety for all. In 2016 he ended a decades-long controversy by removing the name "Confederate Memorial Hall" from one of the university's residence halls. He also led efforts to honor and tell the stories of university trailblazers, including Perry Wallace, who broke the color barrier in SEC basketball.
Zeppos was instrumental in planning and executing Vanderbilt's residential college system, including The Martha Rivers Ingram Commons, Warren and Moore Colleges and E. Bronson Ingram College.
During the July 27 implosion of Carmichael West Tower 3 to help make way for three new residential colleges, Zeppos spoke of their importance to the university's mission of educating the whole person. He also launched FutureVU, the university's land use planning process, to take a holistic approach to the development of the campus footprint in a manner that contemplates the completion of an undergraduate residential college system and that ensures accessibility, sustainability and the creation of spaces that foster community and learning.
In addition, he placed a priority on investing in faculty advancement, recruitment and retention. During his tenure, the number of endowed chairs more than doubled from 200 to 434 today. He also initiated the new Chancellor's Faculty Fellows program, targeting endowed support for the flourishing of mid-career faculty.
The Board of Trust, Faculty Senate, University Staff Council, Vanderbilt Student Government, Vanderbilt Alumni Board of Directors and Tennessee General Assembly have all passed resolutions commending Zeppos for his extraordinary leadership.
As the top leader at Vanderbilt, Zeppos has been a staunch advocate for increasing public awareness of the groundbreaking research taking place at Vanderbilt and other research universities. He elevated the university's communications efforts with a strong emphasis on telling the stories of the impact of Vanderbilt's exceptional faculty, students, staff and alumni. This included the launch of the Chancellor's Public Voices Fellowship Program in 2018 to expand awareness of faculty research by pairing communications expertise and resources with faculty experts in a variety of fields.
Strong support for free speech and civil dialogue with a diversity of opinions and perspectives also marked Zeppos' tenure and his overall vision for campus culture. To promote inquiry and dialogue, he has hosted a range of globally renowned speakers from all sides of the political spectrum and a variety of disciplines, including President George W. Bush, Vice President Joe Biden, former Georgia House minority leader Stacey Abrams, former U.S. Sen. Jeff Flake, leading cancer researcher and author Dr. Siddhartha Mukherjee, among many others.
Since October 2018, Zeppos has served as the chair of the Association of American Universities Board of Directors and serves on the boards of the Consortium on Financing Higher Education and Vanderbilt University Medical Center.
A national search, led by Board of Trust Chairman Bruce R. Evans, is underway for Zeppos' successor.