Media Inquiries
Latest Stories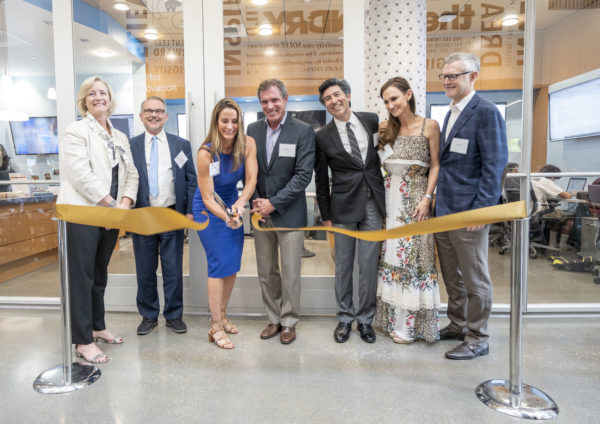 The Frist Center for Autism and Innovation, a new center that brings engineers, business scholars and disabilities researchers together with experts in neuroscience and education to understand, maximize and promote neurodiverse talent, celebrated its grand opening on Thursday, July 25. Located at the Innovation Pavilion in Vanderbilt University's Engineering and Science Building, adjacent to the Wondr'y, the center was made possible by a $10 million endowed gift from Jennifer R. Frist, BS'93, and husband William R. "Billy" Frist in fall 2018.
"The Frist Center for Autism and Innovation is devoted to solving a pressing problem facing society today and shows us what is possible when we focus on individuals' abilities instead of their disabilities," said Provost and Vice Chancellor for Academic Affairs Susan R. Wente. "I want to extend my gratitude to Jennifer and Billy Frist. Their gift has allowed us to take this faster and farther than we ever would have dreamed two years ago. I look forward to seeing the discoveries that will be made here and seeing them move into the workplace for the benefit of all neurodiverse individuals."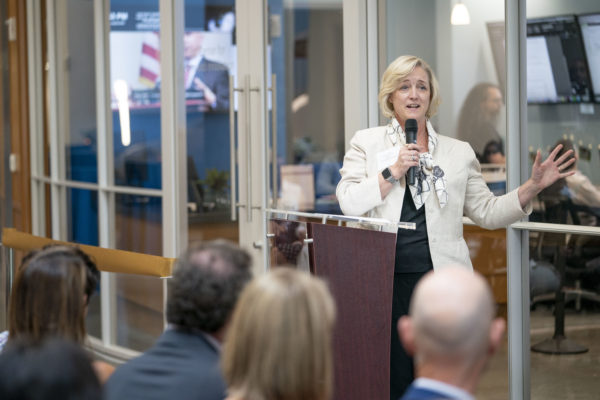 The center combines academic research, commercial R&D and business innovations to identify and understand the capabilities of individuals with autism and to enhance the 21st-century workforce through engagement of autistic talent. Vanderbilt engineers, scientists and business scholars, together with autism experts in the clinical and vocational domains, will work with major Nashville employers and national autism organizations to:
invent and commercialize new technologies;
advance understanding of neurodiverse capabilities related to employment; and
disseminate a community-based approach to enhance the bottom line for business and improve quality of life for individuals with autism.
"It's truly a privilege for us to invest in autism, Vanderbilt and Nashville and to be so confident in what we are doing," said Billy Frist. "After seeing how Keivan Stassun and his leadership team have the ability to use their multidisciplinary approach, passion and determination to really make something impactful, I knew we needed to be involved."
Vanderbilt is home to a number of world-renowned departments and centers of research on neurodiverse individuals. Peabody College of education and human development, the Vanderbilt Kennedy Center for Research on Human Development and the Vanderbilt Brain Institute are among the leaders in autism research based at Vanderbilt.
The initial idea for the Frist Center for Autism and Innovation has its roots in Vanderbilt's Trans-Institutional Programs initiative, a key pillar of the Academic Strategic Plan. In 2017, TIPs provided seed money to create an initiative, led by Keivan Stassun, Stevenson Professor of Physics and Astronomy and professor of computer science, who now serves as the Frist Center's director. "Two years ago, many of us gathered to kick off this initiative that we imagined could become something unique and grand. It would harness the inventiveness of our best engineers, scientists and business scholars with the dual inspiration of enabling better lives for autistic adults and fueling greater business innovation through the employment of autistic adults," said Stassun.
Thursday's grand opening celebration of the Frist Center for Autism and Innovation also included a demonstration of technology being developed by the center, including a tool used to support interview preparation, as well as a tour of the new center, which will frequently engage in cross-campus collaboration.
"I look forward to the Frist Center for Autism and Innovation collaborating with those at the Vanderbilt Kennedy Center and Peabody College, the School of Medicine, the Owen Graduate School of Management and others, including many in the School of Engineering," said Philippe Fauchet, Bruce and Bridgitt Evans Dean of Engineering. "I believe the center's greatest impact will be in applying research to trigger real change that benefits not only young adults on the spectrum but also their parents and society in general."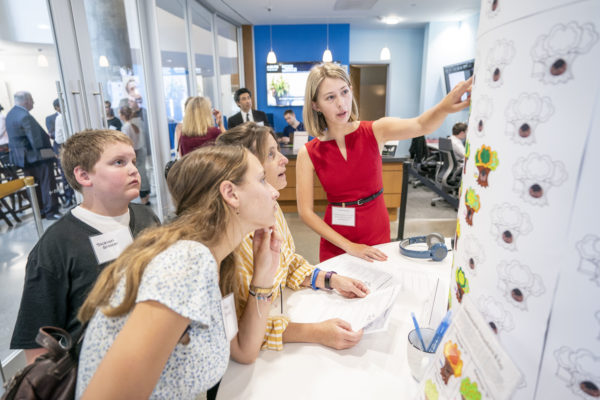 Supporting neurodiversity has been a longtime priority of Vanderbilt. Peabody College's Department of Special Education is home to national experts on learning and development of individuals on the autism spectrum. The Susan Gray School at Peabody College, known as the Peabody Experimental School when it opened more than 50 years ago, was the first nationally-recognized inclusive preschools to educate children with disabilities alongside typically developing children.
The Vanderbilt Kennedy Center's Treatment and Research Institute for Autism Spectrum Disorders (TRIAD) researches autism while using its discoveries to provide services to individuals with autism and their families. The Kennedy Center is also home to many faculty members affiliated with the Vanderbilt Brain Institute and researchers in the emerging field of educational neuroscience.
Additionally, the Department of Psychiatry and Behavioral Sciences recently formed the Psychiatry Autism Research Team, dedicated to understanding, supporting and embracing the social, sensory and emotional experiences of individuals with autism.
"This is a phenomenal opportunity to transform our understanding of how individuals on the autism spectrum perceive and interact with the world and also how their brains support the differences," said Mark Wallace, dean of the Graduate School. "We have a unique opportunity with the Frist Center for Autism and Innovation to build a training environment for our graduate and undergraduate students that allows them to embrace neurodiversity and take that perspective into their future leadership roles. We will be first to have this kind of environment shaping the next generation of scientist and scholars."
For additional updates and information, visit the Frist Center for Autism and Innovation's website.