University recognized for residential college architecture
by
Alexandra Valnoski
Jul. 29, 2019, 9:00 AM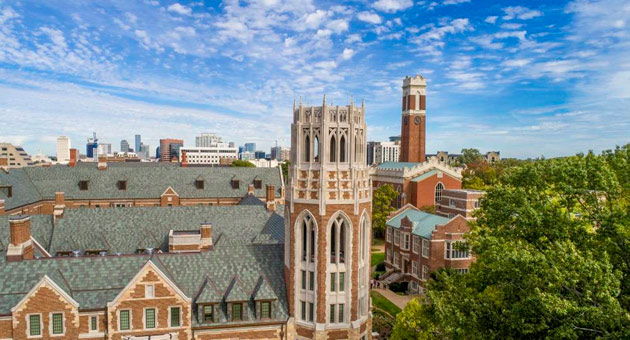 Vanderbilt University's newest residential college, E. Bronson Ingram, has received the top honor in the 2019 AIA Gulf States Award Program.
The regional Honor Awards program identifies diverse built works of distinction throughout Alabama, Arkansas, Louisiana, Mississippi and Tennessee.
E. Bronson Ingram, the university's latest undergraduate residential college, was designed by David M. Schwarz Architects and Hastings Architecture of Nashville. The structure's namesake, the late E. Bronson Ingram, was a prominent philanthropist and businessman who served on the Vanderbilt Board of Trust for nearly three decades and led the board from 1991 to 1995.
"It is essential to design the physical structure of our residential colleges to be completely synergistic with our programmatic vision and our commitment to living-learning communities as outlined in our Academic Strategic Plan. This drives our mission to educate the whole person," Provost and Vice Chancellor for Academic Affairs Susan R. Wente said. "I am grateful to our outstanding Facilities team at the university, our architect partners, and our dedicated faculty and staff who work in the residential colleges for contributing to the creation of this beautiful building in which our students learn, discover and form vibrant communities."
Comments from the prize jury noted that the "use of traditional elements integrates this new building into the historical context of the campus while also exploring how modernity and tradition are complementary approaches for contemporary life."
The college includes a dining hall and servery, great room, living room, multipurpose room, meeting rooms, lounges, study rooms, music rooms and performance rehearsal studios, as well as a community kitchen and laundry for building residents. Apartments for the faculty director and area coordinator also were incorporated into the design.
The university's West End Neighborhood transformation through FutureVU will include three new residential colleges set to open in 2020, 2022 and 2023, respectively.
For more information, visit the Residential Colleges website.