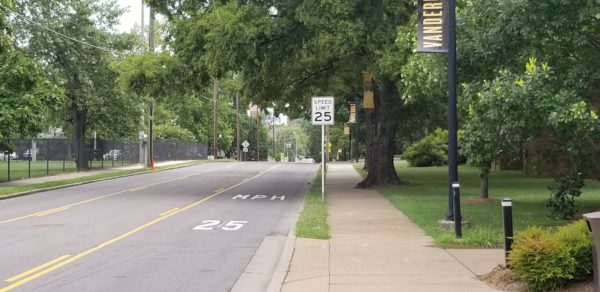 Speed limits across Vanderbilt's campus have been lowered as part of the university's ongoing commitment to pedestrian safety. Signage illustrating the updated speed limits was installed in early July, and the updated limits were painted on the pavement of each of the affected roadways.
In alignment with FutureVU's initiative to create a more diverse, inclusive, accessible and sustainable environment for the campus community, the university is committed to creating safe, pedestrian-friendly spaces that promote connectivity and community enhancement while preserving the university's park-like setting.
Following studies by VUPS on morning, mid-afternoon and evening rush hour traffic cycles, it was determined the lower and safer speed limits would not negatively impact commuter traffic while dramatically improving safety for pedestrians and cyclists.
The new speed limits are as follows:
| | | |
| --- | --- | --- |
| Street | Before | After |
| 25th Avenue South | 30 MPH | 25 MPH |
| Natchez Trace | 30 MPH | 25 MPH |
| Vanderbilt Place | 30 MPH | 25 MPH |
| Jess Neely Drive | 30 MPH | 20 MPH |
| Highland Avenue | 30 MPH | 20 MPH |
| 24th Avenue South | 30 MPH | 20 MPH |
"We know that by simply lowering a speed limit by five or 10 miles per hour, we are significantly increasing the safety and well-being of pedestrians," said Maj. Corwin Thomas of the VUPD. "Nine out of 10 pedestrians survive when hit by a vehicle at 20 miles per hour as opposed to only a 60 percent survival rate at 30 miles per hour. Lowering the limits saves lives and encourages our community to walk or bike when possible instead of driving."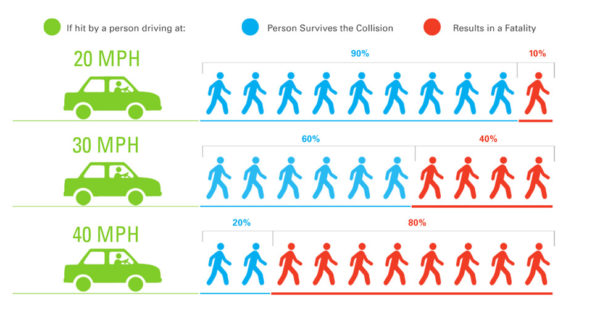 The efforts, undertaken in conjunction with the Metropolitan Nashville government and MoveVU, Vanderbilt's mobility and transportation strategy under FutureVU, will improve safety and accessibility on and around campus.
"Ensuring that we encourage safe and equitable mobility options for our campus community and our surrounding neighbors is essential," said Erin Hafkenschiel, executive director for mobility at Vanderbilt. "We must remain committed to creating and building a campus that is pedestrian-centric."
In addition to the lower speed limits, initiatives implemented on and around campus to improve safe and accessible opportunities for pedestrians, scooters and cyclists include:
A collaboration with Nashville Electric Service to identify and map poorly lighted streetlight poles and stop lamp poles throughout campus, resulting in a total of 59 streetlights repaired or replaced since the mapping project began.
Upgrading nearly 40 intersection traffic light systems to include audible signals for the visually impaired.
Developing a scooter safety course covering basic safety rules, basic riding skills, state and city laws and regulations, and riding drills within a parking lot to reenforce riding techniques. Classes will be offered this academic year.
Monitoring various crosswalks for repair needs and upgrading street markings, lighting, signs and ADA ramps and trunnion cone pads.
Launching a pilot program to test pedestrian refuge areas (islands) on 25th Avenue. The areas are highly visible pedestrian refuges at uncontrolled crosswalks, where a racetrack pattern of flexible bollard poles occupies the center lane and a cut-through of the bollards creates the crosswalk.
A collaboration with the League of American Bicyclists to train their bicycle patrol officers to instruct their standardized course with additional information for the Vanderbilt area.
Creating a "smart cycling class" through VUPS, in which police bicycle officers use their training to give campus cyclists greater confidence and enjoyment when riding. The class will be offered this academic year.
For more information, visit the FutureVU website or the VUPS website.