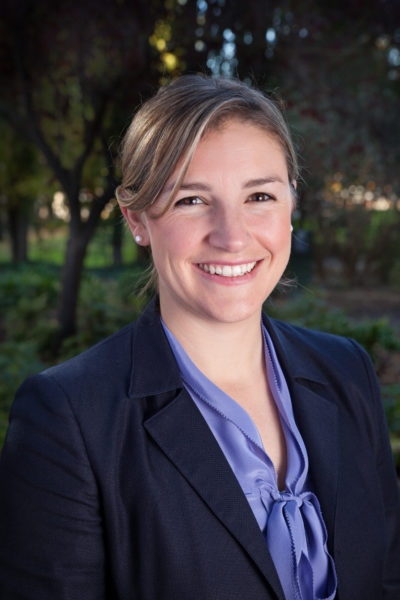 Erin Hafkenschiel has been appointed executive director of mobility in the Division of Administration effective Oct. 1.
Reporting to Vice Chancellor for Administration Eric Kopstain, Hafkenschiel will lead and oversee FutureVU mobility and transportation efforts at Vanderbilt.
"Erin's experience in sustainable mobility strategy is remarkable," said Kopstain. "She knows the city, the region and most importantly, has the vision to create bold solutions to our campus' mobility initiatives.  I am so excited about where we are heading with mobility and sustainability at Vanderbilt, and having a person of Erin's caliber on our team only makes me more bullish about the future."
Hafkenschiel most recently served as director of transportation and sustainability in the Nashville Mayor's office where she played a fundamental role in shaping the city's economic development while balancing the need for environmental sustainability.
In her new position, Hafkenschiel will provide strategic leadership in mobility planning and policy development while developing a comprehensive transportation demand management plan for the university.
"I am thrilled to join Vanderbilt at this exciting time in its history," said Hafkenschiel. "I look forward to contributing to the university's success as a leader in using strategic and forward-thinking initiatives to address sustainable mobility issues that impact the Vanderbilt campus. Vanderbilt has a unique opportunity to lead both Nashville and the Middle Tennessee region into a new mobility future and I am honored to play a critical role in moving these efforts forward."
Hafkenschiel's philanthropic work includes the William and Flora Hewlett Foundation's environment program, where she supported a $22 million annual grant portfolio and helped launch the China Sustainable Cities Program. She also served as the Bay Area Council Foundation Director and worked on several significant foundation strategic planning initiatives while at California Environmental Associates. In 2014, she was appointed to the Off-Highway Motor Vehicle Recreation Commission by California Governor Jerry Brown.
A 2008 U.S. Fulbright Scholar, she lived in China and studied urban planning and transportation. Hafkenschiel holds a master's degree in public policy and urban planning from Harvard University's Kennedy School of Government, and a B.A. in political economy of industrialized societies from the University of California at Berkeley, where she was also captain of the varsity women's lacrosse team.