As a high school student, James Boehm started a business customizing automobiles. "You know, (it was) the Pimp My Ride kind of thing," he said. But a life-changing incident left him blind and changed the trajectory of his life.
 Boehm soon realized he had some rebuilding to do.
"I remember telling my dad, 'I can either be a bump on a log and have people feel sorry for me and take care of me the rest of my life, or I can take this on and figure out how to be independent again,'" he said.
From cars to canes

Boehm transferred his design skills from cars to canes and started a business customizing canes for the visually impaired.
He went back to school and earned his undergraduate degree in psychology, then was accepted into Vanderbilt Peabody College of education and human development and pursued a master's degree in clinical mental health counseling.
At Peabody, he studied how to help people who've suffered traumatic injuries. He also learned more about the greater sight-impaired population, including that the countries with the largest populations of blind people are also some of the most impoverished in the world.
"They don't have the resources that we have," Boehm said. "People can't even get a basic white cane, or it costs a month's rent."
You Cane Give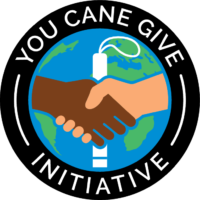 Boehm knew that many of his clients in the United States owned multiple canes that went unused, so he launched the nonprofit You Cane Give.
"Instead of all these canes going to waste in America, people send me their old canes. I restore them to new condition to give people around the world new independence," he explained.
Boehm connected with other nonprofits that focus on helping people with vision impairments and created a network in which volunteers travel to other countries not only to deliver canes, but also to teach mobility skills. The team recently returned from a trip to Kenya.
"We brought 120 refurbished canes to Kenya and gave mobility training to many people who never had this kind of freedom and independence," Boehm said. "We educated family members and helpers so that after we left, they could continue the training with others."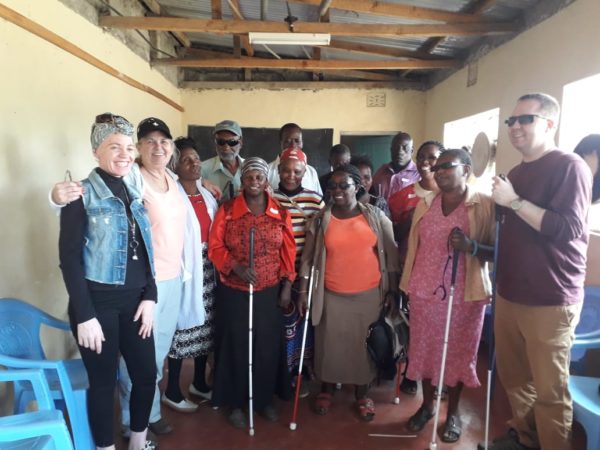 You Cane Give also partnered with Global Cane Outreach, which distributed 100 solar-powered, rechargeable talking Bibles.
"Even though I can't see, I could feel the smiles on the people's faces when they had their canes and they were learning how to use them," Boehm said. "It was life-changing for them and for me."
Overcoming stereotypes
Boehm says another goal of his initiative is to challenge the low expectations that some people have of those who are blind or have other disabilities.
"Not only are we equipping the blind, we're also giving them the opportunity to demonstrate their autonomy, and, in turn, educate their communities and their friends and their families," Boehm said.
Equipped to serve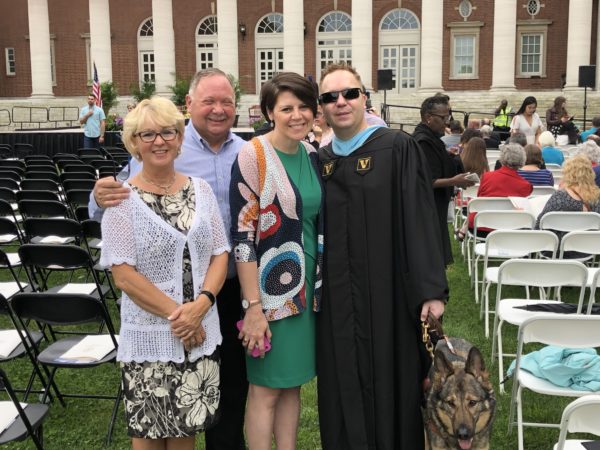 Since earning his Vanderbilt degree in May, Boehm has been working with people who are recovering from traumatic injuries and blindness.
"It's an amazing feeling to be able to go through a program like the one here at Peabody College. I feel inspired to help others," he said.
"That's what counseling is all about," he continued. "It's about building relationships. It's about meeting people where they're at. It's about helping them find solutions so that they can find meaning in their lives and joy and happiness."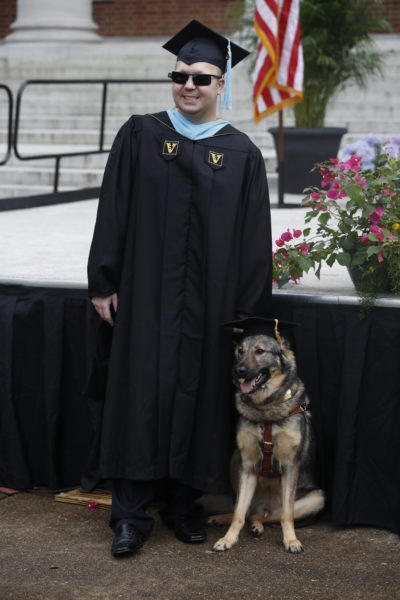 Boehm draws from his own experience when helping others.
"A lot of times when people hear the word 'blind,' they think of the person as disabled and not able to be independent. But I embrace my blindness—it's part of who I am," he said. "I feel like I'm fully equipped and prepared to do what I can to make a difference."