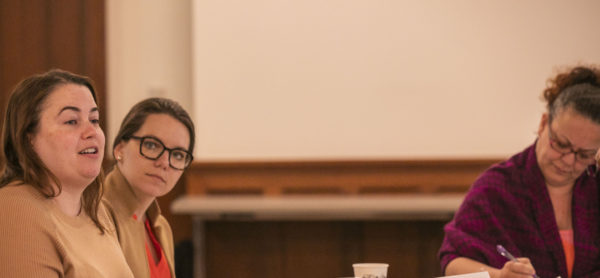 The Margaret Cuninggim Women's Center and the American Studies Program recently partnered to host the OpEd Project, a social venture and leadership organization with a focus on increasing the number of women and underrepresented experts at Vanderbilt contributing to key commentary forums in their respective fields.
Held at E. Bronson Ingram College last week, the two-day "Write to Change the World" workshop facilitated by the OpEd Project was attended by women faculty, staff, graduate students and postdoctoral fellows. The highly interactive workshop provided participants with the opportunity to further develop their communications skill sets, bolster their op-ed writing efforts and expand their network of support.
Margaret Cuninggim Women's Center Director Rory Dicker noted the value and importance of offering opportunities like the OpEd Project's workshop at Vanderbilt.
"Bringing the OpEd Project to Vanderbilt is something I've dreamed about for several years, and the workshop did not disappoint," Dicker said. "The concrete skills we learned about claiming and articulating expertise, writing opinion pieces and pitching them to a variety of news outlets were invaluable, as was the opportunity to be in community with a range of women from various parts of Vanderbilt's campus."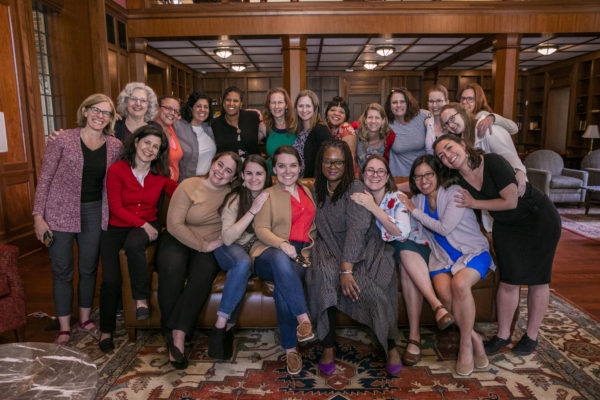 The event complements a larger effort on campus to increase Vanderbilt faculty voices in the public sphere. The Division of Communications offers a number of services to help faculty members write and place opinion pieces in leading news outlets. Vanderbilt also is a founding partner of The Conversation, an independent, nonprofit media resource that sources content from the academic and research communities for news outlets to reprint free of charge.
Associate Professor of History and Director of the American Studies Program Sarah Igo also expressed positive sentiments on the OpEd Project's workshop.
"We knew of the OpEd Project's sterling reputation and wanted to help bring their techniques for fostering a commitment to public writing to campus," Igo said. "We also thought hosting this workshop in mid-May would be the perfect timing for graduate students, postdocs, staff and faculty to get a jump-start on their summer writing goals—and would provide space and encouragement to try out writing opinion pieces that may have been percolating for a while but needed a little extra nudge to get started."
Some of the topics participants explored over the two-day workshop included how to present ideas quickly and powerfully under pressure; exploring the source of credibility; when and why people change their minds; the difference between being "right" and being effective; and developing strategies for greater impact, such as how to escape a pigeonhole, how to preach beyond the choir and the power in seeing one's ideas as part of a bigger picture.
Keitlyn Alcantara, a doctoral candidate in the Department of Anthropology, said the workshop helped her realize the power of expressing her expertise and perspective, particularly as a graduate student.
"As graduate students, we often get the message that we are works in progress—even after years of training, we aren't quite there," Alcantara said. "This experience helped me see that I contain knowledge and opinions of value, not despite my lack of training, but rather because of who I am at this particular moment. Graduate students are an integral part of the higher ed system, of future generations of policy makers, educators and researchers, and the paths we cross on our journey are worthy of being voiced."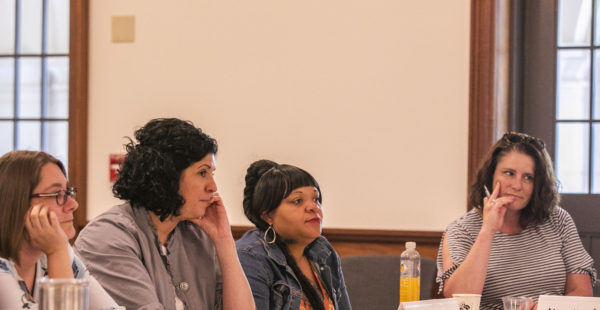 In addition to exploring these topics in depth, participants left with an outline of an op-ed in hand and will continue to have access to mentors for individual follow-up and support.
Associate Professor of Chemistry and Dorothy J. Wingfield Phillips Chancellor's Faculty Fellow Renã Robinson noted how the workshop helped her further realize the importance of using her voice to speak on issues publicly.
"It was news to learn that females and underrepresented voices comprise less than 20 percent of the public conversation," Robinson said. "Through this experience, I further realized the importance in using and sharing my voice in the public domain and now have a foundation for writing an op-ed article on a matter that I care about deeply."
For assistance with op-eds and contributing to The Conversation, please contact news@vanderbilt.edu.
Visit the Margaret Cuninggim Women's Center website to learn more about upcoming events and programs through the center.