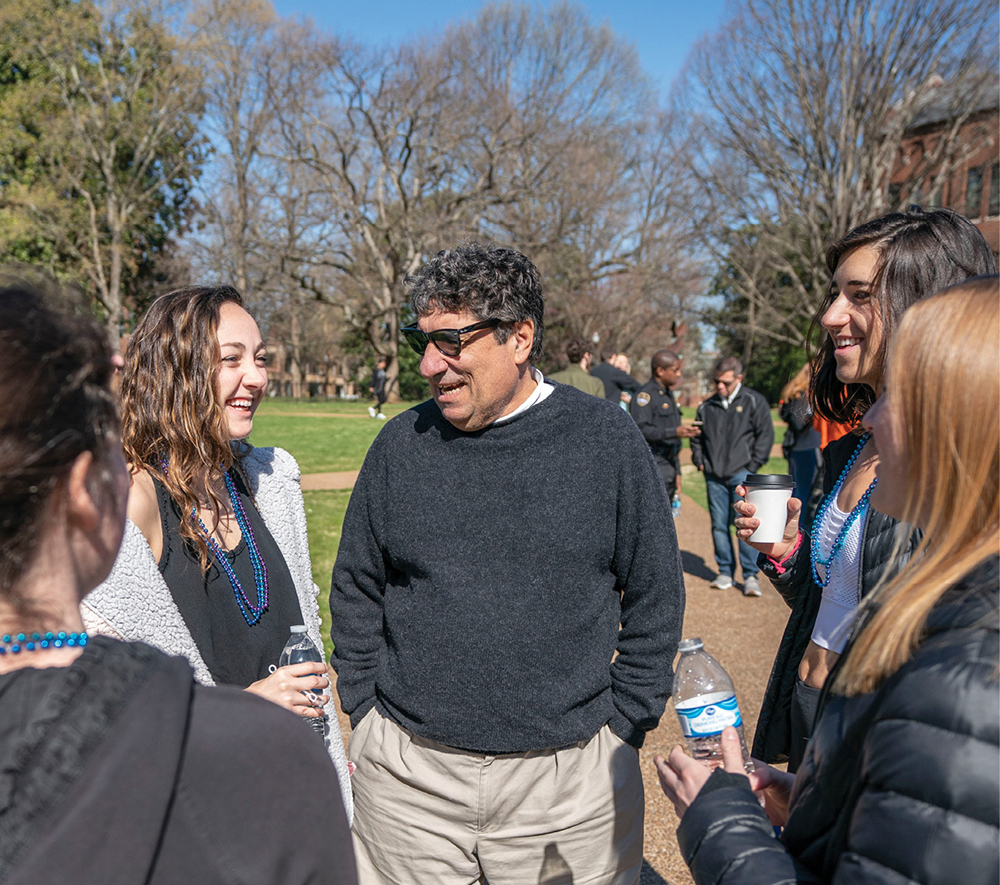 Chancellor Nicholas S. Zeppos has announced that he will step down as the university's eighth chancellor Aug. 15 after more than a decade in the role. Zeppos plans to take a yearlong sabbatical before returning to the faculty as a professor of law.
"I truly love Vanderbilt, and serving you has been a privilege. Yet my health is presenting challenges that demand my focus, with the love and support of my family," Zeppos wrote in a message to the Vanderbilt community April 2. "Passing the torch of leadership of this great university from one chancellor to another is never easy but it is inevitable, and I do so with full confidence that the ninth chancellor will take full advantage of the strong foundation that has been built and chart a path to further greatness with you.
"Staying true to our mission of teaching, discovery and service has guided my efforts, and with help from a world-class faculty, an extraordinary staff, the best alumni network anywhere, an incredible student body, and a wonderful Board of Trust, we've worked hard to make the past decade one of exceptional progress on many fronts," he continued.
The board has voted to appoint Provost and Vice Chancellor for Academic Affairs Susan R. Wente as interim chancellor beginning Aug. 15. A national search, led by Board of Trust Chairman Bruce R. Evans, BE'81, will be conducted for Zeppos' successor.
"Chancellor Zeppos has always been driven to leave Vanderbilt University better than he found it, and by every measure he has accomplished that goal. His knowledge and vision have dramatically elevated Vanderbilt's reputation as one of America's most innovative, accessible and dynamic research universities," Evans says. "In 2008 as a brand-new chancellor, Nick steered the university through the global financial crisis and has worked ever since to strengthen the university's financial footing, all while dramatically increasing access and affordability through Opportunity Vanderbilt. We are now exceptionally well-positioned to take advantage of future opportunities and face the challenges yet to come. I am sorry that Nick's successful tenure as chancellor is coming to an end, but I am deeply grateful for his service and proud to call him a colleague and a friend."
Zeppos was named Vanderbilt's eighth chancellor on March 1, 2008, after serving for seven months as interim chancellor. He joined the Vanderbilt faculty in 1987 as an assistant professor of law, and then spent the next 21 years serving the university in various roles, including professor, associate dean of Vanderbilt Law School, associate provost for academic affairs, vice chancellor and provost.
"One of Nick's many legacies will be the remarkable leadership team he has put in place, which will ensure the university's continued upward trajectory during this transition," Evans says. "Provost Wente has propelled our academic and research enterprises forward and is deeply committed to advancing the university's mission and protecting its values in all that we do. The university is fortunate that she will be serving as interim chancellor."
A distinguished biomedical scientist, Wente was appointed provost in 2014. In that role she oversees faculty, staff, programming and initiatives for Vanderbilt's 10 schools and colleges. She leads implementation of the university's Academic Strategic Plan and also oversees student affairs, housing, admissions and financial aid. She is the first woman to serve as provost at Vanderbilt and will be the first woman to serve as interim chancellor. She will continue serving as provost and vice chancellor for academic affairs while interim chancellor.
"I am immensely grateful to Nick for his leadership and his transformational impact on our university, which has enabled us to recruit and support the most talented and promising students, faculty and staff from across the country and around the world," Wente says. "I am inspired every day by our community's creativity, collegiality and commitment to excellence, and am honored and humbled to serve as interim chancellor as we continue our forward progress."
In his message, Zeppos emphasized the role that a close adherence to the university's mission and values has played in Vanderbilt's success and will play in its future.
"By all measures—admissions, graduation rates, philanthropic support, the exceptional strength of our faculty, our diversity, and financial health—our work together has produced an extraordinary university," he wrote. "These successes have been built upon our core values of access to a Vanderbilt education, civility, research and inquiry of the highest order, and inclusive excellence. Our mission and values must guide us. Chancellors come and go, but our future is bright when we all find the joy and excitement of furthering that mission and staying true to our commitments and values."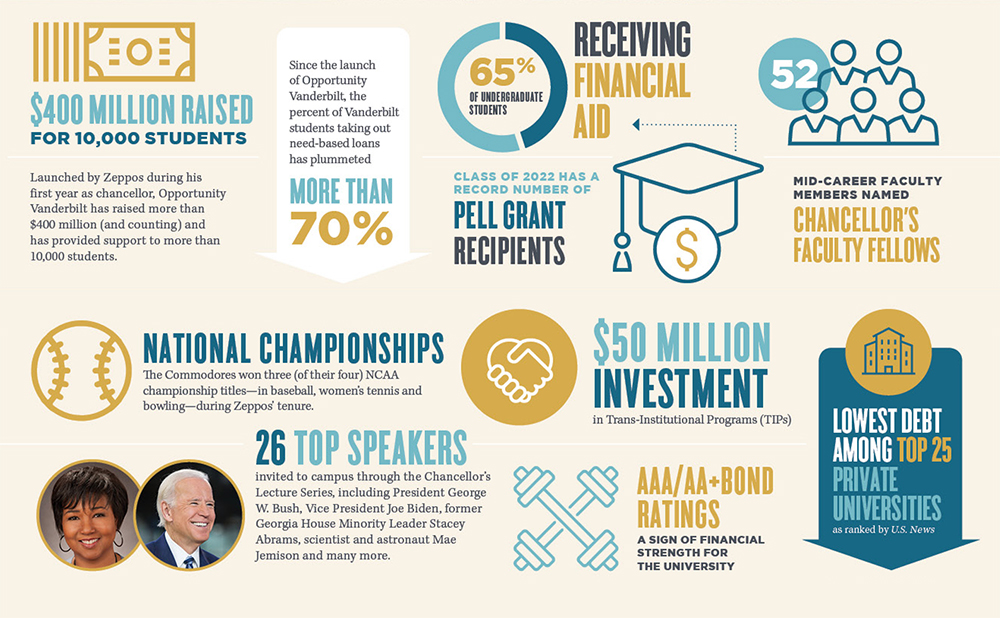 ---