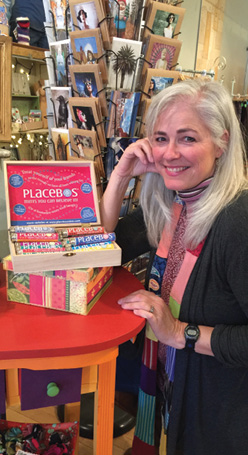 It was while interviewing travelers for a tourist publication in Breckenridge, Colorado, that high school psychology teacher and writer Merrily Van Norstrand Talbott came up with a fresh idea. A woman who thought she was suffering from altitude sickness told Talbott that she found relief after popping, of all things, a Rolaids antacid tablet.
"Right away I thought, 'Well, that was the placebo effect,' but I didn't tell her that, of course," Talbott recalls. "From that point on, I thought somebody should create a little mint called 'Placebos,' and you could make it be for anything you want."
Talbott, who lives in Colorado, went on to do just that. Packs of the quarter-inch white peppermints are sold at bookstores and gift shops across the country. They are billed as "remedies" for everything from procrastination and workplace drama, to perfectionism and technological frustration. She even writes the stress-reducing tips included in each roll of Placebos.
The No. 1 Placebos seller is "Relief from political despair," she says. Talbott's antidote for healing that malady is to "recognize that you are not alone or abnormal in how you feel; cut back a little or a lot on news media; and realize that much of it is designed to play on our fears and anxieties."
"I guess I've got my finger on the pulse of the culture and notice what people are suffering from," she says.
Talbott's interest in psychology and mindfulness developed at Vanderbilt, where she took a course in educational psychology from Kathleen Hoover-Dempsey, professor of psychology and human development, emerita.
"I just loved the class, and it really turned me on to the interplay of psychology and education," Talbott says. "Really, that's what Placebos are."
What of her own bouts with stress and upheavals? Does Talbott find herself benefiting from Placebos?
"All the time," she says.
—Andrew Faught