Media Inquiries
Latest Stories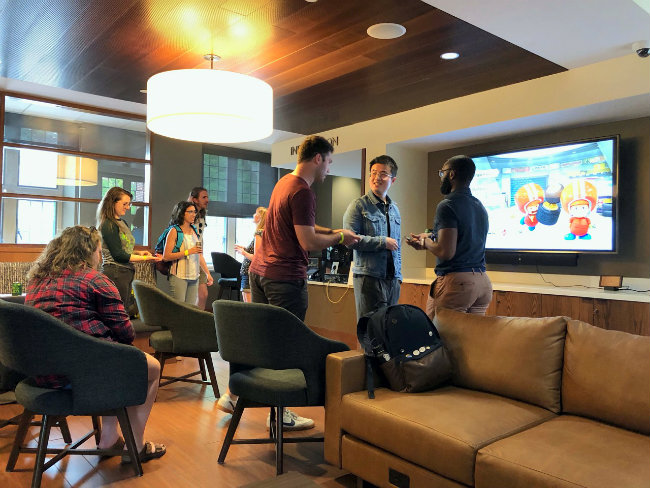 Newly renovated space on the first floor of Alumni Hall is designed to become a robust hub for student life within the Graduate School community.
A collaborative effort involving the Office of the Provost, Graduate School, Graduate Student Council, Vanderbilt Postdoc Association, Office of the Dean of Students and Campus Planning and Construction brought the renovation to fruition in late April.
"I am delighted we were able to create a welcoming community space in Alumni Hall—now home for the Graduate School—to enable our graduate students and postdoctoral fellows across all schools and disciplines to come together and learn about one another and their research areas," said Mark Wallace, dean of the Graduate School and Louise B. McGavock Professor of Hearing and Speech Sciences. "One of the benefits of establishing this space will be increased opportunities for our students and postdoctoral fellows to explore potential collaborations across diverse disciplines."
The graduate school space, formerly occupied by Bamboo Bistro, provides an inviting   space for student and postdoctoral organizations to hold social events as well as informal gatherings and study areas for both.
"The push to create a graduate student hub was driven by the fact that we needed a single, unifying space for all graduate students to study and socialize," said Mary Lauren Benton, who serves as the 2018-19 Graduate School Council president. "In the past, graduate students have tended to remain 'siloed' within their own departments and programs."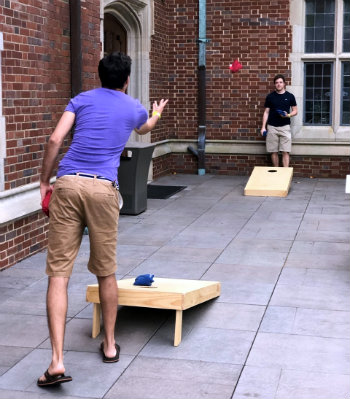 New additions to the space include a comfortable sectional and couches, upgraded tables and chairs, additional outlets—some of which are integrated into the sectional sofa—and a television for use during presentations and social events.
"During the design process, graduate students worked closely with University Architect Keith Loiseau and his team on everything from the paint colors to making sure that the space could be easily transformed from a daytime 'coffee shop' atmosphere to a more social environment in the evening," Benton said. "Students and postdoctoral fellows can choose from a variety of board games and there are several wall outlets for those who enjoy video games on a big screen. They can also just relax and take a break from their studies and research."
The Graduate Student Council hosted a reception in late April to welcome and introduce graduate students to the new space. The event was organized by Souhrid Mukherjee and Cameron de Wet, the council's co-vice presidents of social affairs for 2018-19.