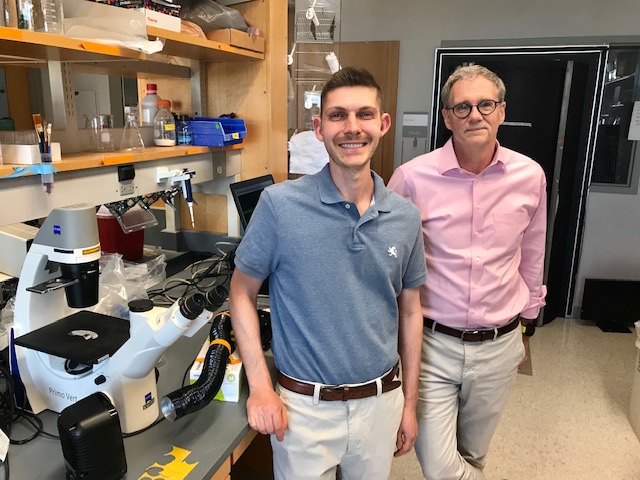 A team of Vanderbilt University biologists are a step closer to determining how prenatal exposure to long summer days or long winter nights affects long-term mental wellbeing.
In a paper titled "Sequential Photoperiodic Programing of Serotonin Neurons, Signaling and Behaviors During Prenatal and Postnatal Development," published May 8 in the journal Frontiers in Neuroscience, postdoctoral scholar Justin Siemann outlines how the team tested for enduring effects on the brain's serotonin system and mood by "switching seasons" during mice pregnancies.
The mice experienced prenatal switches from either long, summer-like sunlight exposure to shorter, winter photoperiods, or the opposite. Then, postnatally, the offspring experienced the reverse seasonal shift of what they experienced in the womb.
They found that seasonal light exposure during pregnancy had effects on serotonin and depression that persisted into adulthood in mice. These findings build off longitudinal studies in humans, the Nurses' Health Study and Nurse's Health Study II, where a Harvard and Vanderbilt team found that larger differences between minimum and maximum photoperiods during maternal pregnancy were related to lower lifetime odds of depression in offspring.
Siemann and the study's principal investigator, Stevenson Professor of Biological Sciences Douglas McMahon, are trying to narrow down what interventions in pregnant mothers could lead to mental health benefits for their children later in life.
"There's a lot of evidence that much of fetal development is informed by the mother's environment – factors such as maternal stress and nutrition," McMahon said. "Now you can add seasonal photoperiods to the list. They affect the way the offspring's serotonin system is constructed.
"If we can understand specific developmental windows and manage the light cycle for pregnant moms, it could mean a pretty robust public health outcome of reducing the risk of major depression over a person's lifetime. There are a lot of steps to go from where we are now to doing that, but it doesn't involve a drug, just manipulating the timing of light each day."
This research was supported in part by National Institutes of Health grants R01 MH108562, 5T32MH018921-24 and U54HD083211