Media Inquiries
Latest Stories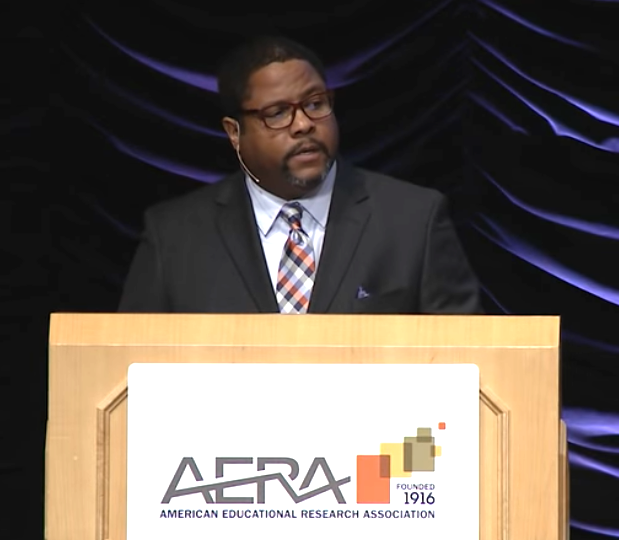 H. Richard Milner IV, Cornelius Vanderbilt Professor of Teaching and Learning, delivered the American Educational Research Association's 2018 Brown Lecture in Education Research. The lecture took place in October in Washington, D.C., and was titled "Disrupting Punitive Practices and Policies: Rac(e)ing Back to Teaching, Teacher Preparation, and Brown." Milner rejoined the Peabody faculty in the fall after teaching for several years at the University of Pittsburgh.
The Annual Brown Lecture in Education Research features the important role of research in advancing understanding of equality and equity in education. The lectureship was inaugurated in 2004 to commemorate the 50th anniversary of the Brown v. Board of Education decision, in which the U.S. Supreme Court took into account scientific research in issuing its landmark ruling. Each year AERA selects a distinguished scholar notable for producing significant research related to equality in education to give a public lecture in Washington.
The lecture was streamed live. The Peabody Office of Professional and Graduate Education held a watch party in the Wyatt Center for students to view Milner's address.
Watch Milner's lecture online at vu.edu/milner-brown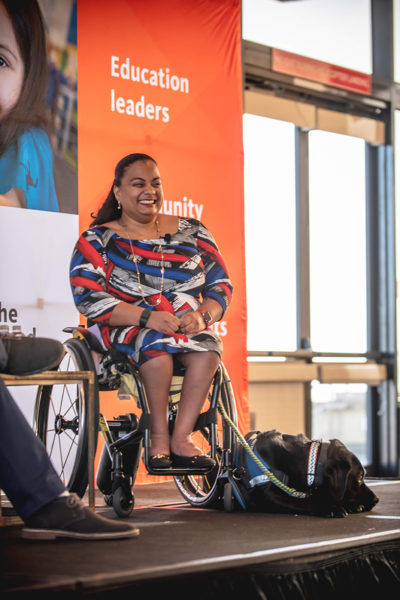 Anjali Forber-Pratt, assistant professor of human and organizational development and special education, delivers the keynote address and leads a breakout session about disability identity and social justice in January at The Broad Center, a national nonprofit in Los Angeles that provides leadership development in public education.
More than 300 superintendents and district leaders from major U.S. school systems were in attendance. Forber-Pratt, who is also an elite wheelchair racer, discussed the Paralympic movement at Vanderbilt's McGugin Center in October.
Her talk was part of the Vanderbilt Sports and Society Initiative's new series, "A World of Possibilities: Examining the Olympics from Diverse Angles."
Amy Booth, professor of psychology and human development; James R. Booth, Patricia and Rodes Hart Professor of Educational Neuroscience; and Kristopher J. Preacher, professor of psychology, have been named fellows of the Association for Psychological Science. Fellow status is awarded to APS members who have made sustained outstanding contributions to the science of psychology in the areas of research, teaching, service and application. Candidates are considered only after 10 years of postdoctoral contribution. The three new fellows were announced in December. They join 11 current or emeritus Peabody psychologists who are fellows, along with 12 more from other Vanderbilt schools and colleges.
The Conversation
Peabody researchers regularly contribute to The Conversation, an independent, not-for-profit media outlet that uses content sourced from academics and researchers. The research-based stories are often republished by large media outlets.
"Why I use Harry Potter to teach a college course on child development"
Georgene L. Troseth, associate professor of psychology, writes about her use of the Harry Potter books as a tool for engaging undergraduates in learning about the psychology of child development. Read the story at vu.edu/troseth-potter
"How T.M. Landry College Prep failed black families"
H. Richard Milner IV, Cornelius Vanderbilt Professor of Teaching and Learning, looks at the plight of black families whose students are chronically underserved by their schools and whose talents too often go unrecognized. Read the full article at vu.edu/milner-landry. A version of Milner's Conversation piece also was published in the Winter 2019 issue of Vanderbilt Magazine at vu.edu/milner-vmag.
Other Faculty Honors
Sandra Barnes, professor of human and organizational development, has been awarded the 2019 Cox–Johnson–Frazier Award by the American Sociological Association. The award is given to an individual or individuals for their work in the intellectual traditions of Oliver Cox, Charles S. Johnson and E. Franklin Frazier, three African American scholars. She will be formally recognized during the ASA annual banquet in August in New York.
Laurie Cutting, Patricia and Rodes Hart Professor of Special Education, received a 2018 Leadership Award from Women in Cognitive Science. The award recognizes initiatives that individuals have taken, beyond their own students and labs, to benefit women in cognitive science more broadly.
David K. Dickinson, Margaret Cowan Professor of Teacher Education, has co-authored with Ann B. Morse Connecting Through Talk: Nurturing Children's Development with Language (2019, Brookes Publishing).
Vicki S. Harris, assistant clinical professor of psychology and human development, recently was recognized for 25 years of service to Vanderbilt.
Brian L. Heuser, MTS'00, EdD'07, associate professor of the practice of leadership, policy and organizations, won Vanderbilt's 2018 Thomas Jefferson Award for distinguished service in the councils and government of the university.
Blair Lloyd, MS'11, PhD'13, assistant professor of special education, received the 2019 E.G. "Ted" Carr Initial Researcher Award from the Association for Positive Behavior Support. The award recognizes outstanding research by an early career scholar.
Brenda L. McKenzie, senior lecturer of higher education, was elected to a three-year term on the directorate board of the ACPA: College Student Educators International's Commission for Professional Preparation.
Gavin Price, assistant professor of psychology, received the 2018 Early Career Award from the International Mind, Brain and Education Society.
Victoria J. Risko, professor of language, literacy and culture, emerita, was named Distinguished Alumna by the West Virginia University College of Education. She also was inducted into the college's Hall of Fame.
Marybeth Shinn, Cornelius Vanderbilt Professor of Human, Organizational and Community Development, was a co-recipient of the 2018 Raymond Vernon Memorial Award, recognizing the best paper published in the Journal of Policy Analysis and Management during the publication year. Doctoral student Scott Brown was among several co-authors who shared the award.
Adela Soliz, assistant professor of public policy and higher education, was named one of 10 finalists for the 2019 William T. Grant Scholars Program, designed to support promising early career researchers.