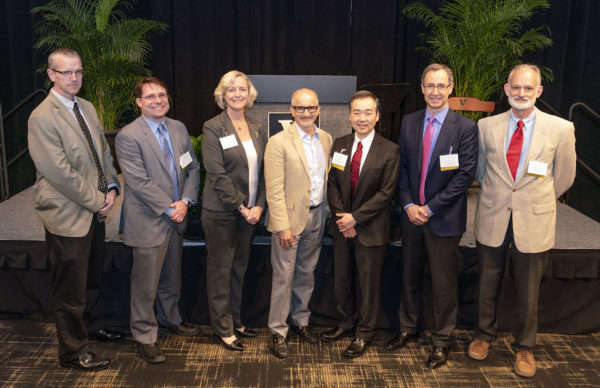 Vanderbilt's six newest endowed chairs were honored by colleagues, university leaders, family members and donors at a ceremony on April 30 in the Student Life Center.
"The quest for discovery and understanding is what defines humankind, defines universities and I would say what defines the scholars we are honoring today," said Provost and Vice Chancellor for Academic Affairs Susan Wente. "They are driven by that age-old, longtime need to discover, create new knowledge and better understand the world around us. We are grateful to our partners who invest in the legacy of endowed chairs to further these pursuits."
During her remarks, Wente touched on the brief history of endowed chairs supported by philanthropy in academia, which goes back to the early 17th century at Cambridge University through the Lucasian Chair of Mathematics. Henry Lucas established the chair in his will when he died in 1663, and Lucasian Professors have included Isaac Newton, Charles Babbage and Stephen Hawking. Wente noted that endowed chairs allow faculty to pursue discovery and innovation that may not otherwise be supported.
Wente thanked the donors who had endowed the chairs recognized at the ceremony, including Ellen Weaver and John and Donna S. Hall, who were in attendance at the celebration. Deans John Geer, Chris Guthrie, Jeff Balser and Eric Johnson honored the new chair holders in their respective schools: College of Arts and Science, Law School, School of Medicine and the Owen Graduate School of Management.
The following faculty members were recognized:
The ceremony was the 30th event to celebrate faculty members who have earned endowed chairs. Chancellor Nicholas S. Zeppos announced an initiative in August 2010 to recruit and retain outstanding scholars and teachers through endowed chairs. Since that time, a total of 291 chair holders have been honored as a result of the initiative.