Media Inquiries
Latest Stories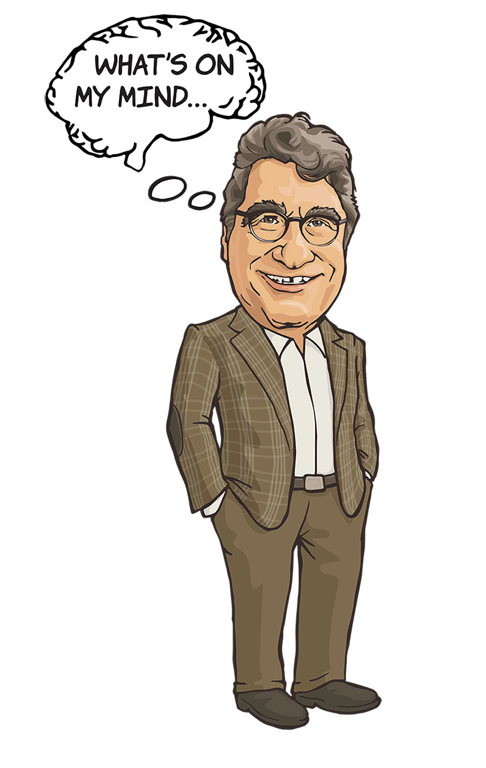 Earlier this week, Vanderbilt announced a long-term strategy that will shape our course, affect our daily lives and improve our collective future. We have pledged to power our campus entirely through renewable energy, and to be carbon neutral, by 2050. Better yet, we are committed to generating more renewable energy than we consume.
Through the collaborative studies and efforts undertaken by university leaders, faculty, staff and students—including MoveVU, the Large Scale Renewable Energy Study, the BlueSky Energy Vision Study and the Zero Waste Study—the next steps toward sustainability have become increasingly vital and increasingly clear. This initiative is not just about saving our environment—the natural resources like land, water and air that we rely on every hour of every day—although that could not be more important. It is also a reflection of our commitment to immersion, innovation, technology and our Academic Strategic Plan; it is a stride toward improving our own well-being, and our ability to connect and flourish as a university.
And so, we are making changes. Led by the Division of Administration and Vice Chancellor for Administration Eric Kopstain, we will convert certain campus streets into pedestrian walkways; we will seek out new solutions through the student-run Vanderbilt Green Fund program; we will strive to replace traditional energy with renewable energy at every chance we get, exploring everything from wind sources to solar heating and electrical systems—such as the solar energy technology at the Currey Tennis Center—to other possibilities identified through our Large Scale Renewable Energy Study Advisory Committee.
Already, so many members of our community have made enormous contributions. Faculty members include Jonathan Gilligan, associate professor of earth and environmental sciences; Lily Claiborne, director of undergraduate studies for the same department; Christopher Vanags, director of research initiatives at Peabody; and Michael Vandenbergh, the David Daniels Allen Distinguished Chair in Law and director of the Climate Change Research Network—to name just a few.
From Geoff Macdonald, Vanderbilt's head women's tennis coach; to students such as Keegan Campanelli and Ellena Soule, both leaders of the Students Promoting Environmental Awareness and Responsibility (SPEAR) group; to the Sustainability and Environmental Management Office's Andrea George and the many dedicated staff members—including those in Vanderbilt facilities—who have fought for this vision for so long, since before the FutureVU framework was even in place, deep involvement permeates our campus. I am so grateful to everyone who has led us to this point.
By working together to diminish Vanderbilt's environmental footprint, we can also send a wider message: one of conviction, determination and action. Our sustainability initiative is not just an investment in Vanderbilt—aligning our physical spaces with our academic mission—it is the pursuit of a model that can be scaled up by our city, by other institutions of higher education, and by our global society.
This sustainability announcement is the culmination of years of continued effort, of interconnected events, of steady pushes in the right direction. Along the way, we have seen proof of our progress, and the successes have been fruitful. While our new WELL-certified building expansion at the Vanderbilt School of Nursing and events surrounding FutureVU's BlueSky vision have brought our community together, new commuting offerings and our dockless bike-share program have helped us cover ground. However you look at them, the examples are abundant.
In other words, a foundation is in place. For years, we have steadily built upon and communicated our values. The Vanderbilt Environmental Advisory Committee was founded in 2000. We converted our coal-burning power plant to natural gas in 2014. This past November, we won a $4.5 million grant from the State of Tennessee, which the university is matching, to fund sustainable mobility options on our campus and in the surrounding area. We have done the research, and leveraged the expertise, to shape bold goals.
The payoff is already evident. In just five years, we have eliminated coal use for energy on campus, and we reduced the greenhouse gas emissions at our power plant by 25 percent in just two years. Our successes are being noticed elsewhere: Last year, we were named one of the most environmentally responsible colleges by The Princeton Review.
It is now time to scale up our efforts and make them even more holistic. Indeed, this push will require active cooperation from every person on our campus. It will require shifts in how we think about our physical space, the routines that link our home life to our work, the air we breathe. But for the effort we put in, we will all benefit from cleaner air, ease of traffic congestion and healthier campus spaces.
As one of the largest employers in the region, with more than 330 acres of real estate and more than 10,000 daily commuters, Vanderbilt has a responsibility to do away with complacency and apathy around sustainability. We are not only a crucial testing ground for our Nashville community, but—as one of America's leading research universities—our role also extends much wider. We have the innovation and the faculty expertise to be bold in our solutions, to incorporate the technology and make the lifestyle leaps that others may be hesitant to make. We will apply our findings and demonstrate the benefits of reducing our environmental footprint. We are uniquely positioned to show that sustainability is not only critical in theory, but that it is doable in practice.
We can set an example not just for each other, but for the world. And as the seasons change and the flowers grow—and as we all gather outside on the vast green spaces of our campus—it's clear that there is nothing more important. Our campus in Nashville has been home to research, learning, discovery and life-changing experiences for nearly 150 years. We have one campus; let us nurture and protect the land that has been our foundation for so long, and that connects us to the world.