Media Inquiries
Latest Stories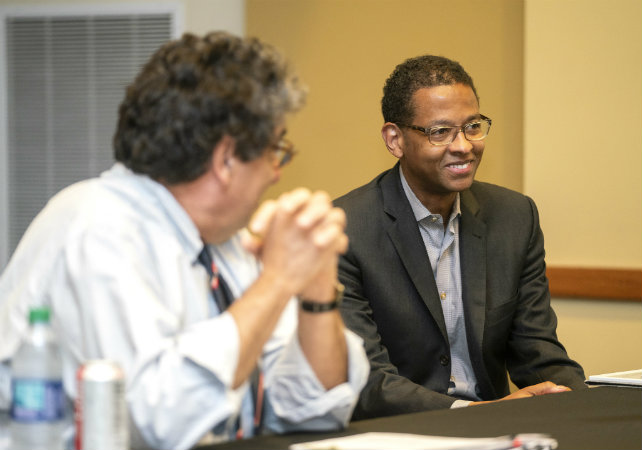 A National Football League executive who is secretary of the Vanderbilt Board of Trust spent the days leading up to the 2019 NFL draft sharing his experiences and advice with students, faculty and staff on campus. The visit by Adolpho A. Birch III, JD'91, was hosted by Chancellor Nicholas S. Zeppos as part of the Chancellor's Lecture Series.
On April 23 and 24, Birch participated in five events with the Vanderbilt community,  including a lunch and learn with student-athletes and a panel with fellow Vanderbilt alumni Carolyn Peck, BA'88, and John Ingram, MBA'86, who is also a member of the Board of Trust. During many of the conversations throughout his visit, Birch talked about the complexity of making decisions often closely watched by sports fans in his role as the NFL's senior vice president of labor policy and league affairs.
"You have to be able to make decisions with the best information you have and be calm about how you did it," Birch told the audience during a Q&A session on Tuesday afternoon. "In my line of work, every decision I make, I will read about it the next morning, I'll hear about it on sports talk radio, I'll hear about it from just about anyone, but you have to be able to accept that and understand it. Focus on the way you make decisions; think about it, investigate it and try to think of every variable you can."
The Tuesday afternoon session, which took place in the auditorium of the Bishop Joseph Johnson Black Cultural Center, focused on the NFL executive's path from his roots in Nashville to his professional success. Zeppos, who moderated the hour-long conversation, noted that he taught Birch at Vanderbilt Law School nearly 30 years ago and praised his former student.
"The real test of our university is not just who comes, but what do they do when they leave, and Adolpho has done some amazing things," said Zeppos. "He brings a wide array of experiences from his educational and professional backgrounds to our board, but what I am most pleased to say is that he is a native Nashvillian. He has always been an important contributor to the betterment of our city."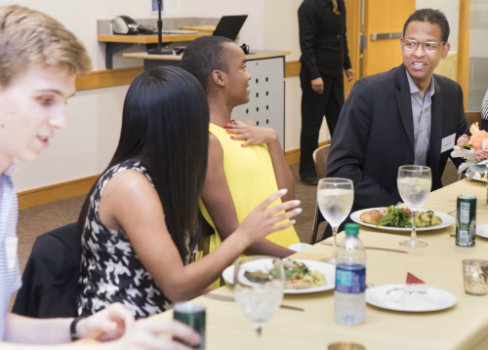 Following that session, Birch joined more than 20 students for a dinner hosted by Vice Provost for Inclusive Excellence Melissa Thomas-Hunt, the faculty director of Moore College, and Associate Professor of History Sarah Igo, the faculty director of E. Bronson Ingram College.
Birch began the next day with a breakfast meeting with the Office of the General Counsel, where he discussed a wide range of issues about the field of law, including his early career path from practicing law in Houston, Texas, to being recruited as a lawyer for the NFL.
The attorney then spoke to student-athletes, coaches and others about the important values he adopted while playing team sports—and how they have benefited his career—during a lunch and learn at the Recreation and Wellness Center midday Wednesday.
Birch played varsity tennis at Father Ryan High School, but when he became an undergraduate at Harvard University, he enjoyed trying out for different sports teams. He enjoyed playing on the junior varsity teams for crew, lacrosse and basketball. He also participated in intramural sports as a Vanderbilt Law School student.
"It was certainly not any athletic abilities that enabled me to become an attorney for the NFL," Birch said. "However, I learned so much about the importance of being disciplined, working with others, understanding performance and staying calm under pressure—all vital qualities for success in work and throughout life."
He noted that it's vital for athletes and coaches to impress upon young people the importance of team sports because many youth are being disengaged from physical sports, spending extensive time on video games and social media. Addressing the student athletes in the room, Birch told them they have a unique opportunity to talk to other young people not only about Vanderbilt, but also their beneficial experiences from participation in athletics.
Among those at the lunch and learn was Vanderbilt head football coach Derek Mason, who asked for Birch's perspective as an NFL executive on where college athletics should put its focus.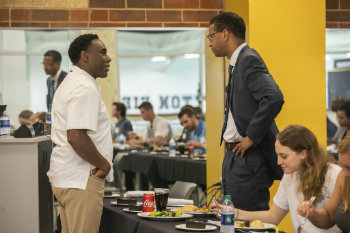 "First, you need to strongly emphasize and address the health and safety of athletes in all sports," Birch said. "We (the NFL) have put health and safety as a number one priority, and this has led to rule changes, equipment changes, practice and off-season changes and much more. So for me, that has to be a focus for all teams. The other thing I would say is that you have put the emphasis on the integrity of the game, and to understand that it has to be paramount to maintain the integrity of the competition on the field. If there are any questions whether something is fair, it sends cracks through the system that can take years, if not decades to repair."
The series of events concluded late Wednesday afternoon with a panel moderated by Zeppos on college athletics and the business of professional sports, featuring Birch, Peck and Ingram. The panelists reflected on how their own college experiences shaped their approaches to their current endeavors with professional athletics.
Peck, an ESPN and SEC Network analyst who previously served as associate head coach for Vanderbilt women's basketball, noted that her educational experience at the university made her a better athlete. "You have a competitive edge because you are competing every day in the classroom, just like you are on the court," said Peck. "You always have the standard that you want to be the best, so you go after it."
Ingram, who led the push to bring a Major League Soccer team to Nashville and was named the 2017 Tennessean Sports Person of the Year for his efforts, espoused the benefits of sports to both campus and local communities. "It's something that helps unify our city. There's enough divisiveness right now, and we need more unifiers."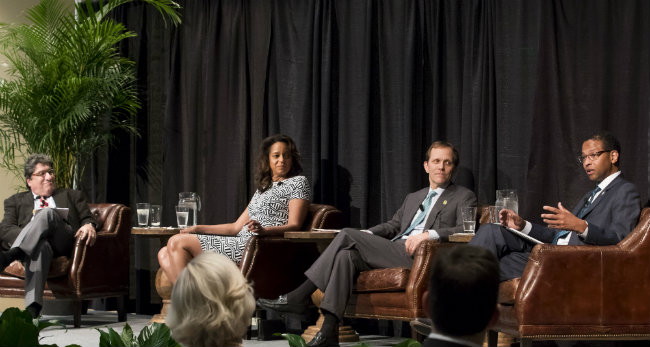 Ingram, chairman of Ingram Industries Inc., also referenced former Vanderbilt Commodores cornerback Joejuan Williams, who was featured on the front page of Wednesday's Tennessean ahead of the NFL draft, as an example of the way that athletics can bring people together. "College athletics are a real opportunity for connection with the community," Ingram said.
During the panel, Birch discussed the importance of diversity in the NFL and developing talent in the leadership of the league. "You have to be intentional about providing opportunity, and lay out all the steps to create a system of opportunity," he said.
The Vanderbilt Chancellor's Lecture Series strives to connect the university and the Nashville community with leaders and visionaries who are shaping our world. For more information about the series, visit the Chancellor's Lecture Series website, email cls@vanderbilt.edu, or follow @Nick_Zeppos on Twitter.
Ann Marie Deer Owens contributed to this story.